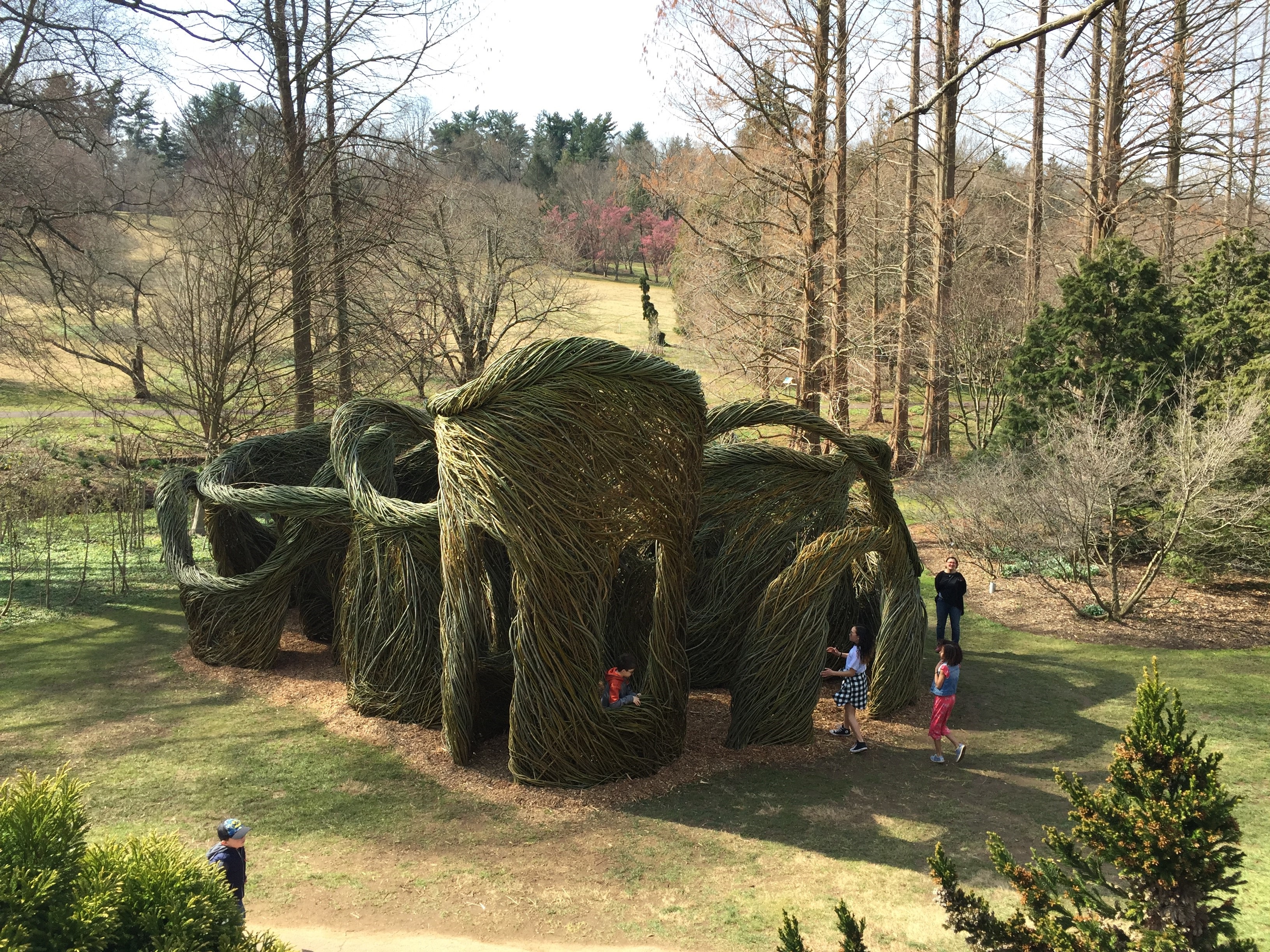 Ask sculptor Patrick Dougherty what precipitated his interest in working with sticks, and he can't exactly tell you—and it's certainly not obvious from his biography.
In 1967, he earned a bachelor's degree in English from the University of North Carolina. Two years later, he earned a master's degree in hospital and health administration from the University of Iowa. But by the 1980s, he was studying art history and sculpture at the University of North Carolina, where, as a student, he became smitten with sticks as a material.
So, what was the allure? He largely chalks it up to childhood.
"If you think about childhood play, sticks are an imaginative object and kids grow very attracted to them," Dougherty explains. "My theory is that we all play out a shadow life of our hunter and gathering past, and a moment in our childhood when we are builders, and gatherers, and we gather and build. My feeling is that some of the impulses for an attraction to sticks are deeply subliminal."
Willow of different varieties has been a constant in Dougherty's sculpture career, which today spans more than three decades and 300 pieces. He completes about 10 projects per year, he says—one of which, in 2019, is the newly built Stickwork sculpture at the Morris Arboretum, now on display in the Madeleine K. Butcher Sculpture Garden. It's the third such sculpture to take up residence in the Arboretum's gardens: the first was "Summer Palace," in 2009; the second, "A Waltz in the Woods," debuted in 2015.
This year's piece, "Loop de Loop," was built to be site-specific—as all of his pieces are—and was assembled with a team of staff and volunteers during a three-week period in March. The sculpture is 16-feet high and contains about a dozen rooms, with the tops of the towers connected together in a way that resembles a roller coaster.
"I was looking for something that was really different. The first time [at the Arboretum], I made something like an exalted temple that looked like a snail shell. And the second piece was more about making these classical towers that seemed to be dancing around. And I had to do something really unlike the other pieces this time," Dougherty says of conceiving his idea. "In this case, I thought of a scribble you might make on a piece of paper, and the scribble would become the footprint for the piece."
Where the scribbling lines crossed, he decided, he would create rooms. From above, he connected the rooms using a repetitive banding that he likens to "the piping along the cushions on your couch," running the whole length of the "scribbles" and turning back on itself and then underneath. The whole piece comes together as, he says, a "fantasy maze of some sort."
"I liked it because I capitalize on the view from above as you come down from the rose garden and the walkway from the lawn, so you're able to see this very striking top that you realize you can go inside and explore when you're at ground level," he adds.
Rooms are big and small, and accessible from various sides. The process to build the piece, in sum, started and ended much like a drawing would, he says: He sketched the site by marking it with paint and sticks, using approximately 30,000 pounds of willow hauled in from New York by a truck, and then "erased" as he needed to at the end. He also spent time combing through the sculpture to ensure there are no sharp points that could poke someone.
The final product is a "paradise for kids," he says, and also tends to inspire adults who want to enjoy the solace of a garden, or remember their childhood, or the fondly remembered moments in the natural world, like a walk in the woods. 
He gushes about working with the staff at the Arboretum and the overwhelmingly positive feedback he received in the building process, often from visitors who, he says, remembered him from previous installations at the garden.
"Rarely do I work in a place a couple of times, but this showed some of the forethought of Morris itself, because they really did have a following and played to that following, and made people want to come and see what was going on," Dougherty says.
The sculpture will live in the garden for as long as it can withstand nature's elements. His sculptures endure for an average of two years.
Video footage by Dave Tavani.