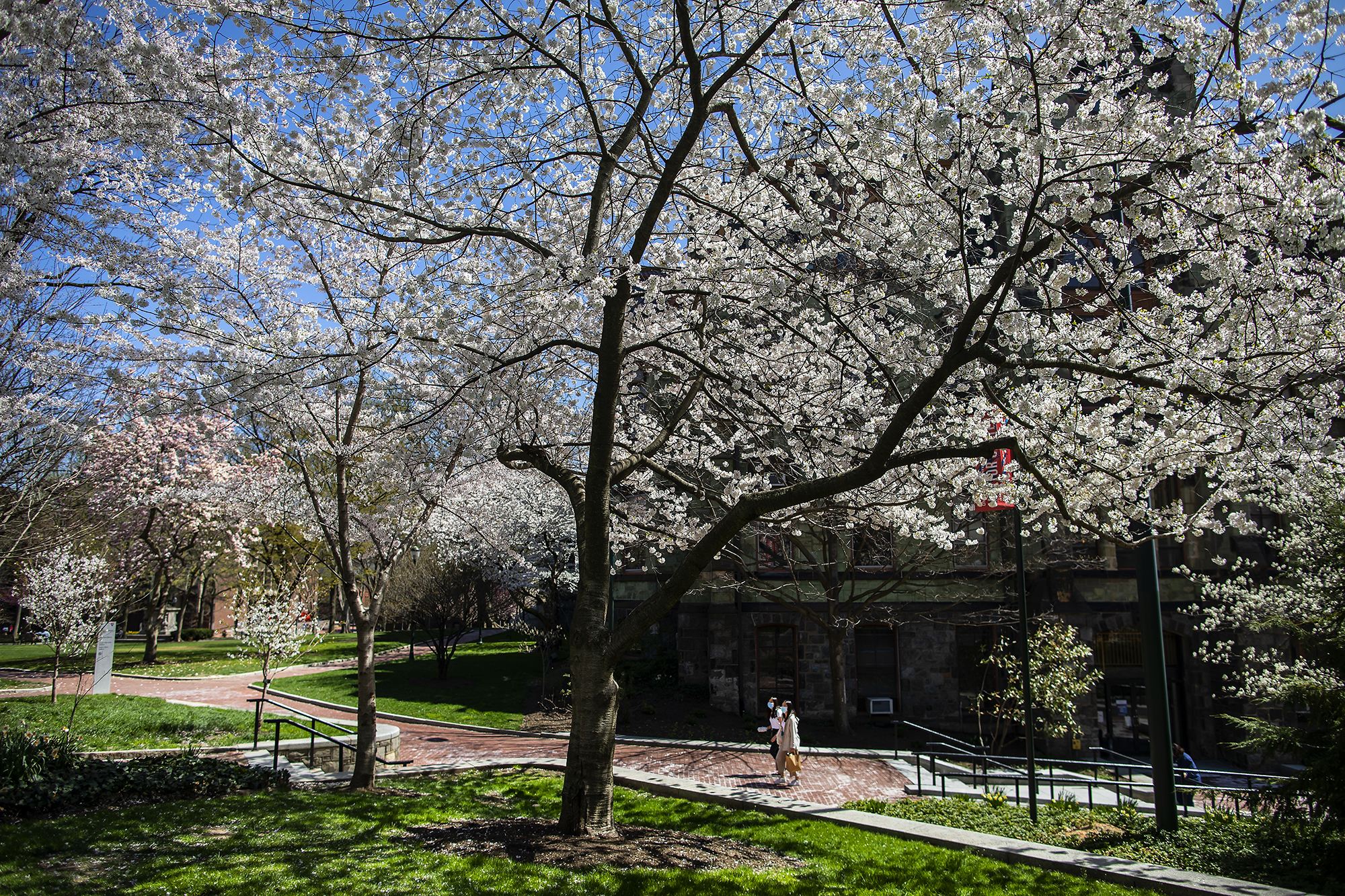 Amidst a year like no other, Penn hosted its spring scholarship celebration like never before. Usually held in New York City, this semester—due to COVID-19—the event was online.
Managing to still be, in Mark First's perspective, just "as special as those in person," the Tuesday evening event served as a "great reminder of the importance and impact Penn's Named Scholarship Program has on the lives of young people."
Chatting the day after the celebration, First, a Wharton School '87 graduate, proud Penn parent, and chair of Penn's Undergraduate Financial Aid Leadership Council, added that not only scholarship students benefit from the Program—Penn does too.
Penn President Amy Gutmann, in her opening remarks, expressed a similar sentiment.
"Your Named Scholarship gift opens doors," said Gutmann, talking to the generous donors tuning in live. "Thanks to your support, Penn attracts an incredibly diverse, truly global student body. Their presence enriches the campus experience for everyone. This is an opportunity to celebrate the strength of Penn's vibrant community that you have helped create."
As is tradition of these celebrations, two senior students—attending Penn thanks in large part to financial aid—shared their inspiring, personal stories.
Sophia DuRose, an English major in the College of Arts and Sciences from Orlando, Florida, noted how, as a first generation, low-income student, to be given the "gift of education" is a service she feels she could never repay.
"I could go on and on about the immense gratitude I feel for those who fund my education, but I think the words would fall short, funnily enough for a writer," DuRose said. "I read poetry, staples of English lit, and yes, even my required astronomy textbook, with gratitude and a knowledge of the human sacrifice that pumps below the ink."
Editor in chief of the Penn Review, an award-winning columnist for the Daily Pennsylvanian, a Gibson Peacock Nonfiction Award recipient, and an author of a published book of poetry, DuRose said while at Penn she has discovered her dream to pursue a doctoral program in English literature so she can "become the kind of professor that kids like me needed."
Anannya Neelam Shandilya, a finance major in Wharton from Indore, India, noted how she comes from a family where "no girl child has ever studied in a different city, let alone in a different country." She reflected on the joy she and her family felt when she was not only accepted to Penn, but awarded financial aid to attend.
"There was someone so generous that they offered me aid to study with no expectations in return. Who knew those types of people existed?" Shandilya remembered thinking. "A month later, the then 17-year-old me, who never even sat on a domestic flight before, flew all alone to the unknown land of the United States of America."
At Penn, Shandilya said, she's made great friends, learned from wonderful professors, and took part in what she described as "incredible opportunities." She went to London to conduct research, founded her own agribusiness club, and participated in Penn Thillana, an Indian classical dance club. She ran for student government, wrote her own book, and explored, through the Joseph Wharton Scholars program, exciting classes outside of her major, including Russian cinema and international relations.
"I did so much and learned so much that imagining my life if I hadn't come here gives me chills," Shandilya said.
Since Gutmann joined Penn in 2004, the University has awarded $2.4 billion in aid to students. Compared to 15 years ago, it costs on average 22 percent less in inflation-adjusted dollars to attend Penn. And, thanks to the grant-based program launched in 2008, more than 19,000 undergraduate students have had 100% of their demonstrated financial needs met. In addition, at Penn today, about a third of aided students are first-generation, from a lower income background, or both, and the University has taken significant steps—including creating and supporting the growth of the Penn First Plus initiative—to ensure that these students are able to thrive throughout their time on campus. Penn's commitment in this realm has only been strengthened during COVID-19, too, as evidenced by the University's emergency funding for students in the wake of the pandemic's impact, made possible by thoughtful donors.
"The pandemic has created added stress and burden on many of Penn's aided students and their families," said First, who has over the years supported several students through his personal scholarship with his wife Rachael First. "During these times, Penn provided additional financial and other support to students who were dislocated from campus, were unable to obtain summer internships, and had changes in their family's financial situation. Penn's commitment, and that of the entire Penn community, has been instrumental to helping its aided students through these challenging times."
Before airing a closing video, which featured students from all over the world sharing their stories about how financial aid has affected their lives, Gutmann remarked just how grateful she was to all who have supported such an important Penn priority.
"Each of you has taken it upon yourself to help open the doors to a Penn education," Gutmann said, leaving the final word to Penn's students. "Thank you, from the bottom of my heart, for supporting them."