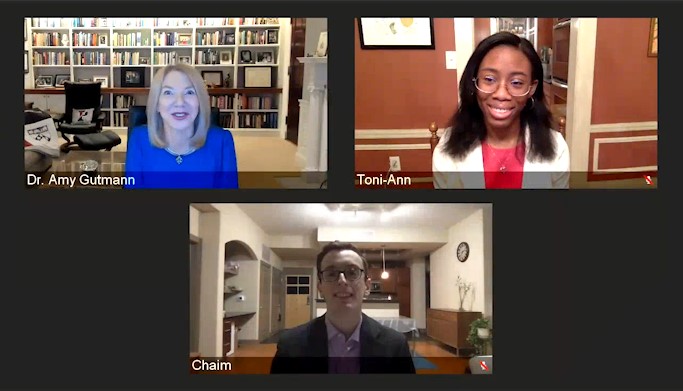 Though undoubtedly different, last week Penn hosted its annual celebration of the Named Scholarship Program. Completely online, the live, Wednesday evening event—headlined by President Amy Gutmann—recognized the University's generous scholarship donors, and the students whose lives have been transformed because of them. 
"The life-changing financial aid that you make possible is even more important than ever before in Penn's history," said Gutmann. "We couldn't do any of this without you. Words alone cannot do justice to the difference that your generosity makes."
Since Gutmann joined Penn in 2004, the University has awarded $2.4 billion in aid to students. Compared to 15 years ago, it costs on average 22 percent less in inflation-adjusted dollars to attend Penn. And, thanks to the grant-based program launched in 2008, more than 19,000 undergraduate students have had 100% of their demonstrated financial needs met.
"Together, that's enough people to fill up our Palestra twice over," said Gutmann, putting the all-grant figures into perspective. "More first-generation students than ever in our history. More Pell Grant-eligible students than ever in our history. More outstanding opportunity, access, and inclusion than ever."
Gutmann also noted the University's recent emergency funding for students in the wake of COVID-19's impact, and how donors have made that possible.
The event began with a short video featuring Penn students from all over the world, who shared their stories about how financial aid has affected their lives, especially during the pandemic. In addition, true to tradition of these celebrations, two students—Chaim Fishman and Toni-Ann Peck—provided very personal, touching remarks, expressing their gratitude.
Fishman, a senior computer science major from Brooklyn, New York, told his story of taking a drastically different path from most in his family to attend college. Raised in the insular Hasidic Jewish community in Williamsburg, he hadn't spoken English or even learned how to add fractions until he was 15, when he took the leap to attend a city public high school. Defeating the odds, Fishman later was not only accepted, but also received full aid to attend Penn—something he explained as "a dream come true." After describing the remarkable opportunities he's reached while at the University, Fishman, who was recently accepted into the computer science master's program at Penn, thanked specifically the Lois & Henry McNeil Scholarship and the Chalfin family for their generosity throughout the years.
"Thank you for truly changing my life," Fishman said. "Thank you for turning my hopes and aspirations into a reality. Thank you for giving me, and others, the opportunity of a lifetime."
Peck, a senior mechanical engineering and applied mechanics (MEAM) major from Miramar, Florida, said she thought attending Penn was a "lofty" goal, one she'd only be able to meet if granted financial aid. A recipient of the David and Jean Colker Endowed scholarship, she said she was stunned when she learned she was also one of Gutmann and her husband's scholarship recipients.
"I stem from generations of hardworking Jamaicans who did their best to provide for those who would come after them," Peck said, adding later, "The Named Scholarship program is what made it possible for me to realize the dreams that my parents and their parents had deposited in me all through my childhood."
Peck plans to take her studies even further, as she is sub-matriculating with a master's in MEAM at Penn.
"I aim to earn a Ph.D. while making my imagined technologies into reality," Peck said. "I hope to use the skills I am learning now to develop novel technologies based on the ingenious devices that living things depend on to survive."
Looking ahead, Peck sees the financial aid she received as much more than her personal benefit. It's a "scaffold for the others that will come after me," she said.
Before closing with a singalong to "The Red and the Blue" with Penn Glee Club, Gutmann noted how scholarships provide the means for students to seek their highest calling—all the more so as we navigate the current "new normal."
"No gift is greater, no gift is more life-changing than financial aid for Penn students," Gutmann said. "From the bottom of my heart, thank you so much."