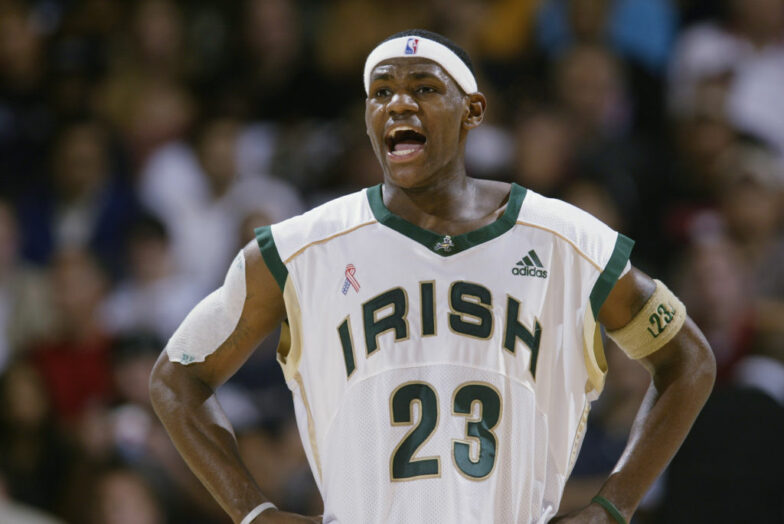 The uproarious and itinerant LeBron James show made its Philadelphia debut at the sold-out Palestra on Dec. 22, 2002, featuring the 6'8" 17-year-old senior marvel, the No. 1-rated high school player in the nation, and his St. Vincent-St. Mary supporting castmates against 6'1" senior scoring sensation Maureece "The Scorelord" Rice and the Strawberry Mansion Knights.
"King" James' senior year at St. Vincent-St. Mary was an electrifying, and sometimes controversial, extravaganza. The Fighting Irish of Akron, Ohio, crisscrossed the country like a college or pro team for contests against the nation's top prep teams. Around a dozen of their games were available on pay-per-view.
On top of Philadelphia, James and his band of ballers played games in Columbus, Ohio, Greensboro, North Carolina, Trenton, New Jersey, Pittsburgh, and Los Angeles.
Part of a quadruple-header, St. Vincent-St. Mary (5-0), the ninth-ranked team in the country, and Strawberry Mansion (7-1), the defending Public League champions, faced off in the Scholastic Play-By-Play Classic. The game, aired locally on CN8 (now NBC Sports Philadelphia), was teeming with hype, as there were rumors that James would jump from high school straight to the NBA—uncommon in the early 2000s—and Rice was closing in on Wilt Chamberlain's city scoring record of 2,206 points, which had stood for 47 years. None other than 76ers superstar Allen Iverson was in the Palestra stands to size up the upstart James.
The Knights won the opening tip and Rice roused the crowd with an Iverson-like crossover of James on their first possession. James scored the first four points of the game, a 16-foot jumper from the baseline followed by a one-handed monster jam.
James showcased his supreme passing skills and court vision early on in the contest, with crisp, on-the-point passes to teammates. Strawberry Mansion tried a number of different defenses to slow down the taller, stronger, and longer Fighting Irish, switching from man-to-man to zone.
After the first quarter, St. Vincent-St. Mary was ahead 16-8.
James continued to show the selflessness that would define his career (and sometimes draw unwarranted criticism), including a beautiful look-away pass with 5:10 left in the second quarter, which put the Fighting Irish up 23-10.
Strawberry Mansion had heaps of trouble with St. Vincent-St. Mary's suffocating full-court press and turned the ball over several times.
At half, the Fighting Irish led 36-15. James had only six points, five rebounds, and five assists, but his presence was felt much more than the box score showed.
The Knights shot 25 percent from the floor in the first half. Seven of their 15 points came from the foul line.
Rice came into the game averaging 25.6 points per game. Primarily guarded by James and perhaps blinded by the Palestra's bright lights, he was held scoreless in the first half.
James and his court eased through the third quarter. He hit his first outside shot, a three-pointer, with 6:30 on the clock to push the lead to 41-16. Rice did not score his first points of the game until he drained a three with 47 seconds left in the period.
Even though they were up by 40, 65-25, St. Vincent-St. Mary Head Coach Dru Joyce II had his starters begin the fourth quarter.
Rice finally came to life in the final period. He and James had their teammates clear out and engaged in a crowd-pleasing one-on-one battle, each showing their respective skills, with the still-packed Palestra crowd egging them on. Rice left with a tale to tell his grandkids; with 6:32 left in the game, he broke James' ankles, possibly the only time James has been floored in his illustrious career.
The final score was 85-47. James had 28 points, eight rebounds, five assists, and seven steals. Rice finished with 13 points, five rebounds, one assist, and two steals.
Rice said the crowd and James' size factored into his less-than-stellar performance.
"The height was the big difference," he told the Philadelphia Inquirer in 2011. "He's 6-8, 6-9, I'm only 6 feet. So I couldn't really match up with him as far as height."
James, reflecting on the game in 2017, told The Philadelphia Tribune that they knew of Rice's scoring prowess going into the game and set out to try to stop him.
"We knew we had our hands full trying to shut him down," he said. "We didn't want to lose. We knew all about him."
Rice did go on to break Chamberlain's scoring record and finished his career with 2,681 points, still a city record. He played in college at George Washington University and professionally overseas.
James, entering his 18th NBA season, is coming off his fourth championship and first with the Los Angeles Lakers. He is currently third in NBA history with 34,241 points and will retire, when he chooses to do so, as one of the greatest players of all time.