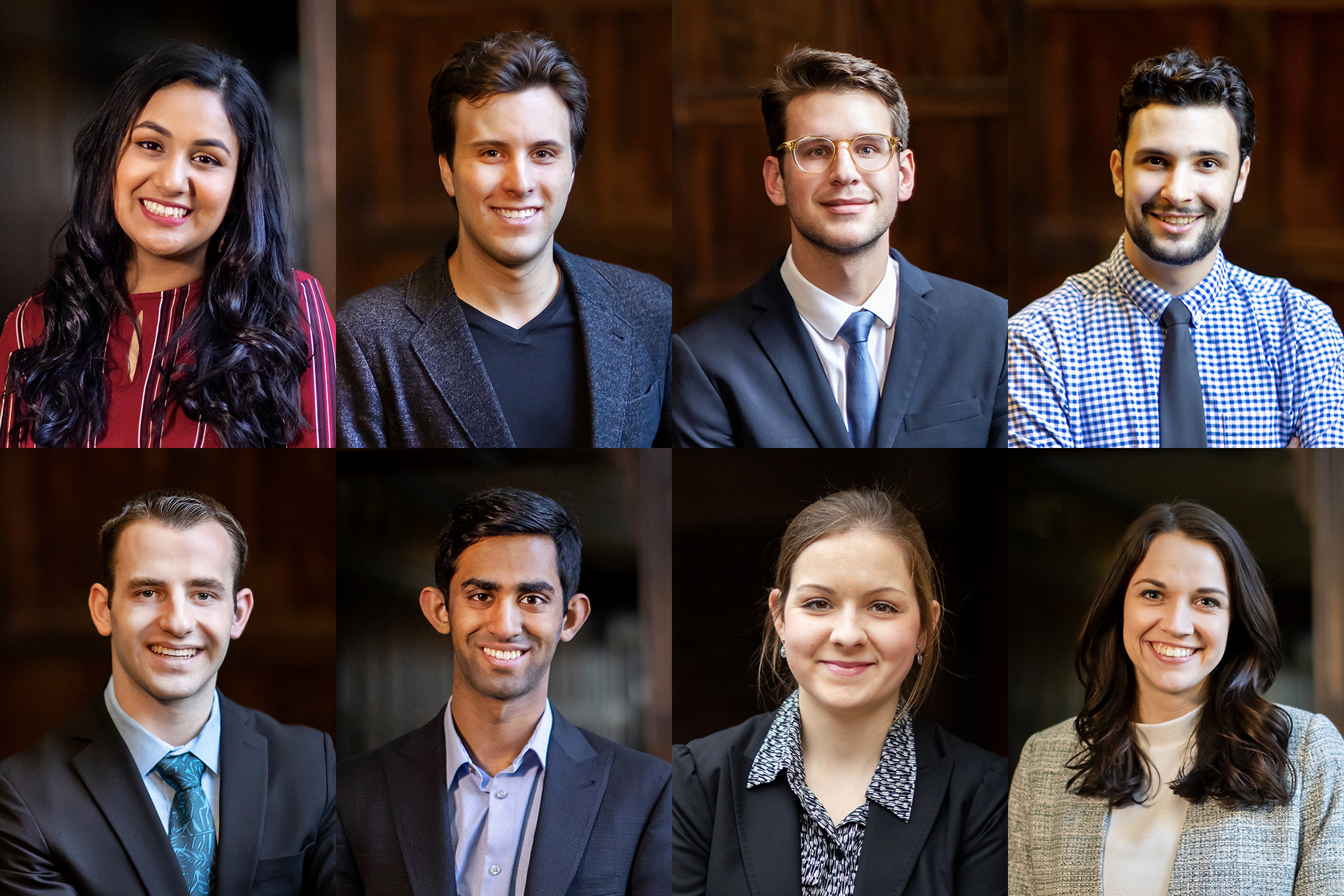 Seven University of Pennsylvania seniors and a 2018 graduate have each won a Thouron Award to pursue graduate studies in the United Kingdom. Each scholarship winner receives tuition and stipends for as long as two years to earn a graduate degree there.
The 2019 Penn Thouron Scholars are:
Sona Dadhania, from Voorhees, New Jersey, is majoring in materials science and engineering and minoring in engineering entrepreneurship in the School of Engineering and Applied Science. She researches polymers, works as a teaching assistant, and serves as a board member for Advancing Women in Engineering and the Penn MSE Society. She is also captain of the dance team, Penn Raas. Dadhania plans to pursue a master's degree in advanced material science and engineering.
Nicholas Escobar, from Villanova, Pennsylvania, graduated in 2018, receiving a bachelor's degree in English, with minors in music and global medieval studies, from the School of Arts and Sciences. While at Penn, he completed a senior honors thesis which involved composing the first original score for an unfinished 17th-century semi-opera, and earned distinction on Ivy Day as co-founder of the student club Penn FilmAid. He studied abroad, for a semester at Kings College London, and in a Penn in Kenya course. Escobar plans to pursue a master's degree in music composition and a career as a music composer for film and theatre. 
Nick Joyner, from San Antonio, Texas, is double-majoring in communication and cinema and media studies and minoring in English in the School of Arts and Sciences and the Annenberg School for Communication. He is a 2019 Dean's Scholar, a member of the Philomathean Society, an LGBT Center student mentor, and the former editor-in-chief of 34th Street Magazine. He was a research fellow in the Penn Media Scholars in China program. Joyner plans to pursue a master's degree in visual anthropology.
Carson Kahoe, from Harrisburg, Pennsylvania, is majoring in modern Middle Eastern studies, with a concentration in Persian language and history, in the School of Arts and Sciences, and minoring in fine arts, with a concentration on photography. For his honors thesis, he is researching the dimensions of domestic politics and identity in Iran's mid-20thcentury claims to Bahrein. He is a former photo editor at The Daily Pennsylvanian, and he is currently the director of Penn's improv comedy troupe, Without a Net. Kahoe plans to pursue a master's degree in conflict transformation and social justice.
Ryan Leone, from Farmingville, New York, is in the Roy and Diana Vagelos Program in Life Sciences and Management, majoring in the biological basis of behavior in the School of Arts and Sciences and concentrating in health care management and policy at the Wharton School. Ryan founded the Wharton Neuroscience Initiative Student Society and the Penn Health Tech Student Board. He was president of Kite and Key, a resident assistant in Ware College House, and a running back on the varsity sprint football team. Leone plans to pursue a master's degree in war and psychiatry.
Krishna Patel, from Murrysville, Pennsylvania, is in the Roy and Diana Vagelos Program in Life Sciences and Management, studying biology and business with a concentration in health care management. He is a Benjamin Franklin Scholar and a Joseph Wharton Scholar. A research assistant in the Betley Lab in the Biology Department, his interests lie in better understanding survival drives like hunger and pain and how they contribute to chronic illnesses. He is a senior peer advisor and has also worked at the Wharton Small Business Development Center as both a research consultant and a management teaching assistant. Patel plans to pursue a master's degree in evidence-based social policy and intervention. 
Libby Rockaway, from Nicholasville, Kentucky, is majoring in cognitive science with a concentration in cognitive neuroscience in the School of Arts and Sciences and is working towards her master's in nonprofit leadership at the School of Social Policy & Practice. While at Penn she has trained diabetic alert dogs for children with type 1 diabetes, founded a nonprofit to provide free diabetic alert dog training resources, and performed research through the University Scholars Program. She is interested in researching ways to utilize canine capabilities to improve the lives of people with disabilities. Rockaway plans to pursue a master's degree in animal behavior and welfare. 
Hannah Sweeney, from Lake Havasu City, Arizona, is majoring in political science with a concentration in international relations, and minoring in gender studies, religious studies, and German, in the School of Arts and Sciences. A Questbridge Scholar, she interned with the U.S. State Department, United Nations Human Rights Council, and Nationalities Service Center, Philadelphia's largest refugee resettlement agency. Her work focuses on international human rights and refugee law. Sweeney plans to pursue a master's degree in refugee and forced migration studies. 
Established in 1960 and supported with gifts by the late John Thouron and his wife, Esther du Pont Thouron, the Thouron Award is a graduate-exchange program between Penn and British universities that aims to improve understanding and relations between the U.S. and the U.K. 
The Center for Undergraduate Research and Fellowships serves as Penn's primary information hub and support office for students and alumni applying for major grants and fellowships, including the Thouron Award.