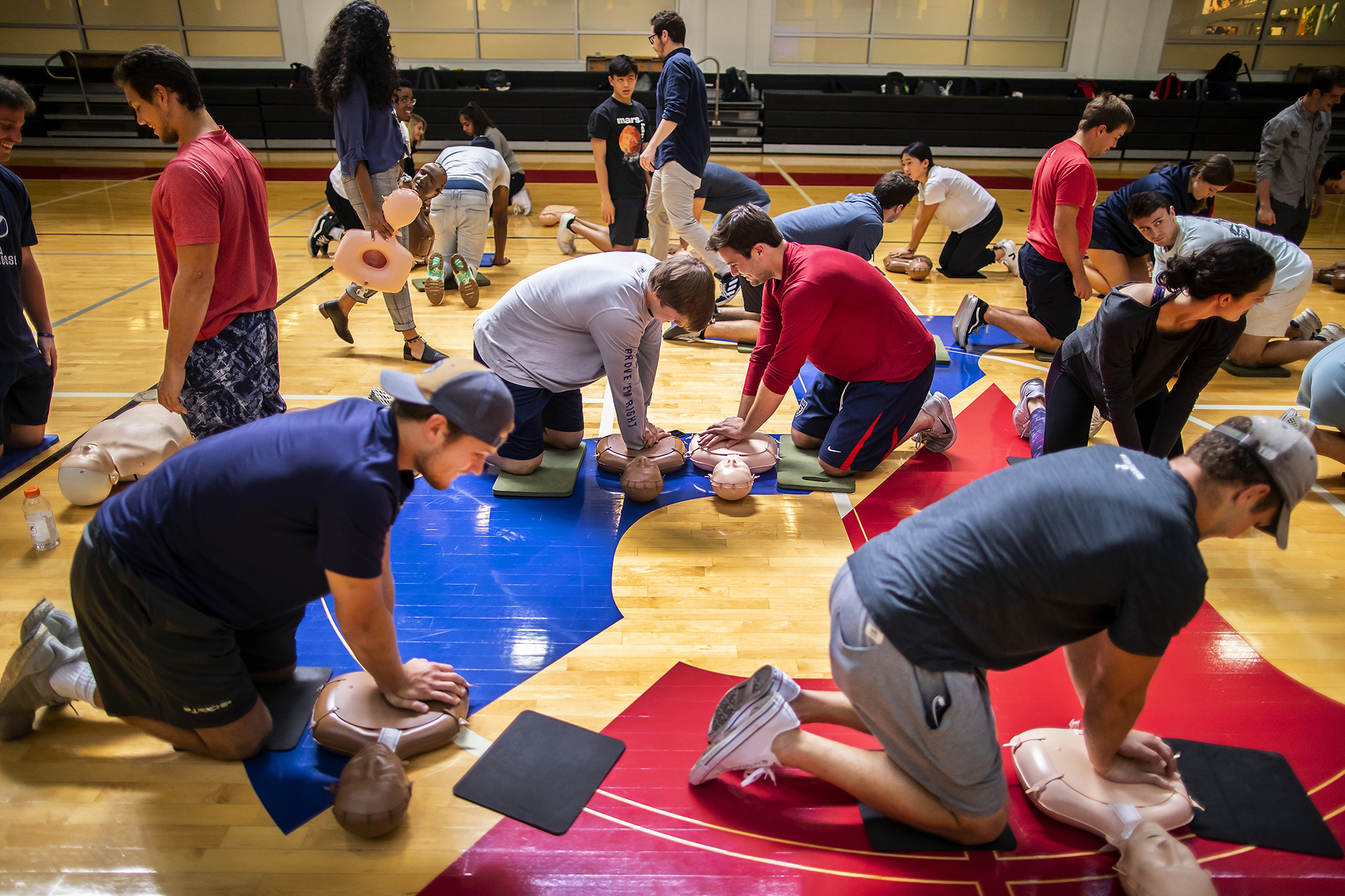 As the NCAA actively looks for solutions to prevent cardiac arrests in competitive athletes, a Penn student is working with a Penn Athletics administrator to institute a mandatory CPR training for all University student-athletes. 
Jeff Zucker, a junior on the men's tennis team, introduced this program last fall and is the inspiration and co-leader. Zucker says the lesson is designed to ensure all student-athletes at Penn develop the leadership skills and confidence to handle an emergency situation including dealing with cardiac arrest, if no CPR-certified coaches or athletic trainers are in attendance.
"I said to myself, 'What would happen if I collapsed on the tennis court?'" says Zucker. "'Would any of my teammates know what to do if coaches were not around?' And the answer was probably not." 
Zucker's training comes from his high school experience at Pingry School in New Jersey where students had to complete CPR training in order to graduate.
Worried about the safety for student-athletes such as himself, Zucker approached Associate Director for Sports Performance, Andrea Wieland, with his plan.
"I recognized it as a very good idea and a unique thing that Penn could lead the way in being the first school that could do something like this," recalls Wieland. "One basic thing is to have this very important life skill. The other is that I think of our student athletes as not just students but leaders in the community. So, if they are in a situation outside of their team, they can take command of the situation in a way that other people may shy away from."
Wieland and Zucker set out to train Penn athletes in some of these basic skills. First, they had to figure out the logistics of how to train almost 1,000 student-athletes on an annual basis. It was clear from the beginning that having every Penn athlete CPR-certified would be costly. A CPR certification from the American Heart Association costs $35 per person and lasts three hours. Zucker and Wieland found another option within the at-large Penn community. 
"Fortunately, we were able to find an alternative CPR training program at the Hospital of the University of Pennsylvania," says Zucker. 
They came across Penn Medicine's, The Penn Mobile CPR Project at the Hospital of the University of Pennsylvania. The project has been operating since 2016 and have trained over 11 thousand residents in CPR, free of charge, according to mobil CPR project coordinator, Nabil Abdulhay.
"They have programs like this where they go out to various communities and train large scale groups of people."
The program doesn't give out certifications, but according to Wieland, it is the same exact training by the book. 
"Basically except for a card that you keep in your wallet there is really no difference between the two trainings," she says. "The way it works is that we sit down for a one-hour course. We have about 40 to 50 athletes in each session. They partner off. We have multiple instructors including myself and Jeff to watch over them."
Zucker stresses that the course teaches the importance of the training and what one would do in the event of a cardiac arrest. 
"We talk about the signs and symptoms," he says. "We teach how to act, how to be leaders, and give people the directive action. The most important part of the training is time on the mannequin. We wanted to gear our course to as many chest compressions as we can."
During the chest compression exercise on the mannequin, there is a specific song playing over the speakers to help students. 
"The beat to the Bee Gees', 'Staying Alive', is exactly the rate at which you should push for compression on the chest," says Wieland. "'Ah, ha, ha, ha, stayin' alive, stayin' alive...' This is the best way for students to get used to the pace. We encourage students to sing that to themselves as they are pushing compressions on the chest of the mannequin."
Zucker and Wieland have structured the course so that all junior Penn athletes train during the fall semester and all freshman Penn athletes will be certified during the spring.
"This way you are going to have all Red and Blue student athletes trained every two years," says Zucker.
When asked about how they feel that this is an innovative first-of-its-kind course for college athletes in the country, Wieland and Zucker say they're grateful the other has been a part of getting the program up and running.
"Jeff should be very proud of himself for being very persistent in wanting to get the project done," says Wieland. "He persisted and was not going to take no for an answer. He had a now rather than later approach. This is his baby, and I am happy to be the background supporter."
Zucker adds that he hopes the program will help people save lives.
"I think that it's a skill everyone should have, and I am hoping other schools will adopt this in the future," he says.
The spring session dates are March 18, 24, 25, and 31.