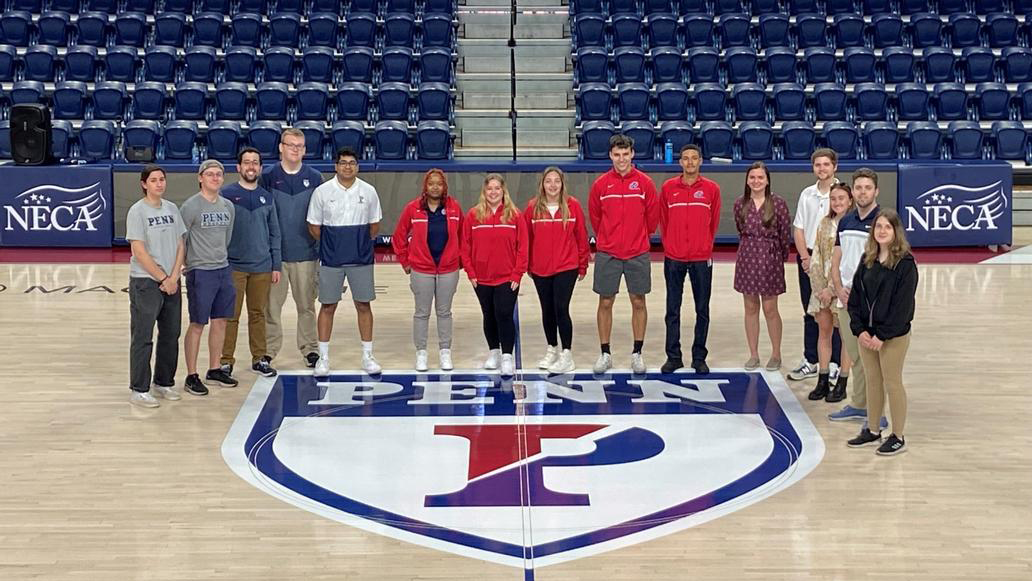 Internships are not a new idea in college athletics, especially at Penn. The Division of Recreation and Intercollegiate Athletics (DRIA) has been helping to develop young people through internships for more than two decades. But in the past year, a more formal and centralized internship program has proven to be beneficial to both Penn Athletics and the college students who have filled roles within the Division.

"The idea was not to reinvent the wheel. Penn Athletics has had internships for almost 20 years," says Josh LaRosa, associate athletics director/external operations. "We wanted to centralize our internship program, taking what some of our departments have been doing very well and implementing that process throughout the Division to support all of our intercollegiate programs and departments."

In the first year of the formalized program in 2022-23, Penn Athletics has doubled its internship pool from 25 to 50. Long-standing relationships with Drexel and Temple continue to provide a number of interns to the Division, but the goal this year has been to build out the program and cast a wider net.
"A more recent focus has been to dig a little bit deeper on what our individual departments need to see in the qualifications and experiences of the intern and try to make those unique relationships," LaRosa says. "For example, our creative content and video departments really need true artists. The next step is how do we develop relationships—both internally at Penn as well as with some of the other schools in the city—to provide interns to Penn."

In September, Penn Athletics welcomed two new Quaker Fellows, essentially full-time paid interns, to the department in Veronica Brancato and Mackenzie Greenfield. Both have become valuable assets to the day-to-day operations of the Division.
A Drexel graduate, Brancato is a true success story, as she has gone from part-time, to a Quaker Fellow, to full-time in the Division's finance office as a business administrator. Her role as a Quaker Fellow was to run and organize the internship program, which allowed her to create strong relationships both internal and external to the Division.

"Being a Quaker Fellow exposed me a to a lot of people throughout the department," Brancato says. "My main responsibility was overseeing the internship program and getting it up and running. It was successful pretty quickly, as we more than doubled our number of interns in the first four months."

Brancato had nothing but positive reflections on her year as a Quaker Fellow, helping get the formalized program off the ground.

"There are a lot of opportunities throughout the department," she says. "If you are truly interested in working in college athletics and you want to stick around at Penn, there's a good chance you can make that happen if you do well and make connections and build relationships."
"We are trying to take a laddered approach to the Division," LaRosa says. "We want to ensure that we're providing an educational opportunity and mentorship to these interns. Then there are transitional opportunities to our fellowship program, and from there we are looking at that pool of interns and fellows when hiring full-time employees. Veronica is a great example of that."

Greenfield is a Quaker Fellow who works in the Office of the Athletic Director, collaborating closely with the administrative team and the T. Gibbs Kane, Jr. W'69 Director of Athletics and Recreation Alanna Shanahan. A former track & field standout at Rider University, Greenfield turned down an opportunity for a market research job to pursue her passion in college athletics.

"I wanted to get my foot in the door but wasn't sure which aspect of college athletics I wanted to pursue," Greenfield says. "Everyone I've met has reinforced my desire to continue to work in athletics. Everyone has been great, and the experience has been exactly what I've hoped for."
Hunter Taubes is in his second year as the social media and operations intern for the Penn baseball program. A senior at Temple, Taubes has grown the Penn baseball social media accounts into one of the more entertaining follows in college baseball.

"My job is to create content for social media," Taubes says. "I never thought it was a position that could become a career; it's just something that I have so much fun doing every day. People say you want to have a job where you get to go to work. I consider myself lucky to be in the position to do that."

Baseball is a data-driven sport and the same can be said for social media. Taubes' dry wit and consistent content has led to a 222% increase in Twitter engagements for the baseball account year-over-year in 2022.

Taubes has parlayed his experience with Penn baseball into an internship this summer with the New York Mets in their social media department, a dream job for a kid who grew up going to Shea Stadium and Citi Field.

"I wouldn't have considered even applying for a social media position if it wasn't for my Penn experience," Taubes says. "I'm excited to be at Citi Field, working with the players and team every day. After that, I'd love to be with the Mets or Penn full time; that's something that I'd be excited for."
While he may be the most visible intern for Penn baseball, he is not the only one. Head Coach John Yurkow has built his own army of interns within his program, doing deep dives into analytics to help individual players and the team find ways to get a little better.

Luke Castellini and Jackson Handler are two Penn students who are deeply involved in the analysis of the team's data from Trackman and Rapsodo. Prasham Jobanputra, a Drexel student, has joined the baseball program after an internship this fall with the Penn football team, and helps with analytics and operations as well.

Penn Athletics is looking to continue and grow its internship program for 2023-24 and beyond. With a strong foundation and a number of success stories from year one of the formalized internship program, the future is bright for the college students involved and for the Division of Recreation and Intercollegiate Athletics.