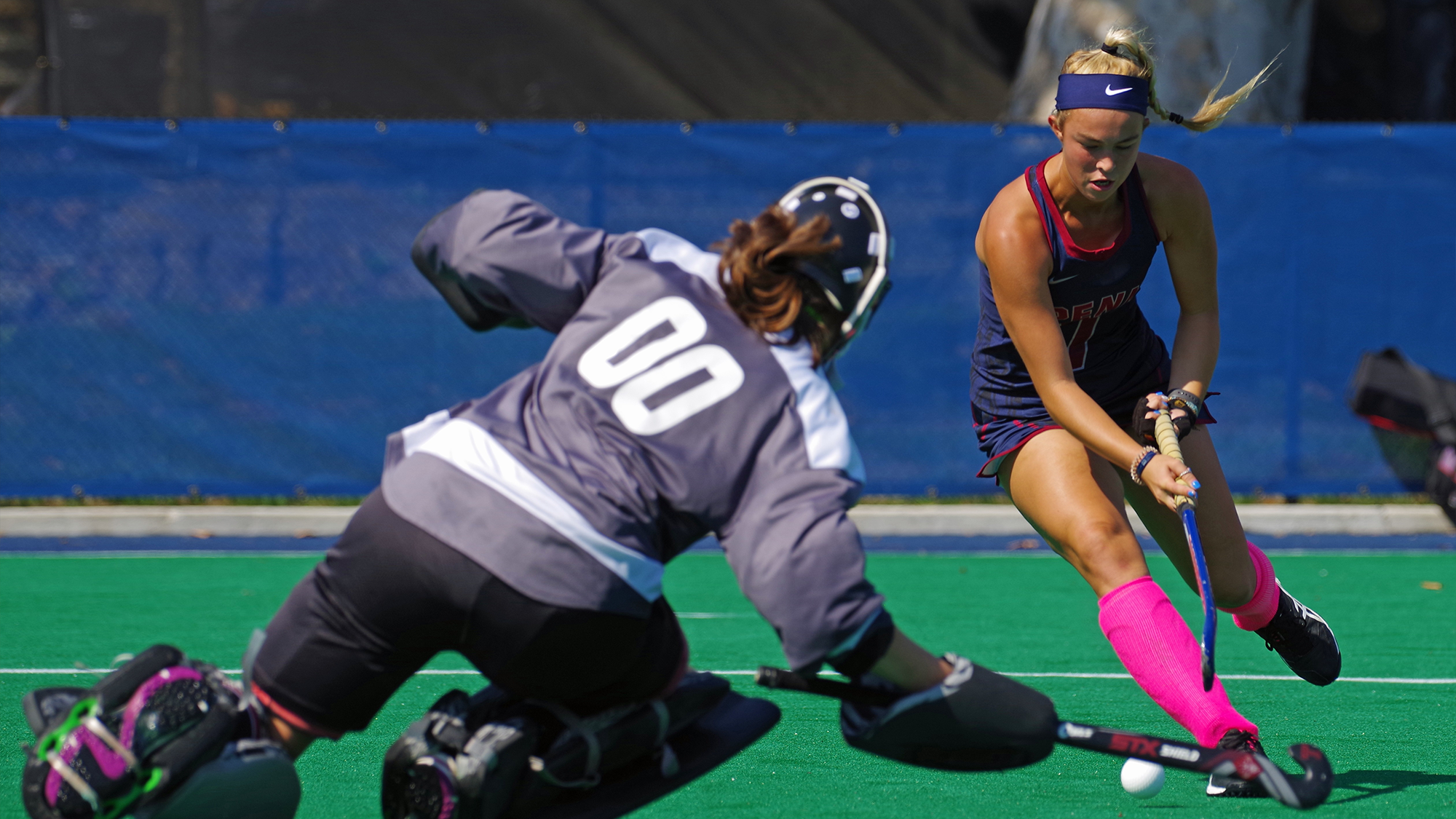 Wins No. 1 and 2 for the field hockey team in the 2021 season came on Friday against Drexel and Sunday against Villanova.
Home at Vagelos Field, the Quakers beat Drexel 5-3, Penn's sixth straight defeat of their West Philly rival.
Senior defender/midfielder& Gracyn Banks& led the Red & Blue with three shots, two shots on goal, and two goals—the first multi-goal game of her career.
Allison Kuzyk, a sophomore forward/midfielder, scored the Quakers' first goal at the 11:11 mark of the first period, on an assist by freshman midfielder Sophie Freedman. Banks followed up at the 12:44 mark of the first period, with a goal off a penalty corner. She was assisted by junior midfielder Maya Geller and junior forward/midfielder Sydney Huang.
The Red & Blue were up 2-0 at halftime.
Exactly five minutes into the third period, senior defender/midfielder Ashley Wetzel scored the Red & Blue's third goal of the game. Drexel answered with a goal to cut Penn's lead to 3-1, but Banks scored her second goal in the closing minutes of the quarter. Senior defender Madison Woods and senior midfielder Lily Clarkson picked up the assist.
Junior forward Julia Russo scored Penn's fifth and final goal, assisted by junior midfielder Olivia Kenny. The Dragons scored two goals in the final seven minutes, but it was too little too late.
The last time the Quakers played Villanova, in 2019 at Vagelos Field, the Wildcats won 3-2, which snapped Penn's seven-game winning streak in the series. On Sunday in Conshohocken, the Quakers got their revenge with a 2-0 victory.
Junior midfielder Meghan Ward scored a goal at the 5:59 mark of the first period, assisted by Kenny, and Freedman scored a goal in the second period, assisted by freshman midfielder/defender Courtney Kenah. Sophomore goalkeeper Sabien Paumen had three saves.
Penn (2-2) takes on another Philadelphia foe on Friday, Sept. 17, battling Saint Joseph's at 3 p.m. at Vagelos Field.