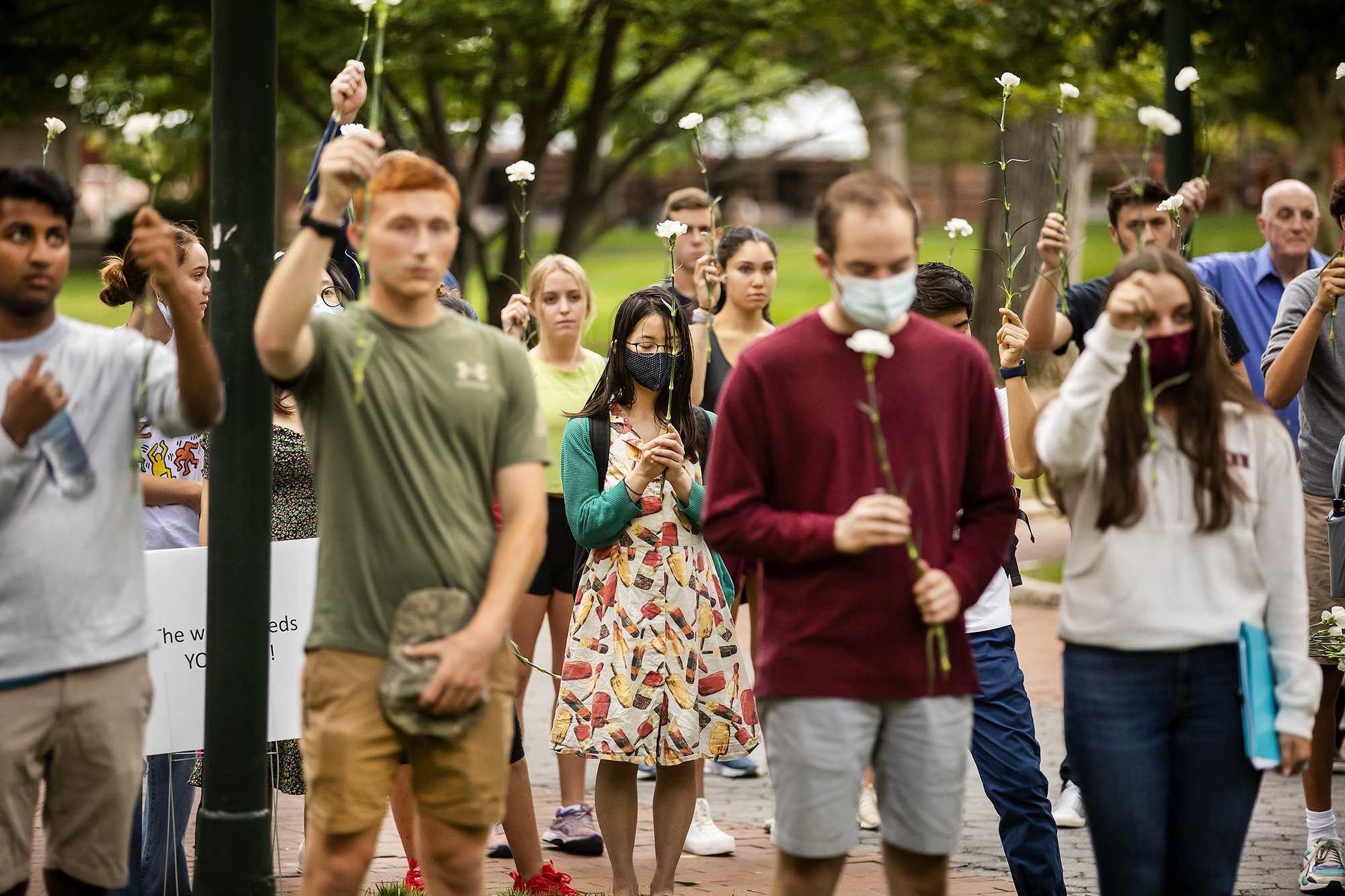 On Sept. 11, 2001, amid terror and grief, the Penn community—folks from all different walks of life—joined together as one on campus. Twenty years later, on an eerily similar sunny, blue-sky day, a feeling still weighing heavily in hearts, students and faculty members, along with staff and friends of Penn, gathered near the iconic Love Sculpture on Locust Walk with the same mission: to pay tribute to the precious lives lost, and commit to being united.
"The promise of lives cut short, the goodbyes that were never said, the immense possibilities of each and every person we lost: We grieve, and we remember," said Penn President Amy Gutmann during Friday's commemoration. "And we will always remember."
Gathering just before the brief program began, people in the crowd—some just stumbling upon the event, others having etched it days ago into their planners—could be heard sharing stories with each other of where they were on 9/11. They described their fears, their feelings of confusion, and the gut-wrenching pain that is always too difficult to truly decipher. It was a day that undoubtedly changed everyone's life in too many ways to count.
The Rev. William Gipson, who was University chaplain on 9/11, aptly shared a touching work of literary art by Toni Morrison, her poem titled "The Dead of September 11," which she penned just days after the attacks. The Rev. Charles "Chaz" Howard, the current University chaplain, read the names of the 16 Penn alumni, all engraved on a plaque near Van Pelt Library, who were killed that day. The bustle of campus in the fall stopped in its tracks as a moment of silence followed.
A day of remembrance, Gutmann challenged those in the crowd—all gifted a flower as a sign of hope—to also make it a day of rededication, and a day of resolution.
"Facing up to the truth, we see the prejudice, and persecution, we see they are far from banished from this world," Gutmann said. "We still see them, we still experience them, and so many among us still suffer from them. Today is a day to join together and resolve that we will not let these evils prevail."