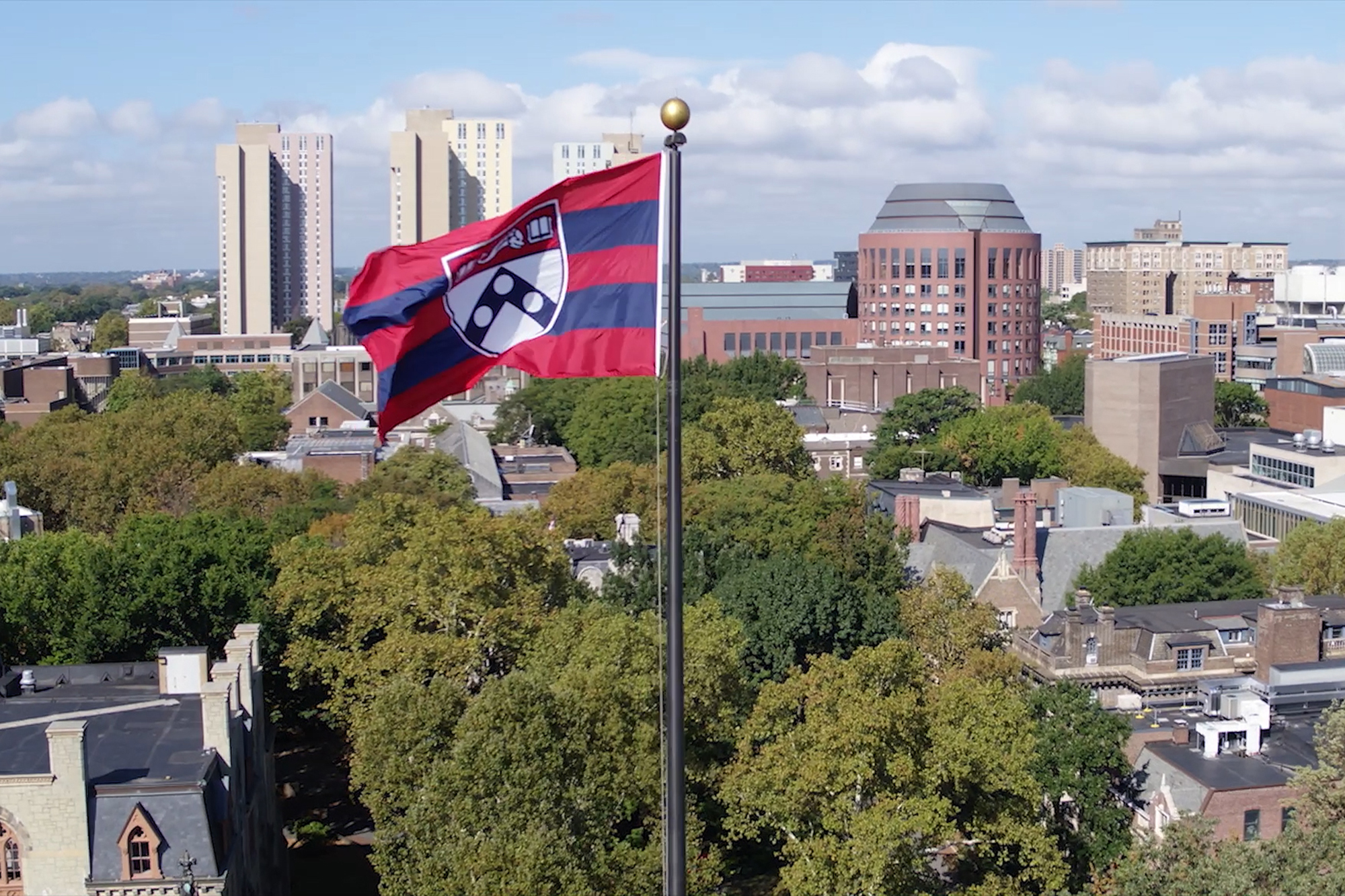 The University of Pennsylvania today announced the results of The Power of Penn Campaign—the most successful fundraising and engagement effort in the University's history. The Campaign far exceeded its initial goal, raising more than $5.4 billion to strengthen Penn's position as a leader in higher education and advance key priorities across the University.
"Through the remarkable power of philanthropy, we are developing critical thinkers, creating new knowledge, and generating groundbreaking solutions that dramatically amplify Penn's ability to make a positive impact in the world," said Penn President Amy Gutmann. "Equally remarkable and uplifting has been the unwavering commitment and exceptional generosity of our global community."
Guided by the University's commitment to inclusion, innovation, and impact, The Power of Penn Campaign galvanized a collective effort to support Penn's 12 schools and six centers, raising gifts from 389,535 donors. The Campaign also strengthened alumni connections and more deeply engaged the Penn community worldwide.
"It's incredibly inspiring to be a part of this Campaign, and to see the spirit of Penn alumni and the philanthropy of Penn donors eager to play a role in the important work Penn is doing," noted Campaign Chair Robert M. Levy. "Over 6,500 volunteers, including our Trustees and Boards of Advisors, led Campaign efforts and were our ambassadors, our advocates, and our biggest supporters. The value of their leadership cannot be overstated."
The University of Pennsylvania has long demonstrated a commitment to diversity and inclusion. The Power of Penn Campaign defined ambitious goals for critical areas that fuel this commitment, such as increasing undergraduate aid, with 830 new undergraduate scholarships established. The Campaign also launched the Penn First Plus initiative which provides comprehensive support for students who represent the first generation in their families to attend college and/or are from lower income households. Across the board, The Power of Penn Campaign has bolstered financial aid at all levels, raising nearly $900 million for student support, helping to ensure Penn's ability to enable almost 80% of undergraduates to leave Penn debt-free.
Recruiting, retaining, and supporting stellar faculty and staff are essential to Penn's mission. Donors to the Campaign endowed 186 new positions and 12 new Penn Integrates Knowledge University Professorships designed to advance interdisciplinary, collaborative approaches to research and teaching.
The Power of Penn Campaign sparked groundbreaking change across the University. Two Penn Schools, Penn Carey Law and the Stuart Weitzman School of Design, were renamed in honor of the donors and the visionary philanthropy that will drive remarkable impact in these fields.
Penn's programmatic and research priorities in the Campaign included strengthening the University's infrastructure for innovation and entrepreneurship. The Power of Penn increased resources to drive discovery and practice in critical fields such as energy research and technology and data science. The Vagelos Laboratory for Energy Science and Technology at Penn Arts & Sciences will provide collaborative space for the work of top energy scientists, and the Data Science Building at Penn Engineering, once completed, will bring students and faculty together to turn data into actionable insights.
An important part of The Power of Penn Campaign, Penn Medicine raised $1.68 billion to advance life-changing medical breakthroughs, revolutionize patient care, and increase diversity, equity, and access to medical education at the nationally ranked Perelman School of Medicine. Thanks to the Campaign, The Pavilion—Penn's "hospital of the future"—will set the next standard for care today and for generations to come; at the same time support for research, including Penn Medicine's "ImmunoRevolution," is helping to develop novel therapies and transformative advances in cancer treatment.
Through generous Campaign gifts, Penn's School of Nursing is preparing nursing leaders to disrupt structural inequities in health care and advance science; Penn Dental Medicine is welcoming new patients at a dedicated Care Center for Persons with Disabilities; and Penn Vet will build a new clinical skills center, the Gail P. Riepe Center for Advanced Veterinary Education, at the New Bolton Center campus in Kennett Square, PA.
The Wharton School raised more than $1 billion through the Campaign. These funds support research and teaching in fields including the future of finance and data analytics, substantially increase financial aid for graduate students, and have made possible the construction of a new Academic Research Building and Tangen Hall, a new entrepreneurship hub that is open to all students.
With tremendous support for longstanding priorities and new initiatives, Penn Arts & Sciences—the University's largest undergraduate school—raised $565.6 million. The Campaign has strengthened research and undergraduate learning through support for wide-ranging academic centers including the Andrea Mitchell Center for the Study of Democracy, the Wolf Humanities Center, the Price Lab for Digital Humanities, and MindCORE, Penn's hub for the integrative study of the mind.
The Power of Penn Campaign enabled the School of Social Policy & Practice to launch its Social Justice Scholars Program, including uniquely focused curricula on racial justice, anti-colonialism, and abolitionist futures. Campaign support also allowed the Annenberg School for Communication to create five new academic centers where faculty and students can pursue collaborative research on complex topics such as digital culture, a free press, media and inequality, and health communication.
The Campaign fueled new facilities and renovations that have enhanced the campus living and learning environment. The Penn Libraries has increased access to scholarly information and created exceptional learning environments such as the new Biotech Commons. Lauder College House and New College House are enabling all first- and second-year students to live on campus. Penn's Graduate School of Education is expanding its footprint with a new hub for 21st century teaching and learning. And Penn's student-athletes will benefit from revitalized facilities including the Penn Squash Center, a renovation to Penn's historic Boathouse, and the forthcoming Jane and David Ott Center for Track & Field, a year-round indoor home for cross country and track & field teams.
Penn's arts and cultural centers raised funds through The Power of Penn that will improve their facilities and offer new programs to serve the Penn community and the Philadelphia region. The Penn Museum has transformed the visitor experience with exciting new designs of galleries and a reimagined main entranceway, while the Institute of Contemporary Art and the Annenberg Center for the Performing Arts have been able to increase their work as champions for underrepresented voices and deepen community connections. The Morris Arboretum, a welcoming sanctuary when many cultural facilities were closed to the public during the pandemic, raised support for new educational programming for children and enhancements to its grounds.
John H. Zeller, senior vice president for Development and Alumni Relations, credits Penn's generous donors and engaged alumni community, as well as the urgency of Penn's priorities, for the Campaign's success. "Penn's ability to create inspiring impact across the globe reflects the shared vision and steadfast generosity of thousands upon thousands of partners, including more than 41,000 alumni who made a first-time gift during the campaign. Their support raises the bar for what is possible," he said. Zeller added, "These results are even more impressive when you consider that the COVID-19 pandemic forced us to conduct the culminating part of this Campaign remotely."
To learn more about the impact of The Power of Penn Campaign, visit www.yourimpact.upenn.edu.