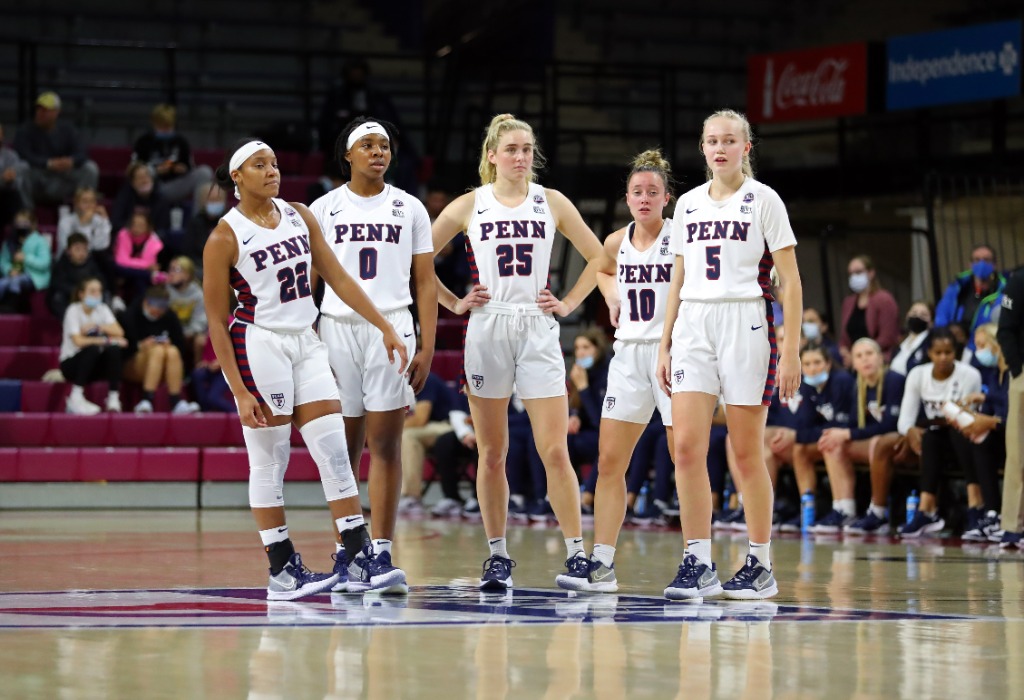 While the rest of us were stuffing ourselves with Thanksgiving leftovers, the women's basketball team ate a W, gulping down UC San Diego 58-51 on Friday in the Loyola Marymount Thanksgiving Classic in Los Angeles.
After UC San Diego opened up with an 8-3 lead, three consecutive three-pointers by senior forward Kennedy Suttle, senior guard Nikola Kovacikova, and senior guard Mia Lakstigala kicked off a 17-0 Quaker run. At the end of the first quarter, Penn held a 20-8 advantage.
Both teams shot poorly in the second quarter. UC San Diego shot 4-19 and scored 10 points. Penn shot 3-12 and scored six points. The Red & Blue entered halftime up 26-18.
Lakstigala drained a three-pointer to start the second half, and the Quakers held a double-digit lead for much of the third quarter. Penn was ahead 40-30 with 3:11 left in the period, but the Tritons went on a 6-2 run to make it a 42-36 game headed into the fourth.
UC San Diego hit a three to commence the final stanza, which cut the Red & Blue's lead to 42-39. With around seven minutes remaining, a three-pointer by the Tritons put them ahead 47-46.
Back-to-back three pointers by Suttle and junior guard Kayla Padilla gave Penn a 54-47 advantage with 4:45 left in the game.
In the final minute and a half, UC San Diego trimmed the lead to 54-51. A layup by sophomore forward Jordan Obi made it a 56-51 game with 64 seconds on the clock. Free throws by Padilla, Lakstigala, and Kovacikova closed out the win.
Obi had 20 points, 10 rebounds, and two blocks. Lakstigala had 13 points and nine rebounds. Suttle had 11 points, seven rebounds, and three steals.
Uncharacteristically, Padilla had a quiet game, with nine points, two rebounds, and four steals.
On Saturday against Memphis, Padilla's game shouted from the peak of the highest point in the Hollywood Hills. She scored 36 points—the 10th highest total in school history—in Penn's 73-68 overtime loss, and drained a school-record nine three pointers.
She scored eight of Penn's 15 points in the first quarter, and 14 of the Quakers' 18 points in the second quarter. She was held to three points in the third, but her teammates picked up the slack and contributed 14. The Quakers were ahead 50-46 after three periods.
Halfway through the fourth quarter, the score was tied 52-52. Two free throws put Memphis up 56-54 with 3:51 on the clock. Padilla hit a big three to give the Quakers a 57-56 lead. A layup by Memphis put the Tigers ahead 58-57 with 1:28 remaining. Memphis hit a free throw with 23 seconds on the clock to go up 59-57, and Padilla answered with a Kobe Bryant-level clutch three-pointer to give Penn a 60-59 lead with 16 seconds remaining.
Penn was literally a second away from victory, but a foul was called on the Quakers with one second left, sending the Tigers to the line for two. Memphis made one of two, and the game went into overtime. The Tigers outscored the Red & Blue 13-8 in the extra period.

Padilla, who played all 45 minutes, shot 13-26 from the field, 9-17 from the three-point line, and added four rebounds, five assists, and one steal. Obi had 12 points, five rebounds, three blocks, and two steals. Junior forward Silke Milliman grabbed 11 boards.
On Tuesday, Nov. 30, Penn (4-2) takes on Big 5 foe La Salle (3-3) at 7 p.m. at the Palestra.