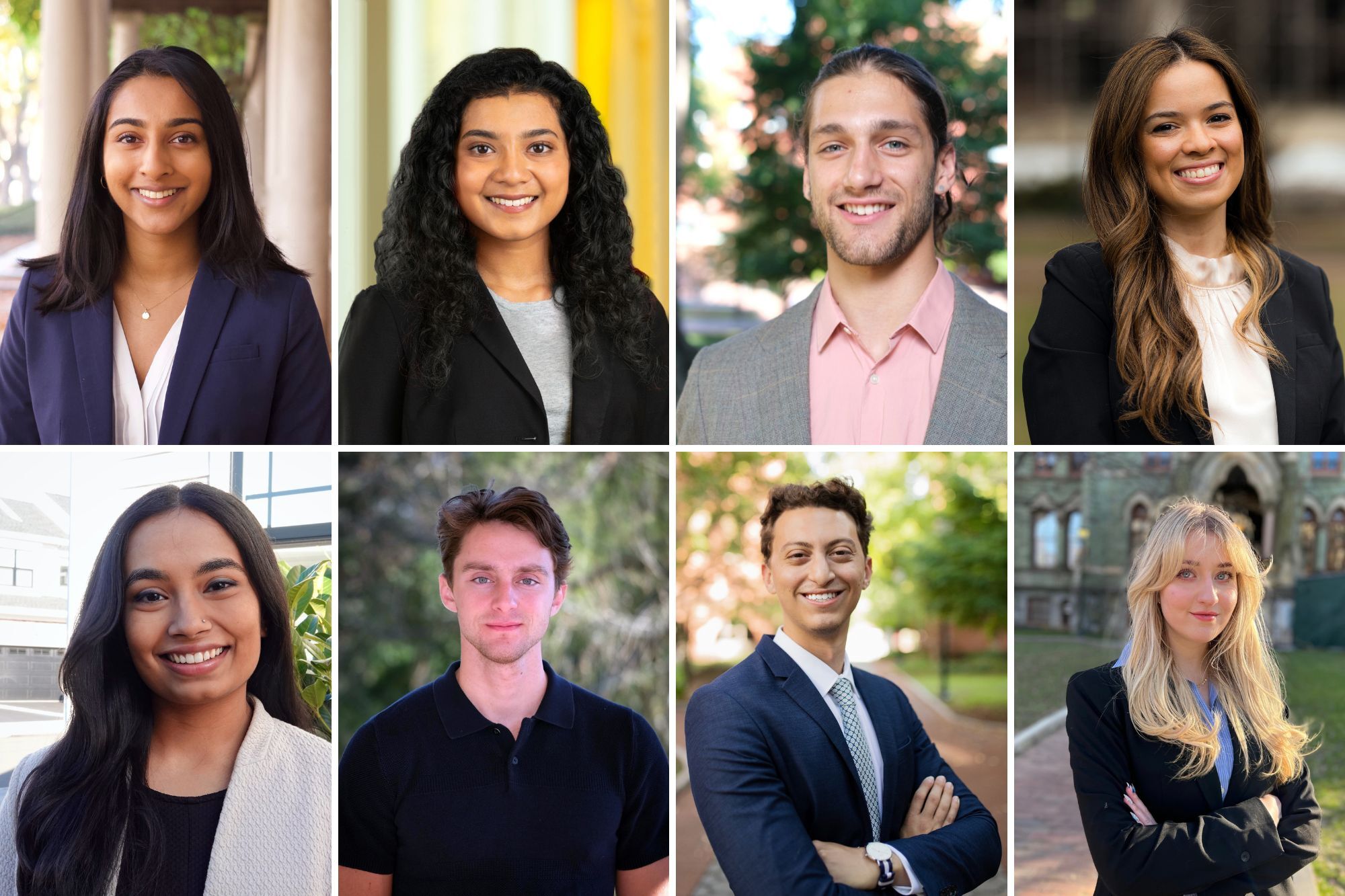 Seven University of Pennsylvania fourth-years and one May graduate have each received a 2023 Thouron Award to pursue graduate studies in the United Kingdom. Each Thouron Scholar receives tuition for as long as two years, as well as travel and living stipends.
Penn's 2023 Thouron Scholars are fourth-years Alisa Ghura, Shivani Nellore, Winston Peloso, Gabriella Rabito, Thomas Russell, Oliver Stern, and Elena Tisnovsky, and May graduate Srinidhi Ramakrishna.
Established in 1960 and supported with gifts by the late John Thouron and his wife, Esther du Pont Thouron, the Thouron Award is a graduate exchange program between Penn and U.K. universities that aims to improve understanding and relations between the two countries.
Alisa Ghura, from Washington, D.C., is double majoring in political science and urban studies with a minor in survey research & data analytics in the College of Arts and Sciences. Interested in education and environmental justice, she is an advocate for safe school buildings and has conducted research on the presence of environmental hazards in schools through her honors thesis and at the Brookings Institution. Her commitment to this research stems from her role as a writing program instructor at Paul Robeson High School in Philadelphia through Robeson Writes, a supplemental writing program she co-founded. At Penn, Ghura is a Civic Scholar, a Program on Opinion Research and Election Studies Student Fellow, and member of the Penn Mock Trial team. She is the chair of the Netter Center for Community Partnerships Student Advisory Board. She also was Penn's 2021-2022 Newman Civic Fellow. As a Thouron Scholar, Ghura plans to pursue a master's degree at the University of Oxford in England to study environmental justice, with a goal of advocating for policies that create more equitable learning environments for all students.
Shivani Nellore, from Great Falls, Virginia, is in the Roy and Diana Vagelos Life Sciences & Management dual degree program, pursuing a bachelor's degree in biology concentrated in molecular and cell biology in the College and a bachelor's degree in economics concentrated in health care management and policy at the Wharton School. Nellore is currently a student researcher in the Syd Shaffer Lab at the Perelman School of Medicine and a student volunteer for Project Stella, an effort to improve radiation oncology treatments in Africa. She has conducted cancer research as a summer intern at the National Cancer Institute in Bethesda, Maryland, and at the MD Anderson Cancer Center in Houston. Last summer she worked as a business team member at the Lifespan Cancer Institute in Providence, Rhode Island. Additionally, Nellore worked as a certified pharmacy technician at CVS during the pandemic. At Penn, Nellore is a vice president for the Science Olympiad at Penn and a coordinator for the Educational Pipeline Program, working with Philadelphia high school students through the Netter Center for Community Partnerships. As a Thouron Scholar, she plans to pursue a master's degree in evidence-based social intervention and policy evaluations at the University of Oxford.
Winston Peloso, from Princeton, New Jersey, is majoring in physics and mathematics, and is submatriculating to earn a master's degree in physics, in the School of Arts & Sciences. He has contributed to research projects in several areas of physics, including the NASA Advanced Colloids Experiment, the SABRE dark matter search, and his senior thesis on the effect of defects on electron transport in new materials. He has mentored other undergraduates through Research Peer Advisors, Beyond Locust Research Club, Women in Physics, Peers Helping Integrate New Students, and as a teaching assistant in mathematics. He recently instituted and manages the Journal Club of the Society of Physics Students at Penn, and organizes fundraising events as philanthropy chair of the fraternity Delta Phi. As a Thouron Scholar, Peloso plans to pursue a master's degree in mathematics to support his future research into understanding the capabilities of quantum metrology.
Gabriella Rabito, from Huntington, New York, is majoring in political science with a concentration in international relations, with a minor in modern Middle Eastern studies in the College, while also pursuing a graduate certificate in global human rights. She is interested in international human rights law, specifically mass atrocities, state-sponsored violence, systematic persecution, and wrongful detention. Rabito has been a research assistant for five Penn political science professors, and a research analyst at two think tanks, including Penn's Think Tanks and Civil Societies Program. She has worked as a legal intern at the Pennsylvania Innocence Project in Philadelphia, and two law firms in Washington, D.C. As a Penn Perry World House Student Fellow she received a 2022 grant to pursue research on mass atrocity prevention.  She also won the Perry World House's Undergraduate Essay prize for her essay on refugee detention centers. A QuestBridge scholar, Rabito was a student liaison on Penn's Trustee Committee on Local, National, and Global Engagement and a volunteer with Penn Leads the Vote. She was elected as Committee Person of Philadelphia's 27th Democratic Ward in the May Pennsylvania primary. She is president of Penn's Pi Sigma Alpha political science honor society chapter, a member of the Phi Alpha Delta law fraternity, and an associate editor of Sigma Iota Ro Journal. She also is a member of the student groups Dischord A Cappella, Onda Latina dance troupe, and Penn Records. As a Thouron Scholar, Rabito plans to pursue a master's degree in international relations.
Srinidhi Ramakrishna, from Montgomery, New Jersey, graduated summa cum laude from the College with a bachelor's degree in political science with a concentration in American politics, and a minor in survey research & data analytics. She currently works as a product manager building machine-learning-driven personalization features at the streaming service Peacock in New York City. At Penn, Ramakrishna advocated for criminal legal reform as co-president of the student group Beyond Arrests: Rethinking Systematic Oppression. For her honors thesis, she conducted research on the politics of mass supervision and probation in Pennsylvania. A member of several student groups, Ramakrishna was vice president of the a cappella group Counterparts, a coordinator for PennArts, a facilitator for the Asian Pacific American Leadership Initiative, and a member of various South Asian and violence prevention student advocacy organizations. Ramakrishna is a 2019 Summer Humanities Internship recipient, a 2021 T. Howard Foundation Fellow, and a 2022 Civic Innovation Corps Fellow, the last of which supported her work on civic technology projects in state government. As a Thouron Scholar, Ramakrishna plans to pursue a master's degree in the social science of the internet at the University of Oxford.
Thomas Russell, from Gladwyne, Pennsylvania, is majoring in international relations with a minor in Russian studies in the College. He is interested in international security and global intelligence, with a focus on U.S. international diplomacy and the legacy of the Cold War on contemporary Eurasian politics. Russell was the 2021 recipient of the U.S. State Department's Critical Language Scholarship, where he completed an immersive program in Russian language and culture through the American University of Central Asia in Bishkek, Kyrgyzstan. Russell has conducted research at the Foreign Policy Research Institute on Russian political disinformation, as well as on the resurgence of Turkish militarism under President Recep Erdogan. Most recently, Russell has worked with Lt. Col. John Nagl (Ret.) at the U.S. Army War College to design and implement a novel curricular counterinsurgency wargame based upon successes and failures from the U.S.-Afghan and Soviet-Afghan conflicts. He is also a four-year member of Penn's varsity lightweight rowing team. As a Thouron Scholar, Thomas plans to pursue a master's degree in international security studies at the University of St. Andrews in Scotland.
Oliver Stern, from Miami Beach, Florida, is majoring in political science and history with concentrations in international relations and diplomatic history in the College. He is interested in international efforts to establish effective accountability mechanisms for human rights violations. His honors thesis examines the recent expansion of universal jurisdiction prosecutions for crimes against humanity. A Stavros Niarchos Foundation Paideia Fellow and Perry World House Student Fellow, he helped organize President Biden's Summit for Democracy while working as an intern at the U.S. State Department. He addressed the United Nations Human Rights Council while working as an intern for UN Watch. At Penn, he was the vice president of the Penn University Honor Council, a member of the Student Committee on Undergraduate Education, and an undergraduate appointee to the University Council's Committee on Open Expression. As a Thouron Scholar, Stern plans to pursue a master's degree in human rights at The London School of Economics.
Elena Tisnovsky, from Westchester, New York, is majoring in political science with a minor in East Asian Area studies in the College. She has worked for think tanks focusing on military science, human rights, international security, and post-war governance. Tisnovsky currently is an investigative analyst intern at the Center for Advanced Defense Studies. In 2022 she was a Hertog War Studies Fellow at the Institute for the Study of War and an intern at The Carter Center Rule of Law Program. As part of the Penn in Washington Program, Tisnovsky in 2021 was an intern at the Wilson Center's Kennan Institute, where she conducted research in the Library of Congress on the development of authoritarianism through visual statistics in the early Soviet Union. She also took political science courses at the Penn Biden Center for Diplomacy and Global Engagement. Through a Penn Undergraduate Research Mentorship award, Tisnovsky worked with Rudra Sil, political science professor, on the development of environmental, social, and governance principles, and hydrogen energy policy in Russia. Also while at Penn she worked to raise awareness and funds for the rescue and resettlement of North Korean refugees through Penn for Liberty in North Korea, and was a member of the Quaker Girls Dance Team. As a Thouron Scholar, she plans to pursue a master's degree in intelligence and international security at King's College London.
The Center for Undergraduate Research and Fellowships serves as Penn's primary information hub and support office for students and alumni applying for major grants and fellowships, including the Thouron Award.