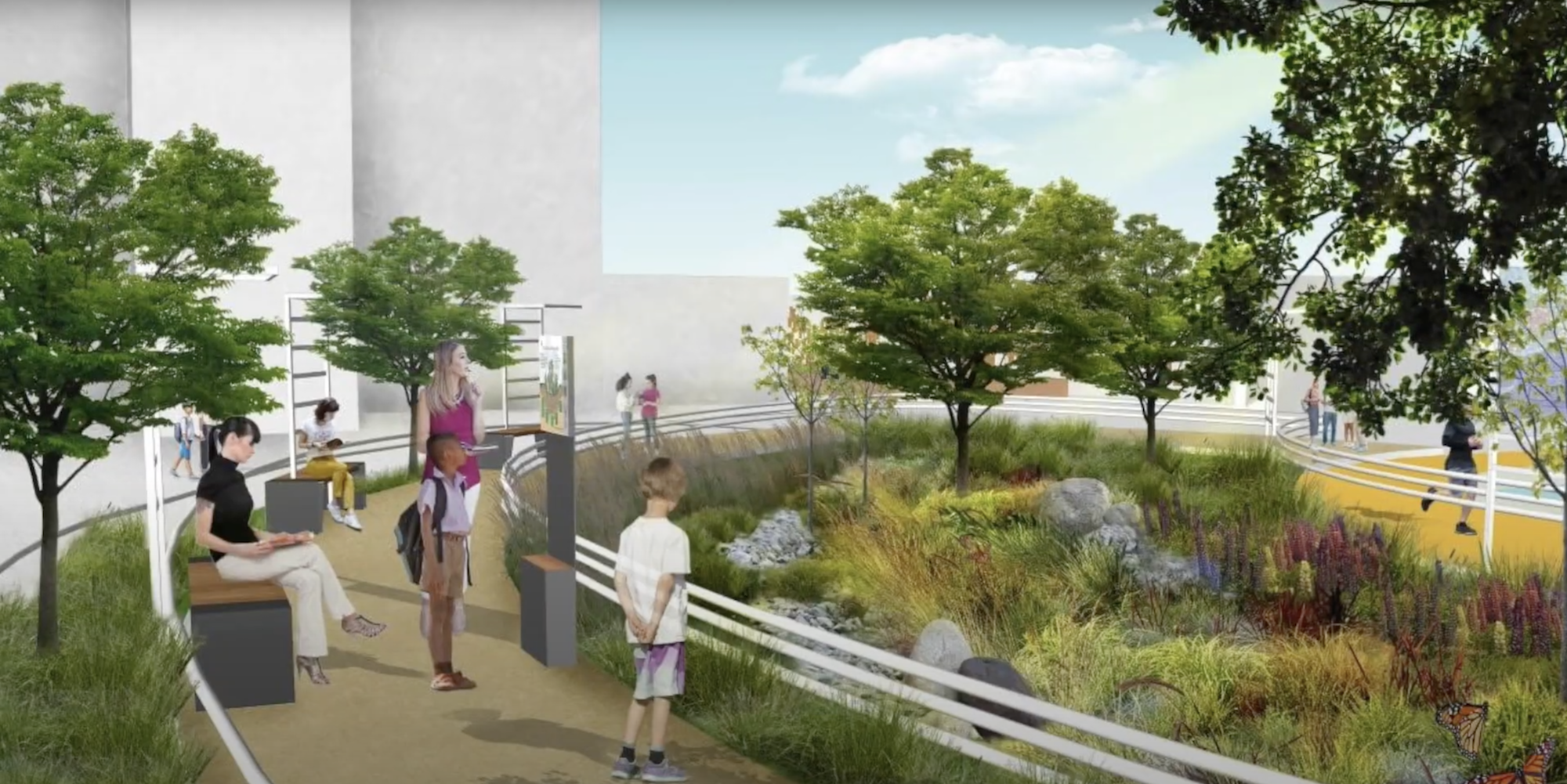 A team from the University of Pennsylvania is a winner of the United States Environmental Protection Agency's (EPA) ninth annual Campus RainWorks Challenge, a national competition that engages college students in the design of green infrastructure solutions to address stormwater pollution.
The Penn team won first place in the demonstration project category, which focuses on how green infrastructure can address stormwater pollution at a specific site on campus or local elementary, junior high, or high schools. Their project, "Growing Together," is led by Corey Wills, who is enrolled in the Master of Environmental Studies and Master of City Planning programs, and includes a range of partners.
Their entry proposes a redesign of the Andrew Hamilton School campus in West Philadelphia to incorporate a variety of green infrastructure practices, including raised garden beds and a food forest. Extensive stakeholder engagement within the community led to a realistic design that would manage stormwater runoff on-site, connect students to their watershed, and help address food insecurity. The Andrew Hamilton School supported the team's vision and will move forward with project construction this spring.
"The students at Hamilton are very excited to have these tools that can cool the grounds to make campus a safer place to play in the summer, provide STEM education opportunities, and offer a food source for the community," says Wills, who is a watershed resource analyst at the Water Center at Penn.
Partners in the project include Penn's Netter Center for Community Partnerships, the School District of Philadelphia's Office of Capital Programs, the Philadelphia Orchard Project, and the Philadelphia Water Department. The faculty lead on the project is John Miller, a lecturer in the MES program, and Wills' teammates include Leila Bahrami, Haoge Xu, Mrinalini Verma, Justina Thompson, August Sissick, Noëlle Raezer Flavia Olivera, Eliza Nobles, Jonah Garnick, Prithi Chandra, and Caroline Ben Nathan.
Going forward, the group plans to incorporate STEM curricula for Hamilton students that connect to the new campus green spaces and to establish a low- or no-cost farmers market where produce from the school can be shared with the community. The group is in the process of hiring a full-time gardener for the site for the summer.
As the first place winners the team will receive a $7,000 student prize to be split among team members and a $3,000 faculty prize to support green infrastructure research and training. The group will begin implementing the project this spring and summer.
"Innovative stormwater-management design has the potential to create vibrant and dynamic school campuses to benefit students and the surrounding community," says Radhika Fox, EPA principal deputy assistant administrator for water. "This engaging competition encourages problem-solving through design while introducing students to opportunities to join the next generation of clean water professionals."
Stormwater runoff is a significant source of water pollution and remains a complex environmental challenge for communities across the country. Green infrastructure tools and techniques for stormwater management include green roofs, permeable materials, alternative designs for streets and buildings, trees, habitat conservation, rain gardens, and rain-harvesting systems. Utilizing these tools decreases pollution to local waterways by treating rain where it falls and keeping polluted stormwater from entering sewer systems. Communities are increasingly using innovative green infrastructure to supplement "gray" infrastructure such as pipes, filters, and ponds. Green infrastructure reduces water pollution while increasing economic activity and neighborhood revitalization, job creation, energy savings, and open space.
For more information, visit https://www.epa.gov/green-infrastructure/campus-rainworks-challenge-0.