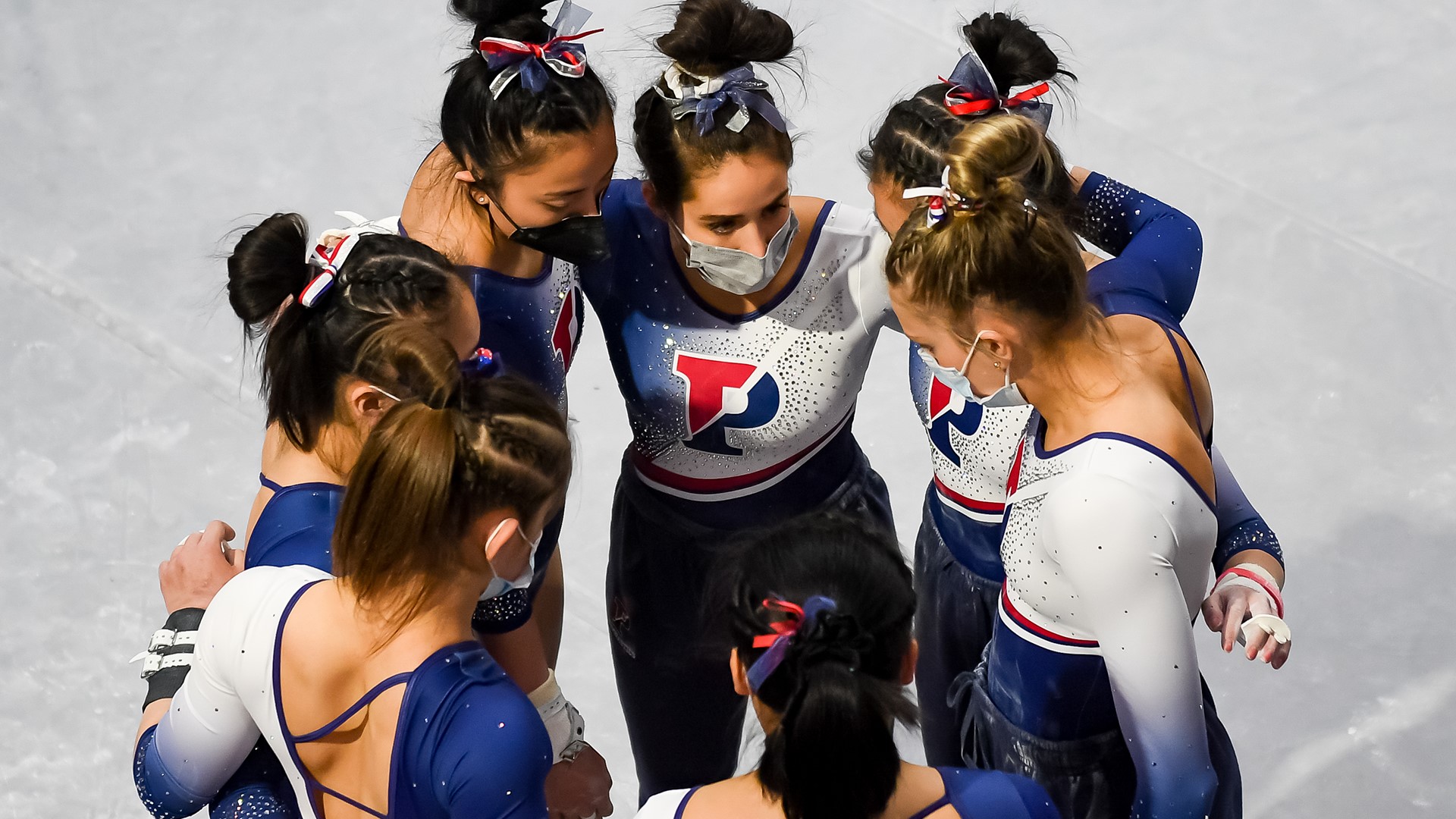 The 2022 Gymnastics East Conference (GEC) Championships twist and land on Saturday, March 19, at Brown University in Providence, Rhode Island, and the Penn gymnastics team is entering the competition as the No. 1 seed.
With a 7-1 record in conference meets, the Quakers are the regular season champions of the GEC, and ended the regular season with a national qualifying score of 194.875.
"This has been one of, if not the most successful and consistent years in our program's history, and it's all due to our team's commitment to training and preparation," says Head Coach Kirsten Becker. "They've shown their resilience no matter the circumstances and challenges we've faced throughout the last two years. They are truly a unit and support one another endlessly. We are very proud of them and this accomplishment, and are looking forward to competing at the conference championship this weekend."
Vaulting to never-before-seen heights, the Red & Blue set new school records this season in total team score (196.225), vault score (49.175), and balance beam score (49.175). The new team score and balance beam records were set on March 13 at the University of Maryland Quad. The vault score record fell on Feb. 20 on Senior Day against Ursinus. The team score mark is the highest ever total for an Ivy League program.
Nine Quakers earned 16 All-GEC honors for the achievements during the regular season. First-Team All-GEC awardees are sophomore Kiersten Belkoff on the vault; freshman Emma Davies on the floor routine; sophomore Rose DeBarberie on the vault; sophomore Sara Kenefick on the floor; senior Sydney Kraez on the vault; junior McCaleigh Marr on the bars and beam; and freshman Isobel Song on the vault.
Marr, on Feb. 13 against Towson, set the new school record on the beam with a score of 9.950, the highest mark by a Quaker in more than 21 years. Junior Ariyana Agarwala, on March 13 at the University of Maryland Quad, broke the school record on the vault with a score of 9.900.
Other teams competing in the GEC Championships are Yale, Brown, West Chester, Cornell, Southern Connecticut, William & Mary, and Bridgeport.
Penn Gymnastics previously competed in the ECAC before joining the newly formed GEC, an independent, gymnastics-only conference, last fall.