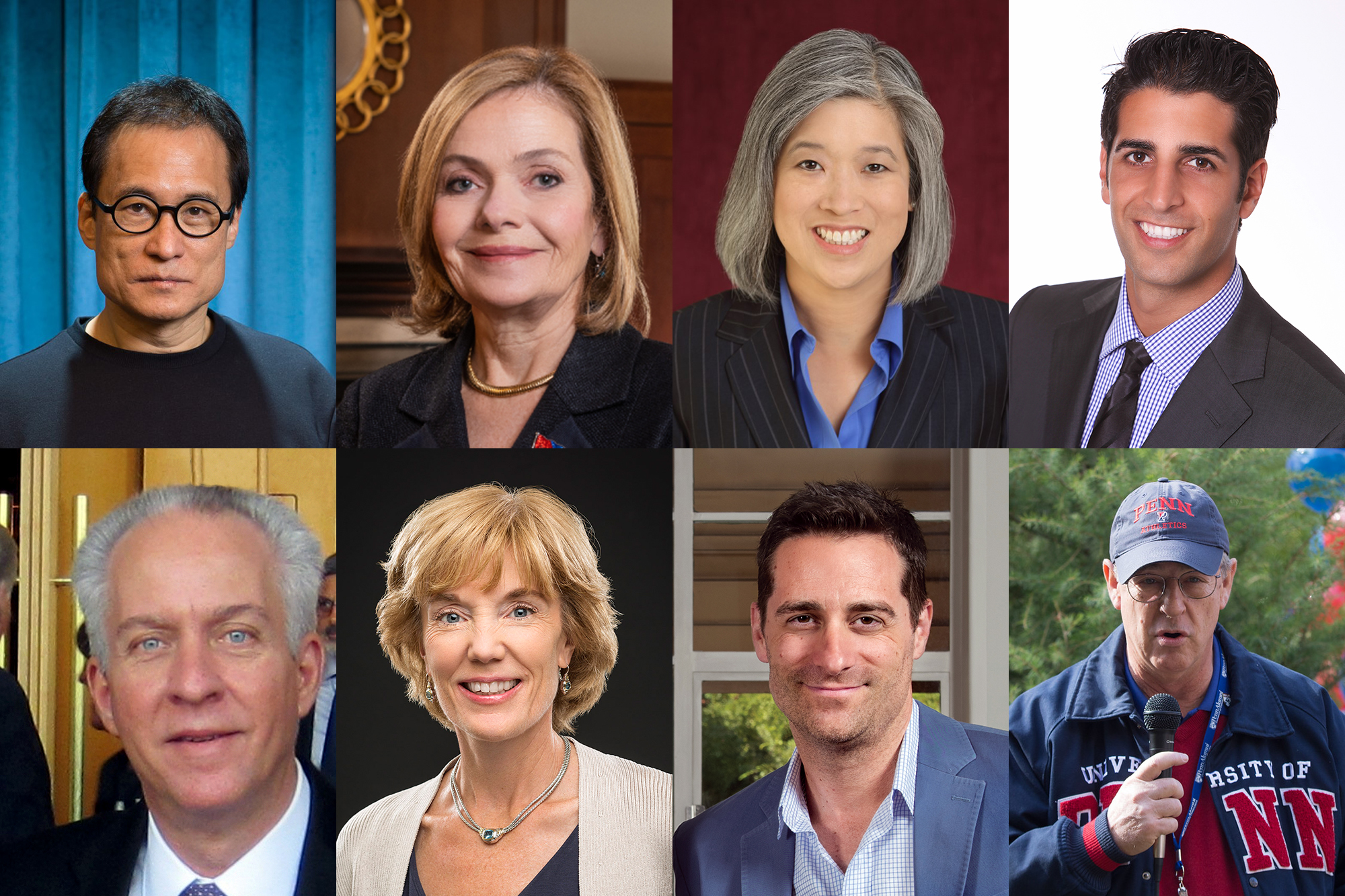 The University of Pennsylvania will honor eight distinguished alumni at the 2022 Alumni Award of Merit Gala on Friday, Oct. 21.
Sharing the spotlight will be Alberto Chamorro, Lee Spelman Doty, William Hohns, Joan Lau, and Alex H. Park, who will all receive the Alumni Award of Merit, along with Todd Lieberman, who will accept the Creative Spirit Award, and Omid Shokoufandeh, who will accept the Young Alumni Award. In addition to the alumni awards, Laura W. Perna of the Graduate School of Education (GSE) will accept the Faculty Award of Merit.
Following his graduation from the Wharton School Class of 1978, Alberto Chamorro joined the family business, E. Chamorro Group, a consumer goods company in Nicaragua founded in 1896 by his great grandfather. Building on his Nicaraguan heritage and family connections to Penn, he has provided steadfast leadership, pivotal support of student aid, and vital assistance to Penn Admissions and Penn Alumni efforts across Central America. An Alumni Trustee, he has served as president of the Penn Club of Nicaragua for 18 years, opening new avenues for staging information sessions in schools and spurring an increase in Penn students from the region. For two decades, Chamorro has supported Penn Admissions trips throughout Central America helping to magnify Penn's reach and recognition, and, as a result, helping to build a stronger international alumni community. His support of student financial aid has created a legacy that has transformed countless lives all over the world, from those beginning their college journeys to those celebrating their histories as alumni.
A Class of 1976 graduate of the Wharton School, Lee Spelman Doty's career in the world of finance culminated with positions as managing director and head of U.S. equity at JPMorgan Chase. Her volunteer engagement and philanthropy spans Penn, where she spent nearly two decades on the Board of Trustees, serving as chair of the Development Committee and as Vice Chair of The Power of Penn Campaign, the University's most successful fundraising and engagement effort of all time. Doty helped ensure the long-term stability and health of the University through her service on the Board of Trustees and as a longtime member of the Executive Committee. She served as Penn Alumni president for three years, strengthening the global alumni community, as a member of the board of advisors for the Graduate School of Education, as a member of the board of advisors for the Perelman School of Medicine, as a member of the Trustees' Council of Penn Women, and as co-chair of her class gift committee.
Over a half-century, William Hohns, Wharton Class of 1974, founded or acquired companies that have become thriving employee-owned entities and have created more than 25,000 jobs. A passion for horticulture and the arts has been at the cornerstone of his engagement with Penn and his philanthropy. As a member of the Morris Arboretum board, he conceived of and funded the Penn Tree Program and his service to that Board continues as a global advisor. A member of the Homecoming Host Committee, Hohns has been active in Arts@Homecoming events, serving as a host for the Gallery Hop and Sculpture Tours. He has also championed the Class of 1974 as a Reunion volunteer. Hohns also created and sponsored the Enabling Student Cultural Access to Penn Entities (ESCAPE) program, which benefits students with wide-ranging support, offering opportunities to enjoy the art and educational programs at the Arthur Ross Gallery, visit the Morris Arboretum, volunteer at the Penn Vet Working Dog Center, and take part in Penn Athletics' club sports, intramural sports, and the Penn Athletics Mentorship Program.
Joan Lau holds two degrees from Penn. She is a member of the undergraduate Class of 1992 in the School of Engineering and Applied Science and a 2008 graduate of the Wharton School, where she earned her MBA. As a leader and mentor, an innovative engineer, and someone who proudly identifies as a member of the Asian and LGBTQ+ communities, she has found innovative ways to create a more welcoming and inclusive Penn community. She co-founded Penn Leadership Q, an official Penn Alumni initiative designed to harness the energy and potential among LGBTQ+ alumni. She has served as a member on the Penn Alumni Board and chair of PennGALA, and has used her voice to elevate and make visible the perspectives of those who were not always represented. Since being honored with the Young Alumni Award in 2006, Lau has joined the Penn Engineering Alumni Society board, the Vagelos Program in Life Sciences & Management Advisory Board, the Trustees' Council of Penn Women, and the board of advisors at the School of Social Policy & Practice.
Oscar- and Emmy-winning film producer Todd Lieberman will receive the 2022 Creative Spirit Award for his lifelong commitment to and excellence in the arts. A member of the Class of 1995 in the College of Arts and Sciences, Lieberman is ranked among the most powerful producers in the business. His films include "American Pie," the live-action version of "Beauty and the Beast," "Memento," "The Fighter," "The Proposal," and "The Muppets." His interest in the performing arts began at Penn in the early 1990s, working on shows at the Mask and Wig Club. Early in his career, he worked as senior vice president for Hyde Park Entertainment, and he is now a partner in Mandeville Films. With his wife, Heather Zeegen Lieberman, a member of the Class of 1994, he started Hidden Pictures, a production company fostering new narrative and documentary projects. The pair also created an endowed scholarship for students in the College and support Penn Live Arts, philanthropically and as champions of the Penn Live Arts Career Development Initiative. He has returned to campus to screen his movies and speak to students about filmmaking, encouraging careers in the arts and offering support.
Alex H. Park, a member of the Class of 1985, built a successful career in the banking industry, rising through the ranks at Standard Chartered First Bank Korea to become executive vice president and then head of global markets. As his career grew, he saw an opportunity to grow the Penn alumni community in South Korea as well. He led the effort on multiple fronts—through the Penn Club of Korea, the Alumni Interview Program, and Penn Parents—to create a thriving network of alumni, parents, and prospective students. Park has been heavily involved with the Alumni Interview Program in South Korea for more than two decades and took over as head of the committee in 2009. Since then, he has grown membership to include 170 alumni who provide interviews to prospective applicants there. He has also been active in the Penn Parents community in South Korea, bolstering the Penn experience not just for students, but for entire families.
Omid Shokoufandeh, Class of 2009, is vice president of acquisitions and development with Abington Emerson Investments. At Penn, he was a standout soccer player earning First Team All-Ivy honors his senior year and becoming the first Quaker in more than 10 years to notch more than 20 points in a season. Returning regularly to Philadelphia for Alumni Weekend and Homecoming, Shokoufandeh is an active member of the Penn Alumni Interview Program and became president of the Penn Club of Los Angeles in 2016, leading the club to win the 2021 Alumni Club Award of Merit. During the global pandemic, he kept spirits strong with programming, including a Penn welcome event and timely talk on vaccines and misinformation co-sponsored by Penn Libraries and Penn Medicine. As a founding member and current chair of the Penn Libraries Young Alumni Board, he invoked the spirit of friendly competition, creating a fundraising challenge between members on the East and West Coasts that secured full participation.
This year's Faculty Award of Merit goes to Laura W. Perna, GSE Centennial Presidential Professor of Education and executive director of the Alliance for Higher Education and Democracy (AHEAD). Perna is an expert in college access, affordability, and success, especially for low-income, first-generation, and non-traditional students. The co-founder of Penn AHEAD, she has testified before Congress and advised university leaders and policymakers. A member of Penn's Class of 1988, Perna completed duel bachelor's degrees from the College and The Wharton School and went on to earn her Ph.D. in education and master's in policy studies from the University of Michigan.
In addition to the individual awards, the Classes of 1970, 1971, and 1982 will receive the Class Award of Merit, and the Classes of 1990, 2016, and 1992 will receive the David N. Tyre Award for Excellence in Class Communications. Special acknowledgement will go to the Penn Clubs of San Francisco, PennNYC, Utah, and Westchester & Rockland Counties, the Penn Club of Hartford, and the Penn Club of Central N.J.