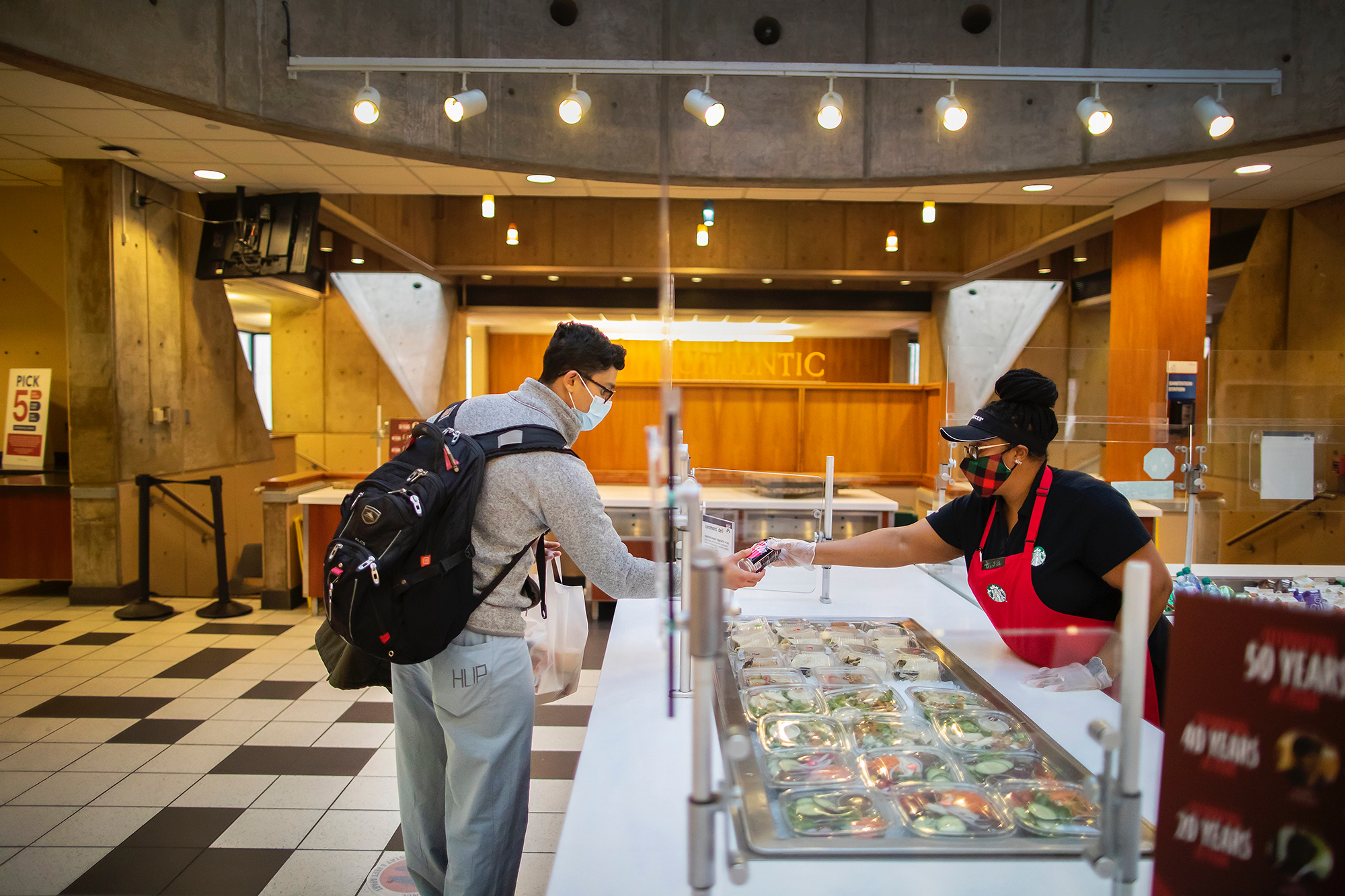 With the start of the spring semester fast approaching, the Penn campus is ready for undergraduate students to return in January. 
Plexiglass barriers, signs about wearing masks, markers for social distancing, and hand sanitizer stations are some of the additions throughout campus. New protocols for daily life have been in place for months. 
"Most of our housing and dining and resident staff are essential employees and worked in the fall semester with the couple hundred students we had on campus, so they know what to expect and how people are going to act and react," says Douglas Berger, executive director of the Business Service Division. "They are really committed and know the protocols."
About 3,000 undergraduates are expected to move into campus housing in January. That is expected to include about 2,000 freshman, 600 sophomores, 250 juniors, and 150 seniors, including about 100 transfer students and 150 resident advisors and graduate associates, Berger says. First-year students are required to live on campus and be on a dining plan unless they have been granted an exception. In a typical year, about 5,000 undergraduates would living in campus housing, he says.
Students will be living in all College Houses with the exception of Gregory, which is undergoing renovations to install air conditioning, Berger says. All meals will be grab-and-go, and every residence will have a microwave and refrigerator. 
College Houses and Academic Services, working with the resident advisors and graduate associates, is developing some virtual programming for the newly arrived students.
Undergraduate student move-in will be Jan. 10-17. Last week students received detailed information about move-in, including how to sign up for a two-hour time block. Testing for COVID-19 will be integrated into the move-in process. Students will also have to sign up for the PennOpen Pass symptom tracker system and keep their status current to enter University buildings, including their College Houses. 
The University is holding a videoconference town hall for parents on Dec. 21 about what to expect for the spring semester, and Penn is regularly updating website pages with frequently asked questions for move in and housing, and dining. 
Physical changes on campus to respond to the pandemic health and safety considerations include extensive new signage, such as information about wearing masks, physical distancing, and the number of people allowed in elevators, Berger says. New plexiglass barriers were installed throughout campus housing, including front desks, guard stations, and even in between sinks in some bathrooms, he says. There's also lots of hand sanitizer and wipes available. 
During move-in, each student will be given two reusable masks and a digital thermometer, and in the high-rise buildings they will get a tool to push the elevator buttons, Berger says. The daily two-hour move-in time slots are designed to limit the number of students in the building at any one time. Each student will get one moving cart which can be filled only one time, and each student can bring one person to help.
"We are encouraging students not to bring a lot. Please just bring a couple of suitcases and a backpack," Berger says. Move-in will proceed, rain or shine, he says, but since snow is always a possibility in Philadelphia in January there is time built in for two bad-weather days. 
Because of pandemic restrictions, every student will have their own bedroom. A maximum of six students will share a bathroom, and some bathrooms will have electronic locks that will allow only those students access.
Although all meals will be pre-packaged for take-out, options for eating will be plentiful. Through the Penn Eats mobile app, students can order food in advance at retail locations as well as choose a time to pick up a meal at the residential dining cafes, says Pamela Lampitt, director of hospitality services. It is designed to be tapless, she says, charged through a dining plan, Penn Cash or the bursar. 
Most dining locations will be open, including Houston Market, Class of 1920 Commons, Gourmet Grocer, Starbucks, and Hill and Lauder College Houses, Lampitt says. The menus are similar to what has been offered in a typical year, just packaged differently, she says. Students will also receive instruction on how to handle, store, and heat the meals.
"We've been thinking strategically about the diverse population we serve," Lampitt says, noting that meal options can be tailored for dietary considerations. 
A registered dietitian on staff is available to explain dining plans to individual students and even introduce them to a chef to make a personal meal. "We strongly encourage our students to open up and let us know what they need," says Lampitt. 
Dining events are planned for the spring semester with special meals and treats, she says. The chefs have food events scheduled to celebrate the diverse cultures on campus, and they will offer online their popular cooking demonstrations. "We intend to replicate what we would do in a normal semester the best that we can," Lampitt says. 
Indoor dining may be possible later in the semester, with reservations, she says, as was offered midway through the fall semester. Tents on campus that came down for the winter months may return in the spring to allow for covered outdoor dining.
"Students should know that we are ready for their return," says Berger. "One word of advice I would give to students is read your emails carefully and follow the instructions provided. If we all work together, we can better ensure a safe and comfortable campus for all the Penn community."