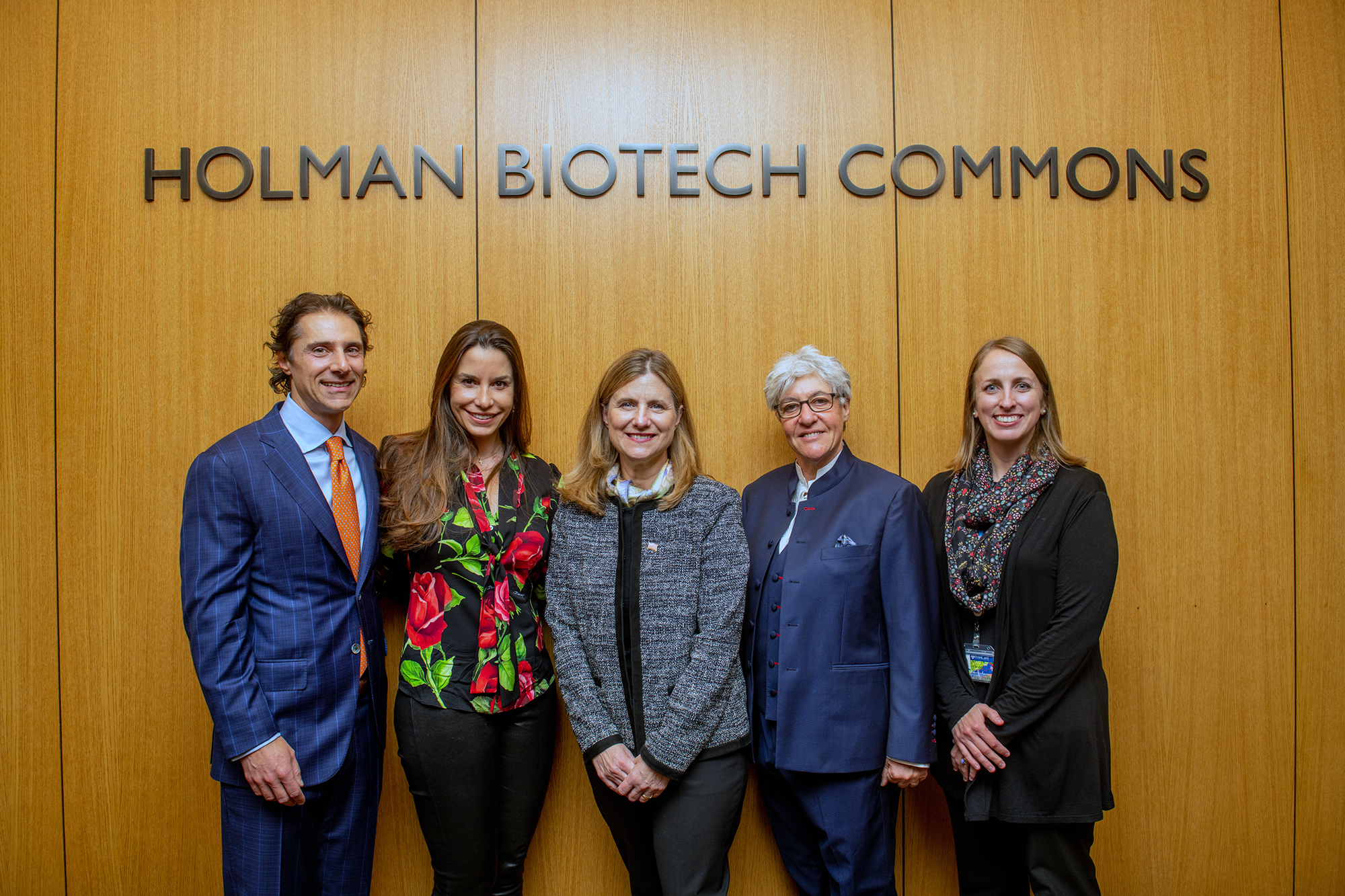 A $5 million gift from Penn Libraries Board of Advisors member Wendy Commins Holman, Wharton Class of '97, her husband Wayne Holman, and their family will name the recently renovated Holman Biotech Commons.
The naming gift from the Holman family will ensure this dynamic space continues to meet the evolving needs of scholars who rely on the Penn Libraries' services, resources, and expertise as they work to impact and improve human life.
"The Holman Biotech Commons has emerged as a hub for collaboration across the University and a launching pad for innovative study in the health sciences," said Penn President Liz Magill. "We are extraordinarily grateful to Wendy and Wayne Holman for this commitment, which provides the Penn community with access to information using the latest tools and technologies to connect and explore across disciplines."
"This vibrant space proudly bears the name of the Holman family, and we at the Penn Libraries are deeply grateful to Wendy and Wayne for their enduring commitment to Penn, to the Libraries, and to the biomedical community," said Constantia Constantinou, H. Carton Rogers III Vice Provost and Director of the Penn Libraries. "Spaces like this demonstrate the essential infrastructure that the Penn Libraries provides. The Holmans' support ensures that we will continue to answer vital needs and provide an extraordinary user experience to every member of our community who visits the Biotech Commons."
The Holman Biotech Commons' innovative design is the result of an $11.5 million renovation, completed in fall 2021, which was informed by input from library users, researchers, partners in the Perelman School of Medicine and the School of Nursing, facilities experts, and the Penn Libraries' staff and subject specialists. Situated at the heart of biomedical activity on campus, the Biotech Commons facilitates relationships among the many interdisciplinary groups that surround it, including graduate and undergraduate students, clinicians, faculty, and researchers.
Wendy Holman, the CEO and co-founder of Ridgeback Biotherapeutics, has a passion for global health and health care equality. In addition to serving on the Penn Libraries Board of Advisors, she is a member of the Sabin Vaccine Institute and the Presidential Advisory Council on HIV/AIDS (PACHA).
"Most of my work focus—as a philanthropist, volunteer, and as a CEO—has a common thread: to have a tangible positive effect on health and human suffering," said Wendy Holman. "Penn's researchers, scientists, and scholars have done an incredible job leading the world in biomedical research, and our planet is a safer, better, and healthier place as a result. Penn's libraries are not only a place to house our tremendous collections; they are centers of research excellence which continue to keep Penn at the forefront of innovation"
Holman believes in the mission of the Penn Libraries because "the libraries support all of the Schools and all of our students. They continue to be the great equalizer on campus while also serving as great research and development hubs."
Wayne Holman added, "Wendy and I have dedicated our lives to advancing and harnessing healthcare innovation to address both unmet needs and underserved areas. We are confident the Holman Biotech Commons will be a place of learning, discovery, and collaboration that further advances the great contributions the University of Pennsylvania has already made to treating and curing human disease. We are honored and proud of our long-term partnership in advancing many common goals we share with the entire Penn community."
The Holmans previously supported the Biotech Commons renovation project by funding the centrally located Wendy and Wayne Holman Reading Room, which serves as both an independent study area and a multipurpose event space with movable furniture to accommodate a variety of activities such as lecture-style events, book talks, and conferences.
Additional highlights of the facility include the Bollinger Digital Fabrication Lab, which offers 3D printing and poster printing services to aid academic, clinical, and research projects; the Anatomage Table, which allows for the virtual dissection and review of life-size virtual cadavers outside of clinical lab coursework; and a Relaxation Room, a vital space for stress relief to support students in high-stress medical education programs.
"The Holman Biotech Commons is a reflection of the Holmans' commitment to the Penn Libraries and to supporting our biomedical community," said Hannah Rutledge, the library's director. "It's an honor to work in such a welcoming, light-filled, and inspiring space that encourages innovation and collaboration among faculty, students, and our expert staff and librarians."
"As problems grow in complexity, the need for diversity of thought and experience becomes more and more important," said Wendy Holman. "Collaboration requires space to work together. My hope is that the Holman Biotech Commons helps to fill that need."