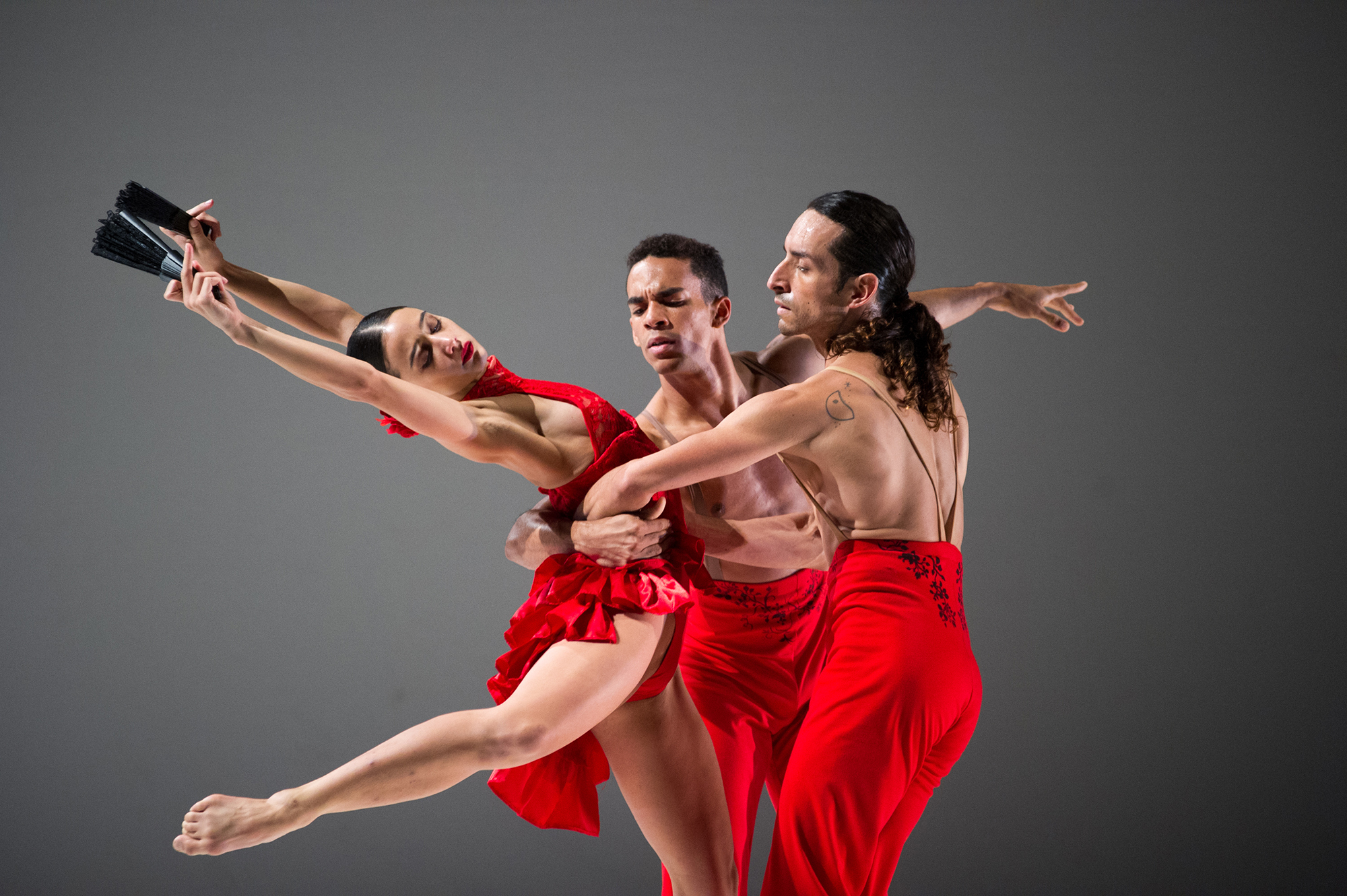 With eyes toward the future and a humble nod to the past, Penn Live Arts has announced its 50th anniversary 2022-23 season, which will celebrate the richness of five decades of performance while continuing its penchant for innovation.
"The Annenberg Center opened in 1971 and was meant as a place for experimentation in the performing arts and was centered around this idea that the performing arts are a universal mode of communication—a way for disparate cultures and people to connect," says Christopher Gruits, executive and artistic director of Penn Live Arts. "I think it's fulfilled that mission well for 50 years. Coming out of the pandemic, we've planned a new season around major pillars that include residencies, premieres, and continued commitment to experimentation and innovation centered on new work, pieces of dance, theater, and more."
A marquee attraction of the new season is Alice & John: A Coltrane Festival, which will focus as much on the work of Alice Coltrane, an accomplished jazz pianist, harpist, and composer, as that of her more widely known husband, John Coltrane. Performances tied to the festival, happening in the second half of October, will explore their collective impact on jazz and other genres of American music. Artistic Advisor Lakecia Benjamin, a rising star saxophonist, is curating the programs—which will consist of a performance by son and fellow saxophonist Ravi Coltrane, as one example—and will also collaborate with choreographer Pam Tanowitz to create a brand-new piece based on Alice Coltrane's music. Benjamin will perform that live in October alongside the Pam Tanowitz Dance Company.
"A lot of how we structured this season is looking back and looking forward," says Gruits. "Looking at the legacy of musicians and their albums and art that was happening at that time, and also looking forward to the next generation of artists."
Another performer for the Coltrane festival will be Brandi Younger, a harpist who will perform her original works in the Prince Theatre. There will also be lectures led by Coltrane experts that complement the festival. Benjamin says she wants listeners to get a sense of the personalities of the legendary jazz couple.
"This is paying tribute to them, but also is about how people can get an insight into the personalities they were; that's another indication of the music," she says, explaining that at times listeners can feel transported to Alice Coltrane's Sai Anantam Ashram through her use of the organ. "You can't play who you aren't."
More broadly, but also in tandem with the Coltrane festival, Penn Live Arts is also partnering with the Negro Ensemble Company (NEC), a New York-based theater company and workshop started in 1967. They will partake in a residency spanning the 2022-23 season that includes a one-act play festival, "Our Voices, Our Time," that will stage in the fall and aims to amplify Black voices, stories, and perspectives. Three plays will be selected by a group of judges and will premiere at the Annenberg Center for the Performing Arts in October, before moving on to performances in New York. Submissions for that festival ended in April.
The NEC residency further entails a curricular collaboration with the fall 2022, multi-generational and community-partnership-oriented August Wilson and Beyond course in the School of Arts & Sciences, co-taught by Herman Beavers, a professor of English and Africana studies, and instructor Suzana Berger. Brandon Dirden, a popular actor who has starred in many August Wilson plays that the class typically examines, will speak with the class, and NEC artistic director Karen Brown will be present during a workshop class session in which students begin creating their own performance that is inspired by interviews in the West Philadelphia community.
"[She] will be with us that day, so she and any company member with us can talk about NEC's founding goals and values and how that may have changed through the years in response to their communities and audience, and our students will have that really concrete and powerful example with them as they generate their own goals and get feedback right there, on the spot, in the process," says Berger.
"This is a great opportunity and what I think I love about it is that it once again reminds me of what I love about Philadelphia, which is that it shrinks that distance between movers and shakers, people like us on the ground," says Beavers, who also noted that this will be the 10th anniversary of the August Wilson course. "I don't know that this would happen in a city like New York, because there's too many layers between people who are influencers in the theater world and people like us doing something on a small scale. This is amazing and a great opportunity."
The NEC residency will end with the world premiere of a new play in February 2023 directed by Denise Dowse, juxtaposing the Civil Rights Movement with recent social justice movements.
ListenHear, meanwhile, is a new series that celebrates brand-new music and profiles four contemporary composers.
"Penn has a legacy of composition, a renowned program, and so we found living composers who will do pre-concert chats before performances where an audience can get contexts for a composer's style and why they chose a particular piece," Gruits says.
November will feature a Philadelphia premiere of "Falling Out of Time," by Argentine orchestral composer Osvaldo Golijov, as well as a performance by Terrance Blanchard, a renowned jazz composer who will perform based on work by the African American photographer and filmmaker Gordon Parks.
Rounding out the season's offerings is continued presentations of leading dance companies like the Martha Graham Dance Company and Ballet Hispánico, in addition to the Coltrane-tied performances by the Pam Tanowitz Dance Company. Dance represents 10 of the season's offerings between October and June.
Also ongoing is the hybrid-livestream model Penn Live Arts began last season, continuing in September with an in-person and digital performance from four-woman folk band Kardemimmit, playing the Finnish instrument kantele. Curator-at-Large for Film Maori Karmael Holmes will continue to organize film screenings, particularly for the BlackStar Film Festival at the Annenberg Center from Aug. 3-7.
And formalized this season is a Penn Live Arts Accelerator Program in support of new work across dance, music, and theater. Inaugural Accelerator Program artists are The Crossing, Dance Theatre of Harlem, Negro Ensemble Company, Pam Tanowitz Dance, and Rennie Harris Pure Movement, who will build out pieces at Annenberg before taking them elsewhere, with resource support from Penn Live Arts. NEC is perhaps the most prominent example of the group, as a company that will immediately take their Philadelphia-cultivated one-act plays to New York.
"When we looked at Philly, we saw a gap in Black theatre and storytelling, and Annenberg has always been committed to diverse artists—that's a legacy we have had," says Gruits, explaining how the collaboration with NEC came about. "We were the first to introduce Philly to August Wilson and his work, and we wanted to honor that legacy and think, moving forward, how to support Black storytelling. There's no better partnership for that than NEC. They have a long history of being committed to new Black artists and Black playwrights."
In sum, Gruits adds that this season is a "celebration season," and one that reasserts the Annenberg Center's history of investing in "the very best" in the arts.
"I think it also provides a platform for really important artists today to communicate what they're doing, and to address a lot of issues we're trying to address as a society," he adds. "These are artists you can't otherwise see in Philadelphia, and these programs are very special. We hope audiences are engaged with them and take away something meaningful from their experience."