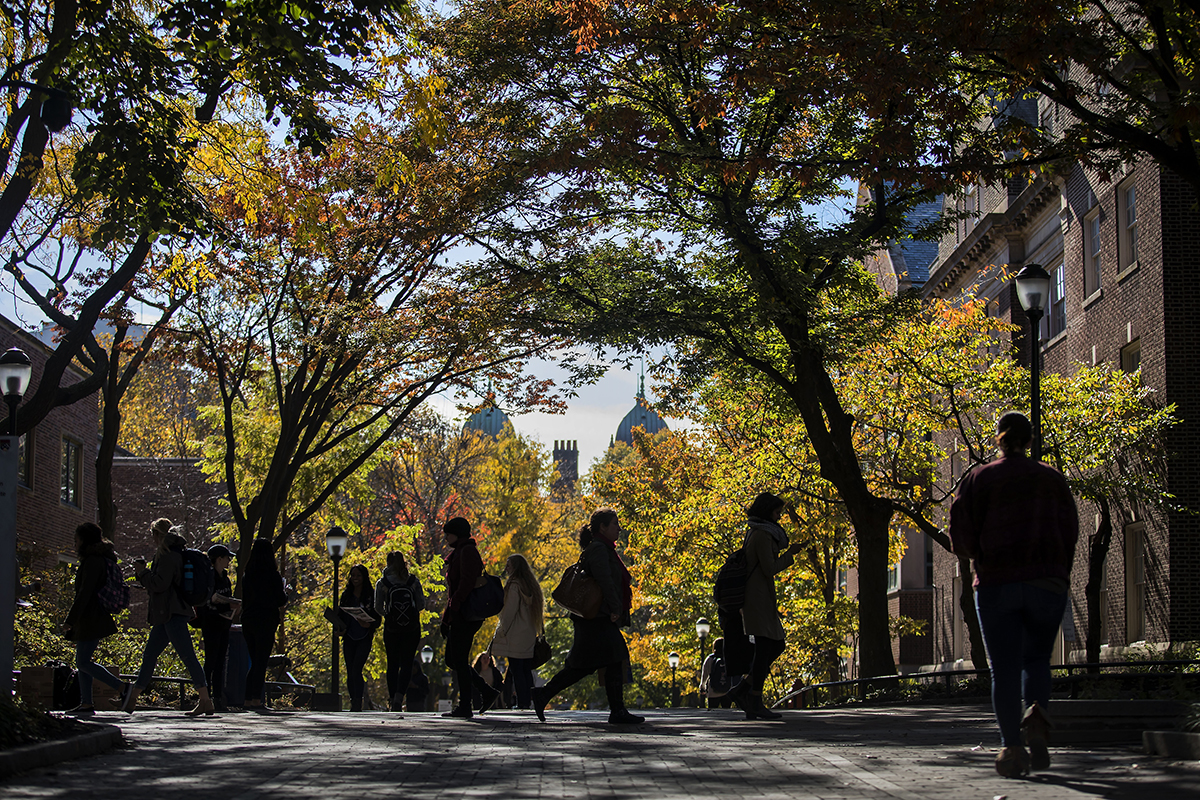 The University participated this past spring—along with 32 other colleges and universities—in the second administration of the Association of American Universities' Campus Climate Survey on Sexual Assault and Sexual Misconduct. Penn also took part in a similar AAU survey in 2015. In both cases, the goal was to learn from undergraduate, graduate, and professional students about sexual misconduct on campus, to assess education and prevention strategies, and gather information to help guide further efforts. 
The confidential survey was administered to 24,086 enrolled Penn students in February 2019. The 42.8 percent response rate in 2019 represents a significant increase from 26.9 percent four years ago. The response rate among all the universities that participated this year was 21.9 percent.
Overall, 13 percent of student respondents across the 33 universities reported experiencing nonconsensual sexual contact by physical force or inability to consent since they enrolled at their college or university. However, the incidence among female student respondents was significantly higher than among male student respondents. At all the universities, the rate of incidence for undergraduate women, 25.9 percent, was about four times higher than for men, 6.8 percent.
"Ensuring the safety of Penn students is among our highest priorities," wrote Penn President Amy Gutmann and Provost Wendell Pritchett in a campus-wide email on Tuesday, Oct. 15. "No one should experience sexual misconduct. Penn has taken numerous steps to protect and support our students, including strengthening our policies, educating for prevention, and increasing our resources to provide education and respond to reports. Despite our best efforts, sexual assault continues to be prevalent." 
In 2019 at Penn, 25.9 percent of undergraduate women respondents and 7.3 percent of undergraduate men respondents reported nonconsensual sexual contact by physical force or inability to consent. If sexual contact by coercion or without voluntary agreement is included, those numbers increase to 32.6 percent for female undergraduate respondents and 8.7 percent for male undergraduate respondents.
Undergraduate females at Penn who have reported experiencing unwanted sexual contact are down slightly from 27.2 percent in 2015. Men experienced a slight increase from 5.5 percent to 7.3 percent. Undergraduate TGQN (transgender, genderqueer or nonconforming, questioning or not listed) students at Penn reported an increase in incidence from 19 percent in 2015, to 21.5 percent today. Among graduate students, the figure for female students increased from 6.5 percent to 7.5 percent, and for men it increased from 2.1 percent to 2.7 percent.  
"Penn's percentages are almost exactly at the median of our peers," explained Gutmann and Pritchett, "But there is no comfort in that. The numbers are disturbing."  
One of many major efforts the University unveiled after the first AAU survey was the mandatory completion of "Thrive at Penn" for students. The online information module, which takes about an hour to complete, is specific to the needs of undergraduate students, and includes information on the University's policies involving sexual harassment, sexual violence, relationship violence, and stalking. It also outlines the available campus resource offices. Mandatory in-person sessions on the subject, as part of New Student Orientation, for instance, were also implemented. A "Healthy Relationships & Sexual Violence Prevention" video is distributed to incoming graduate and professional students and is available on the website of the Graduate Student Center.
In addition, the University increased the number of staff in the Penn Violence Prevention office, which in turn increased the number of campus peer educators such as Penn Anti-Violence Educators (PAVE) leaders and Men Against Rape and Sexual Assault (MARS), and strengthened policies and protocols—including a new Sexual Misconduct Policy that became effective on July 1, 2019.   
"The safety and wellbeing of all students at Penn requires the commitment and engagement of all members of the campus community working together to create a campus climate that is free of sexual misconduct," said Joann Mitchell, senior vice president for institutional affairs and chief diversity officer. 
In their letter, Gutmann and Pritchett encouraged members of the Penn community to read the full results of the survey, learn more about the University's Sexual Misconduct Policy, and be aware of the confidential resources available on campus: 
As the Penn community better understands the scope of the problem, Gutmann and Pritchett said, "Sexual misconduct is absolutely unacceptable. The AAU survey makes clear the extent of the challenge and the need to reaffirm education, prevention, and support on our campus. It is our collective responsibility to create a shared campus environment in which every student can fulfill their fullest potential."
If there's any doubt about where to turn for help, Penn's HELP Line is available 365 days a year, 24 hours a day, at 215-898-HELP.