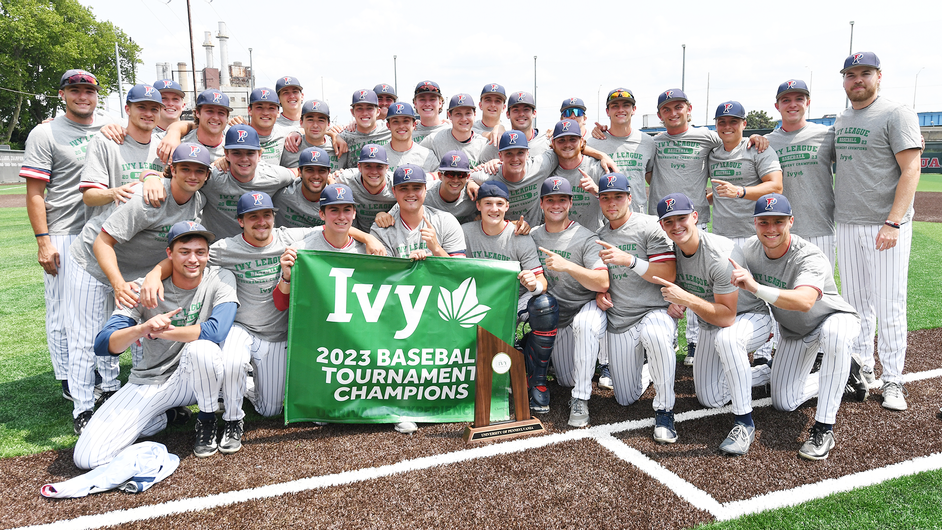 The baseball team opened up a 13-0 lead in the first four innings of Monday's Ivy League Tournament Championship Game against Princeton at Tommy Lasorda Field at Meiklejohn Stadium, en route to a dominating 16-3 victory and an automatic berth in the NCAA Division I Baseball Tournament, their first since 1995.
The Quakers beat Columbia 10-6 on Friday and Harvard 10-7 on Sunday to set up the showdown with the Tigers.
After third-year third baseman Wyatt Henseler reached base on balls in the top of the first, and advanced to second on a passed ball, fourth-year first baseman Ben Miller batted him in with a double down the left-field line. Princeton was held scoreless in the bottom of the first and Penn held a 1-0 advantage.
With two outs in the top of the third, Henseler doubled to left field, putting himself in scoring position. The Tigers then intentionally walked Miller and hit first-year shortstop Davis Baker with a pitch, loading the bases. Up next was first-year right fielder Jarrett Pokrovsky, who hit a grand slam down the left-field line, putting the Quakers ahead 5-0.
Princeton pitchers unraveled in the fourth inning. Fourth-year center fielder Seth Werchan was walked and fourth-year second baseman Cole Palis, Henseler, and Miller were each hit by pitches, which scored Werchan.
Palis scored on a balk, Henseler scored on a fielding error, first-year left fielder Ryan Taylor hit a two-run RBI single, and Pokrovsky, Taylor, and Werchan scored on bases-loaded walks.
The Red & Blue scored eight runs in the inning. The Tigers were blanked in the bottom of the fourth and Penn held a 13-0 lead.
Penn added three more runs in the top of the fifth; Princeton sprinkled two runs in the bottom of the fifth and one in the bottom of the ninth.
Pokrovsky was named the Tournament's Most Outstanding Player. He batted .467 (7-15) across the three games with five runs scored, a home run, and six RBIs. Baker, Henseler, Pokrovsky, and fourth-year pitcher Brian Zeldin were selected to the All-Tournament Team.
The NCAA Tournament features 64 teams in 16 different four-team regions, with teams seeded one through four to compete in a double-elimination format. The final eight teams advance to the College World Series. On Monday, May 29, the Quakers (32-14) will find out their opponent during the NCAA Championship Selection Show at noon on ESPN2. Play begins on Friday, June 2.