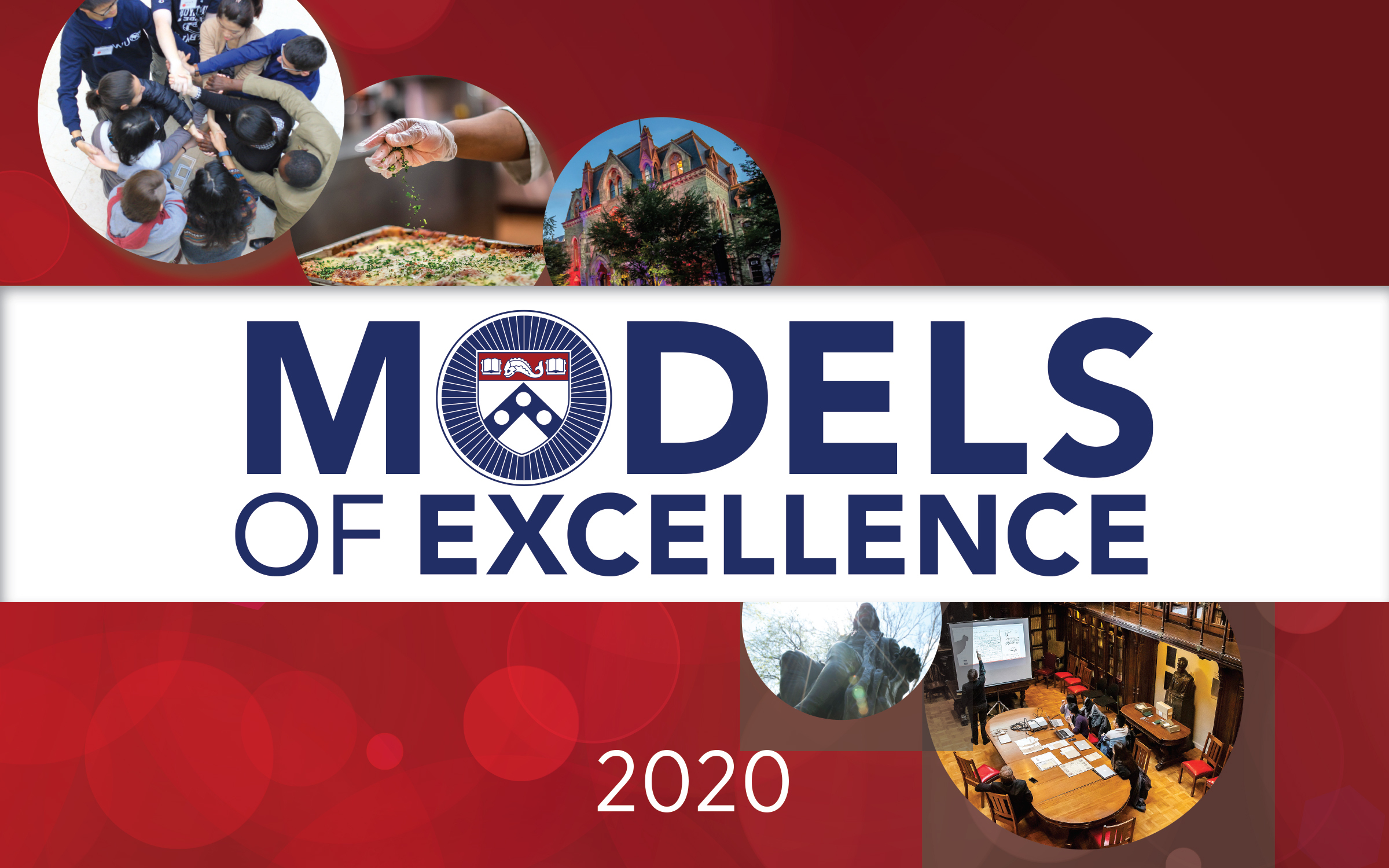 Since 1999, Penn's Models of Excellence Awards program has recognized the outstanding accomplishments of the University's staff members. Although the traditional Models of Excellence ceremony could not take place in April because of the coronavirus, the entire Penn community can still celebrate the 2020 honorees. 
Jack Heuer, vice president of Human Resources, says Penn is committed to recognizing excellence in all areas of the University.
"Penn's Models of Excellence program celebrates the extraordinary achievements of our staff members who go above and beyond to innovate and contribute to the success and engagement of faculty, staff, alumni, and students," he says. "In spite of the challenges we have faced in 2020, I'm proud we found ways to maintain this important tradition."
Stellar employees are nominated by their colleagues in the fall, vetted by a selection committee of staff and faculty, and honored every spring. This year, 16 outstanding teams and individuals from schools and centers across the University were chosen to receive 2020 Models of Excellence honors.
"These 110 staff members embody the best in Penn community accomplishment," Heuer says.
Awards are given in three categories: Models of Excellence, Pillars of Excellence, and Model Supervisor. Each winner and winning team member received $500 and a symbolic award. Staff members who have earned Honorable Mentions received $250 and a symbolic award.
The Models of Excellence Award recognizes notable staff member accomplishments at Penn that reflect initiative, leadership, increased efficiency, and a deep commitment to service.
"Models of Excellence honorees represent the best of Penn," says Heuer. "Their work demonstrates outstanding leadership, service, commitment, cost-effectiveness, and initiative. They motivate us to innovate, be inclusive, and positively impact our communities locally, nationally, and globally."
Introduced in 2014, the Pillars of Excellence Award recognizes the strong foundation and important support Penn's weekly paid staff members provide to promote the University's success. These staff members, says Heuer, are pillars of the institution.
"Penn's Pillars of Excellence honorees are creative, passionate, and devoted weekly paid staff," he says. "This year's group of Pillars each received the top recognition in this category."
The annual Model Supervisor Award, established in 2007, is given to a Penn supervisor who demonstrates exemplary behavior and serves as an outstanding role model.
"The Model Supervisor Award recognizes the contributions of the University's excellent supervisors," Heuer says. "These leaders support, develop, and motivate Penn's diverse and multitalented staff. They help make Penn one of the best places to work in our region and in the world."
For a full list of this year's honorees, visit HR's website.
Learn more about the contributions of the 2020 Models of Excellence program honorees by downloading an electronic copy of the special 2020 Models of Excellence keepsake book.