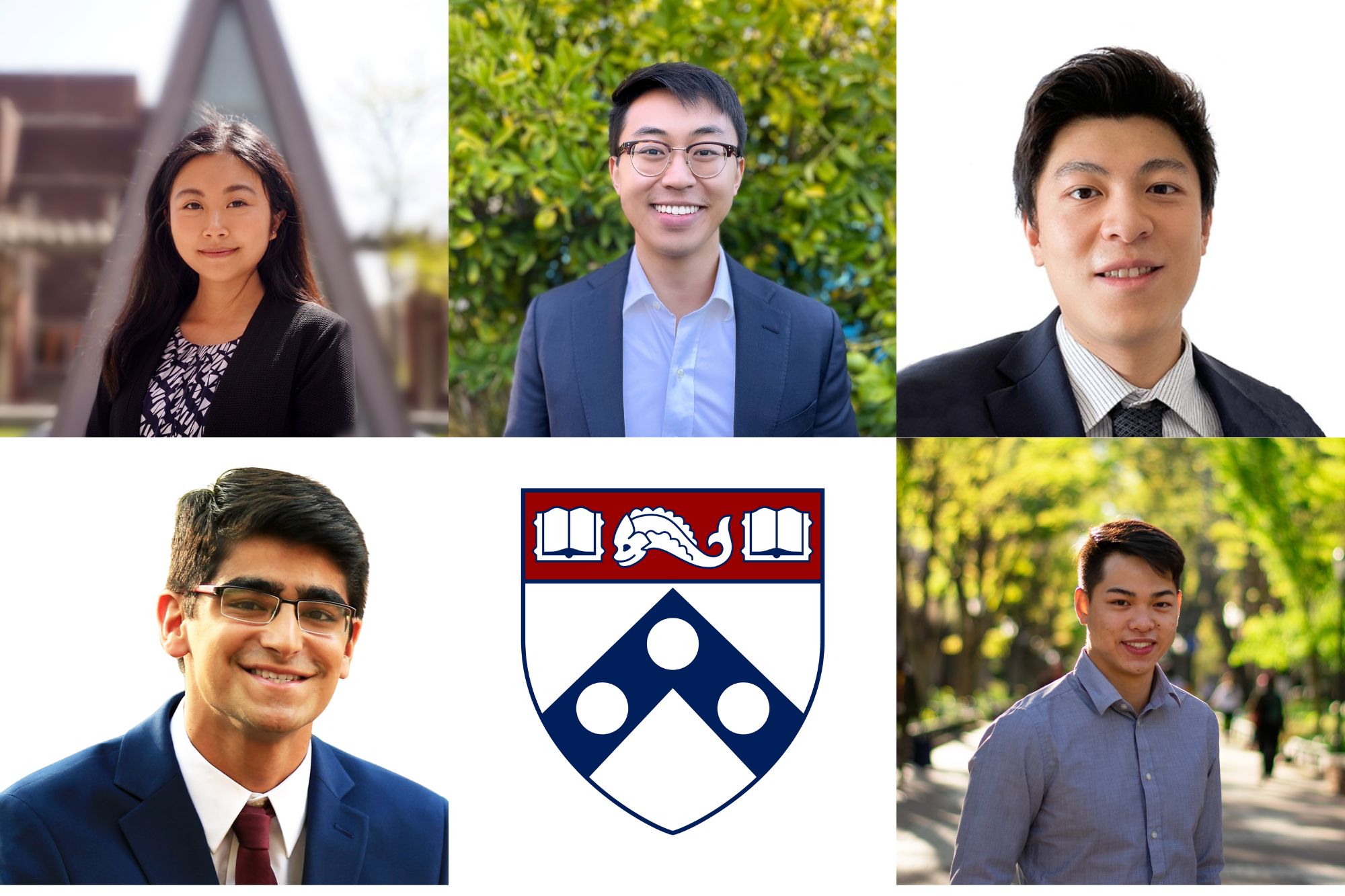 Fourth-year Chin Chin Choi and alumni Aaron Guo, Moksh Jawa, Jiaqi Liu, and Edward Zhi En Tan have been named to the eighth class of Schwarzman Scholars and will enroll at Tsinghua University in Beijing in August.
The program's core curriculum focuses on leadership, China, and global affairs, according to the Schwarzman program. The academic program is updated each year to align with current and future geopolitical priorities. The coursework, cultural immersion, and personal and professional development opportunities are designed to equip students with an understanding of China's changing role in the world.
This year, approximately 151 Schwarzman Scholars were selected from a pool of 3,000 applicants from 36 countries and 121 universities.
Chin Chin Choi, from Hong Kong, is in the Nursing and Health Care Management dual-degree program, administered through the School of Nursing and the Wharton School. She served as the president of the Wharton Council and is a member of the Wharton Junior-Senior Advisory Board. Last summer, she worked for J.P. Morgan in its health care investment banking division. Outside of school, Choi spends time volunteering with the Yleana Leadership Foundation, where she serves as a college mentor for underserved, low-income high school students. She is a Girls Who Invest Scholar, Gates Scholar, and QuestBridge Scholar. She hopes to use her experience as a Schwarzman Scholar to improve global health care policies and access.
Aaron Guo graduated in 2017 from Penn's Jerome Fisher Program in Management and Technology, a dual-degree program between the Wharton School and the School of Engineering and Applied Science. He currently works on Google's central growth team. Guo also works with One Million Lights Philippines, a nonprofit organization developing zero emissions rural electrification infrastructure. At Penn, he was a research assistant in Adam Grant's Impact Lab, a Fellow at the Schwarz Family Penn Social Impact House, and a lead consultant with Penn International Impact Consulting. As a Schwarzman Scholar, he hopes to gain insight into China's environmental sustainability infrastructure initiatives.
Moksh Jawa graduated summa cum laude from Penn's Jerome Fisher Program in Management and Technology in 2021 with a bachelor's and master's degree in computer science from the School of Engineering and Applied Science and a bachelor's degree in economics from the Wharton School with a concentration in management entrepreneurship. At Penn, Jawa served as class president his first year; built StoreWith Penn, a summer storage business; and developed a free AP computer science curriculum used by more than 50,000 students. Jawa currently works as a software engineer at Retool, a low-code startup based in San Francisco. As a Schwarzman Scholar, he plans on better understanding how tech policy drives outcomes in an increasingly tech-driven society and how to best position a government to be technically forward and leverage software in supporting its citizens.
Jiaqi Liu earned his master's degree in bioengineering in the School of Engineering and Applied Science in 2021. After graduation, he returned to China and works in global early-stage Venture Capital. According to the Schwarzman Scholars program, Liu is passionate about promoting medical equality and affordable health care solutions and has experience in medtech startup, global pharmaceutical company, health care consulting, and health care venture capital.
Edward Zhi En Tan graduated in 2022 summa cum laude from the College with a major in international relations. At Penn, Tan was a Student Fellow at the Perry World House, an associate editor at the Sigma Iota Rho Journal of International Relations, and an editor at the Harvard Kennedy School Singapore Policy Journal. Prior to Penn, Tan served as a Singapore Armed Forces commando. He was subsequently awarded an overseas public service scholarship by the government of Singapore. He is currently pursuing a master's degree in regional studies—East Asia (China, social science) at Harvard. As a Schwarzman Scholar, he hopes to deepen his understanding of China's growing presence in international organizations. Upon graduation, Tan will begin his public service career at the Civil Aviation Authority of Singapore's Air Transport Division.