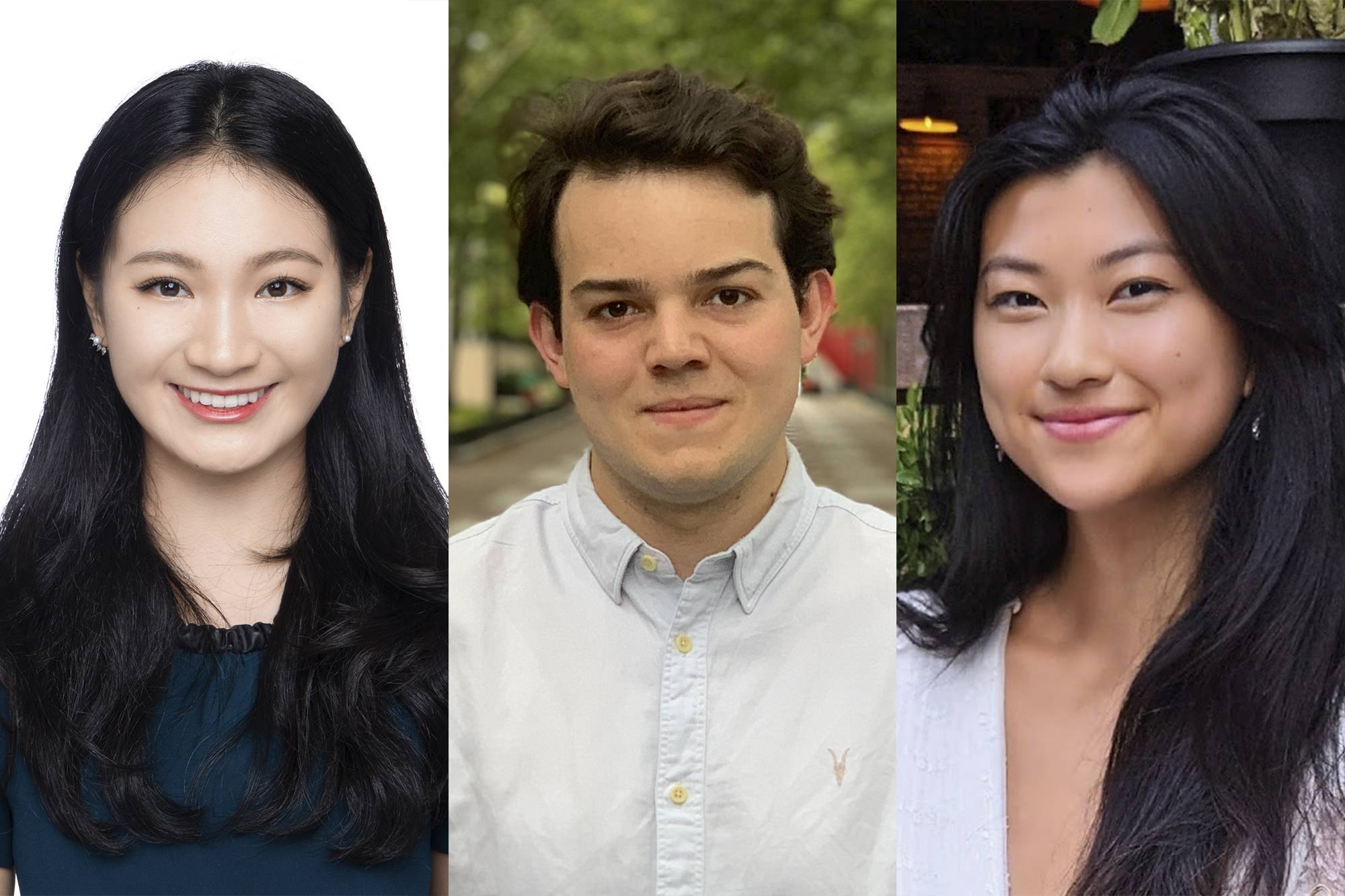 A University of Pennsylvania senior and two 2019 graduates have received Schwarzman Scholarships, which fund a one-year master's degree in global affairs at Tsinghua University in Beijing.
Daniel Ruiz de la Concha, from Puebla, Mexico, is a double major in international relations and in urban studies and is minoring in Latin American and Latino studies (LALS) in the School of Arts & Sciences. Shuxi (Shirley) Liu, originally from China, and Heather Tang, originally from Toronto, graduated in 2019 from the Wharton School.
They are part of the seventh class of Schwarzman Scholars and will enroll at Tsinghua in August. This year, 151 Schwarzman Scholars were selected from more than 3,000 applicants and include students from 33 countries and 106 universities. More than 400 candidates were invited to interview virtually before panels based in Beijing, London, New York, or Singapore.
The core curriculum focuses on leadership, China, and global affairs, according to the Schwarzman program. The academic program is updated each year to align with current and future geopolitical priorities. The coursework, cultural immersion, and personal and professional development opportunities are designed to equip students with an understanding of China's changing role in the world.
Liu is interested in promoting cross-cultural understanding through commerce. She recently worked supporting global acquisitions at Roland Berger, an international management consultant firm, in Boston. At Penn, she was co-president of the 2018 Penn Wharton China Summit, where she launched the U.S.-China relations panel. She also was an intern with financial and consulting firms in the U.S., France, and China. As a Schwarzman Scholar, she plans to study strategies to influence and strengthen relations between China and the rest of the world through cross-border mergers and acquisitions and overseas operations.
Ruiz de la Concha is president of the Mexican Student Association Mex@Penn, on the board of Wharton Latino, and a member of the LALS Undergraduate Advisory Board. He has been an advocate for the Latino community, fostering unity among students from Latin America, and establishing service opportunities within the local Latino community. He has led research and fundraising projects to create awareness and fight human rights violations in Mexico, particularly violence against women. He also is the online co-editor of the Sigma Iota Rho Journal of international relations and co-president of Amnesty@Penn. Ruiz de la Concha is a recipient of the Pan-American Association Carmelita Manning Award for Community Service and the Urban Studies Hassenfeld Award and is a Fellow in Urban Leadership at the Penn Institute for Urban Research.
Tang currently leads Google Canada's on-platform COVID-19 response initiatives, partnering with local government agencies to connect users with authoritative information. At Penn, she was president of the Wharton Undergraduate Consulting Club and treasurer of the Philomathean Society. Tang is interested in accelerating social impact through tech entrepreneurship and public policy and plans to further explore this intersection through the Schwarzman Scholars program.
Ruiz de la Concha and Tang applied for the Schwarzman Scholarship with assistance from Penn's Center for Undergraduate Research and Fellowships. Penn has had 18 Schwarzman Scholars since the scholarship's inception in 2016.