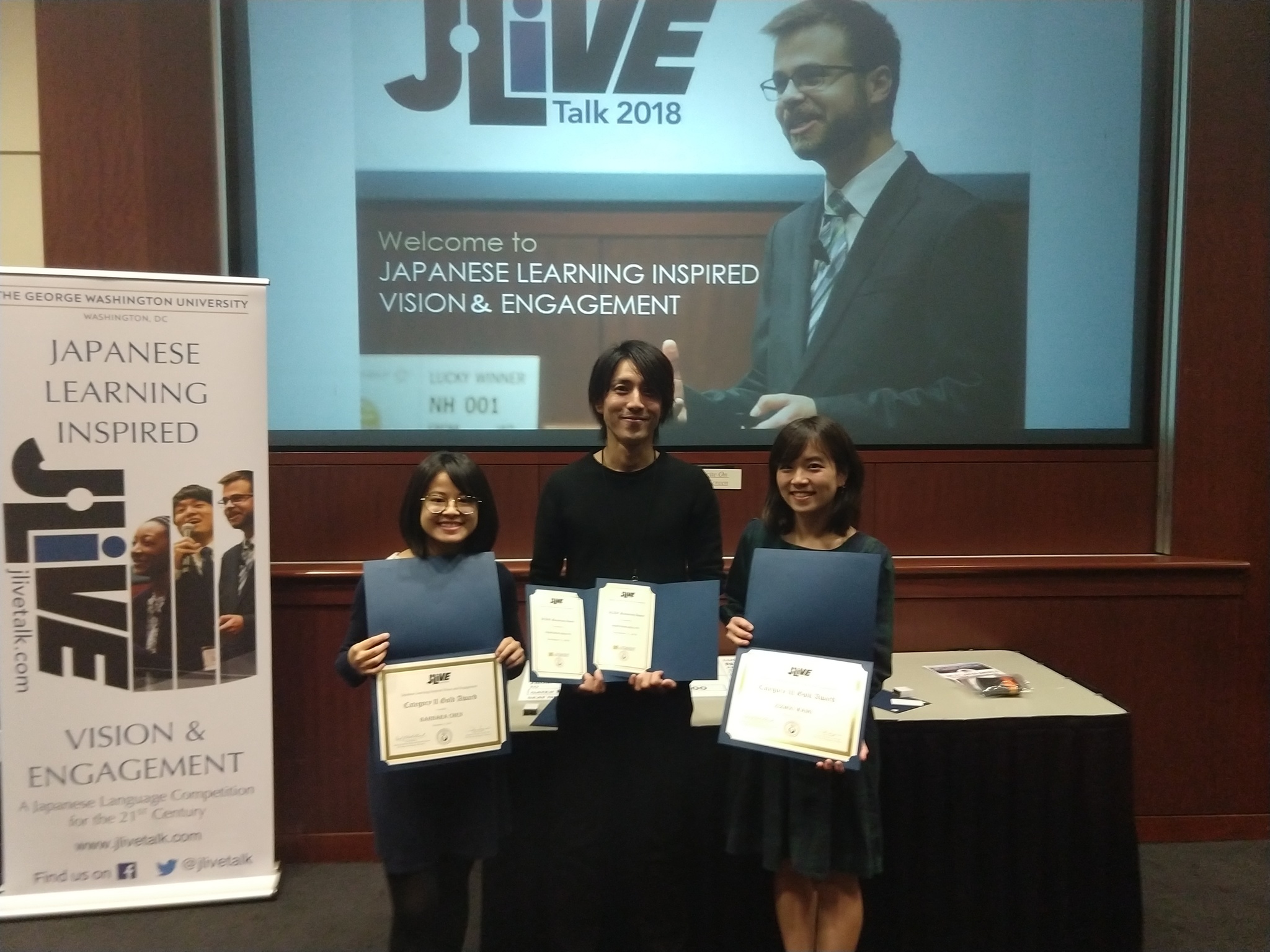 At the fourth annual Japanese Learning Inspired Vision and Engagement Talk (J.LIVE), a Japanese-language speaking competition hosted on Nov. 11 by George Washington University and sponsored by the Embassy of Japan in Washington, D.C., and The Naganuma School of language in Japan, among others, Penn students walked away with not just one, but two top prizes. 
Out of three categories in the competition, Barbara Chen, a senior math major with a minor in Japanese studies, was awarded the gold prize for the second category, which featured intermediate high-advanced low-level speakers; and Zizhou Wang, a second-year master's student in the Department of East Asian Languages and Civilizations (EALC), who took the gold award in the third category—the most advanced of the three. 
The competition was structured with three rounds, the first two involving video speech submissions. The final round narrowed the field to three contestants—from universities across the country—in each category, who performed live in front of a group of judges in Washington, D.C. containing five panelists from educational and cultural institutions, plus Japan Embassy Minister of Public Affairs Takehiro Shimada. 
"I was very overwhelmed [when I won]," Chen says. "I was proud of myself, but really proud of my sensei, and even more proud of the whole department. I felt like I did something for the Japanese program here; I really didn't learn Japanese until I got to Penn, and I feel like my success is reflective of the program and I was proud to bring that honor, in a way, to the program. 
"And I'm really grateful for my sensei who brought me here."
This is the first year that Penn has participated in the J.LIVE contest. Kinji Ito, a lecturer in the EALC's Japanese Language Program, came upon the competition and immediately knew he wanted to encourage his students to submit. Together, they prepared for two months in his office, about twice a week. 
"I was in it to win it," Ito says. "The first thing I asked them [was how committed they were], and they were all for it—I had to make sure. I was so committed, and [they] had to be as committed as I was."
After a short few weeks of practice, he was confident about their chances in the competition. 
"I kind of knew they were going to make it to the final," he says.
Not just because they had an exceptional grasp of the language, he explains, but because they exuded confidence, developed a strong student-teacher relationship with him, and, together, the two seemed to motivate each other—even working on their speeches together outside of class and office hours. 
"A few weeks prior to the event, they presented their speech in front of me and our teachers at least a few times, and we kind of knew they were so good compared to what they did in September, and they were getting better and better," Ito says. "And I was confident in them—they were so happy. I think they want to make me proud of them.
"I've never felt this way before with my students, because the kind of confidence they had—they were so committed." 
That Penn won two of the three awards, he adds, is "unprecedented." 
The driving concept of the competition was to highlight the distinction between a speech and a presentation, the latter of which is more commonplace in today's workforce. As such, students incorporated audience engagement and multimedia elements like PowerPoint. Contestants were free to discuss what they wanted in their presentations, Wang says, but tended to discuss their relationship with Japan.
Wang, who came to the United States as a Chinese native who also spent time living in Japan, drew from her academic passion to understand Asia from a global perspective. She spoke about her experiences as a Chinese speaker new to English and the American dialect.
"There's a very famous saying, 'When in Rome, do as the Romans do,' but…I question this," Wang says. "Because I think that while it is very easy to achieve that, in translation, when translating one language to another, it is very hard—you're still influenced by the culture, you still live in the culture where you originally grew. So, it's very hard for me to really 'do as the Romans do.'" 
She believes her multicultural background—and her confidence in how she delivered her speech—made for a presentation that the judges related with. 
Chen's speech, meanwhile, packed an especially emotional punch.
"I've always struggled with confidence as a student at Penn. But one day in class, I remembered that I came to the U.S. when I was 10 and had to learn English from scratch. I remember feeling embarrassed when my fourth-grade classmates were holding novels with no pictures in it and I was holding a picture book," she says. "I talked about that in my video submission—about how now here I am speaking English and Japanese, and that gave me a little boost of confidence that I needed."
She built on that story for her final presentation, explaining how special letter writing is to her—especially in today's digital information age. It is, to her, an art and gesture that is underappreciated. She often composes and sends letters without an expectation of them being returned.
"For my presentation, I talked about how my father passed away when I was a junior in high school and it was a tough time for me," she explains. "I found a letter he'd written to me and my siblings, and after reading the letter, I felt so moved and overwhelmed with emotion. And I kind of realized letters are so powerful, that people don't realize that, and it was that letter that motivated me to start writing letters to other people. It's meaningful to me."
When she won, she says, she was overwhelmed but not surprised, knowing how much work she'd devoted to practicing with Wang and Ito.
As winners, both Chen and Wang were awarded a cash prize, as well as, for Chen, a six-week stay at The Naganuma School in Tokyo for an intensive study trip and, for Wang, a six-week intensive study trip to International Christian University, also in Tokyo. Through the experience together, they became good friends and plan to share a room together while living in Tokyo for the program. 
Wang describes it as a humbling experience to work with Ito and the EALC faculty and staff—not just for the contest, but throughout her time as a graduate student in the program.
"I feel very warmhearted and supported by my professors here," Wang says. "That's why I wanted to do something for them, and I really appreciate Penn. I think I've grown and learned a lot, and made a lot of progress here. 
"If I hadn't come here, I don't think I'd ever have come this far."