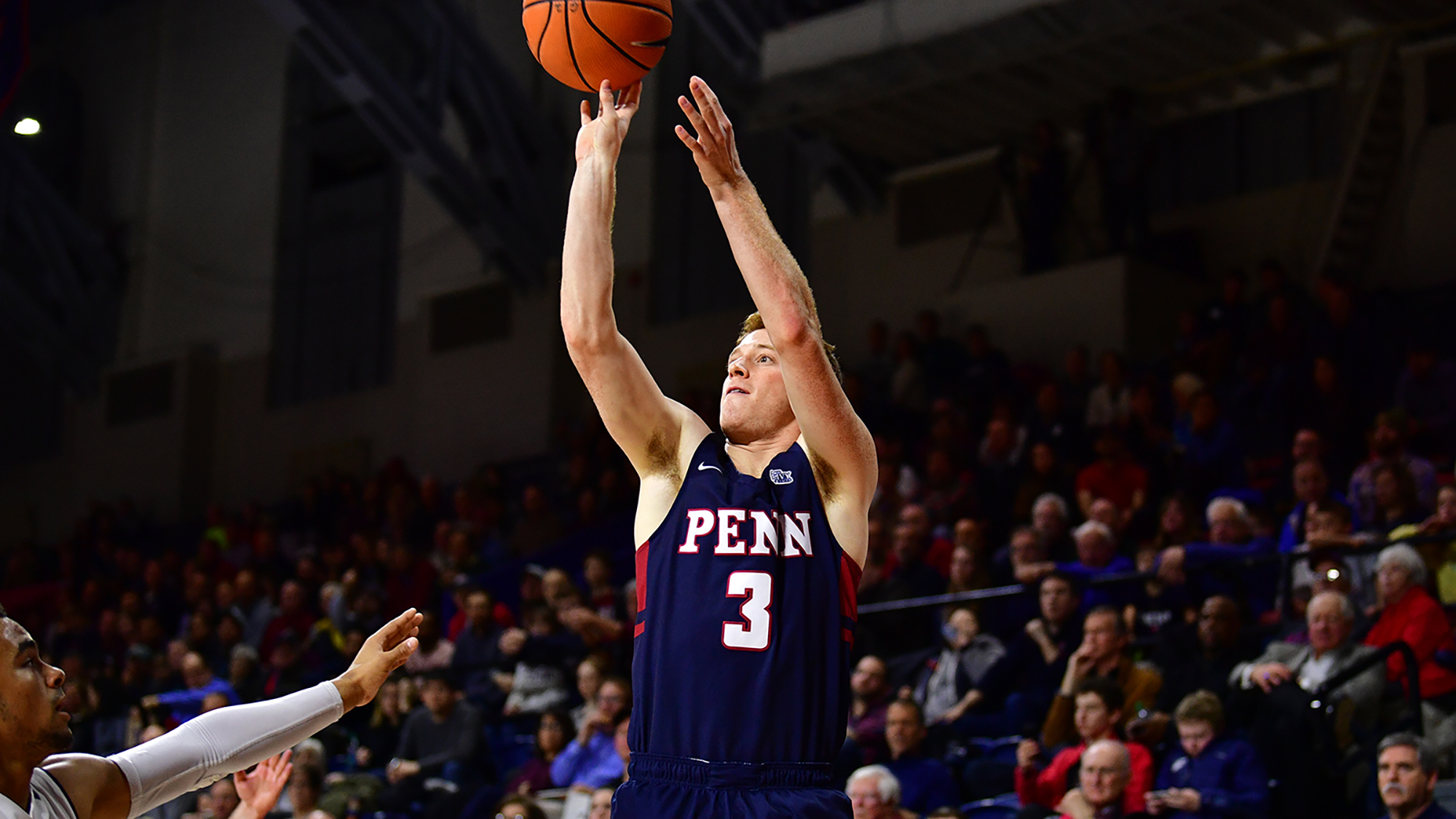 The men's basketball team found a cure for whatever has been ailing them the last four games, downing Temple 77-70 on Saturday in North Philadelphia. The victory earned the Quakers a share of their first Big 5 championship since 2001-02 and snapped an 11-game losing streak to the Owls.
Junior forward Kuba Mijakowski balled out in the first half, scoring 14 points. He shot a perfect 4-4 from three-point range and was 2-2 from the foul line.
His first triple, on an assist from junior guard Devon Goodman, came at the 16:01 mark and gave Penn an 8-7 lead. He drained his second, also assisted by Goodman, with 13:07 on the clock, which put the Quakers ahead 13-8. His third, assisted by senior forward Max Rothschild, and fourth, from an assist by senior guard Antonio Woods, came in the final 61 seconds of the half and abetted the Red & Blue to a 35-25 halftime advantage.
Temple's 5-0 run to start the second half cut Penn's lead to 35-30. Freshman forward Michael Wang hit two free throws to extend the lead to seven. Temple hit a three to cut the lead to four, and senior guard Jake Silpe answered with a three to push it back to seven.
A layup by Goodman made it 46-35 five minutes into the half. A basket by junior forward A.J. Brodeur put the Quakers up by 13 points with 11:42 left, their largest lead of the game.
The Owls cut it to nine with around 10 minutes left, but a three-pointer by freshman guard Bryce Washington made it a 12-point game, 57-45.
Temple trimmed the lead to six, 62-56, with 6:45 remaining; Penn responded with buckets by Brodeur and Washington. 
The Red & Blue's lead was down to five with 1:13 left in the game, but Silpe nailed a super-clutch three-pointer with 39 seconds left. The Quakers make their free throws down the stretch and that was all she wrote.
Brodeur finished with a team-high 16 points, seven rebounds, and five assists. Goodman had 15 points, three rebounds, four assists, and two steals. Mijakowski had a career-high 14 points. Silpe had nine points, shooting 3-3 from behind the arc, and six rebounds.
Penn shot 52.8 percent from the field (28-53) and 40 percent from the three-point line (12-30). The Quakers scored 32 points in the paint and got 29 points from their bench. Temple's bench only scored seven points.
The Quakers can win the Big 5 outright with a win over Saint Joseph's on Saturday, Jan. 26, at the Palestra.