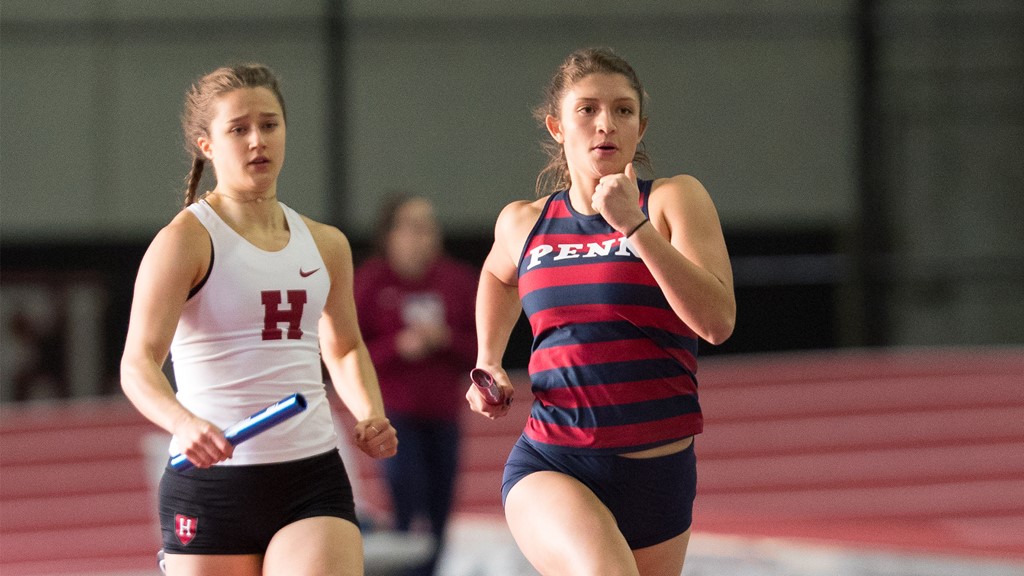 Penn's track & field teams bolted out of the starting blocks on Friday in the Seahawk Shootout in Staten Island, New York, the Red & Blue's first meet of the indoor season and first indoor competition since March of 2020.
Hosted by Wagner College at Ocean Breeze Park, the event featured eight Division I programs and 12 Division II and Division III programs. Collectively, the Quakers' men's and women's teams racked up 14 first-place finishes.
Three of the first-place feats came in the pole vault. Freshman James Rhoads finished No. 1 among men with a mark of 5.15m, and senior Abby Norwillo and freshman Meghan Hart tied for the top spot among women; both cleared 3.70m.
The Red & Blue also swept the 300m, the 1000m, and the 4x400 relay. Junior Emerson Douds placed first in the men's 300m with a time of 34.24. Freshman Jocelyn Niemiec topped the field in the women's 300m with a time of 40.34.
In the men's 1000m, senior Tim Dolan prevailed with a time of 2:26.80. Senior Caroline O'Sullivan carried the day in the women's 1000m with a time of 2:59.75.
Douds, freshman Adam Gorka, sophomore Liam O'Hara, and junior Antaures Jackson placed first in the 4x400 relay with a time of 3:19.51. Senior Skyla Wilson, freshman Caia Gelli, senior Haley Rizek, and Niemiec were victorious in the women's 4x400 relay with a time of 3:52.65.
Elsewhere, senior Cameron Landis took the top spot in the men's shot put with a throw of 16.96m, and senior William Hare won the men's 3000m with a time of 8:15.98.
Likewise, senior Tamara Grahovac placed first in the women's triple jump with a mark of 11.76m. In the women's 300m, Niemiec was the victor with a time of 40.34.
Sophomore Maeve Stiles finished first in the women's mile with a time of 4:58.70. In the 60m hurdles, freshman Shevell Higgs led the field with a time of 8.88.
Next up for the Quakers is the Penn 10-Team Select on Jan. 15, back on Staten Island at Ocean Breeze Park.