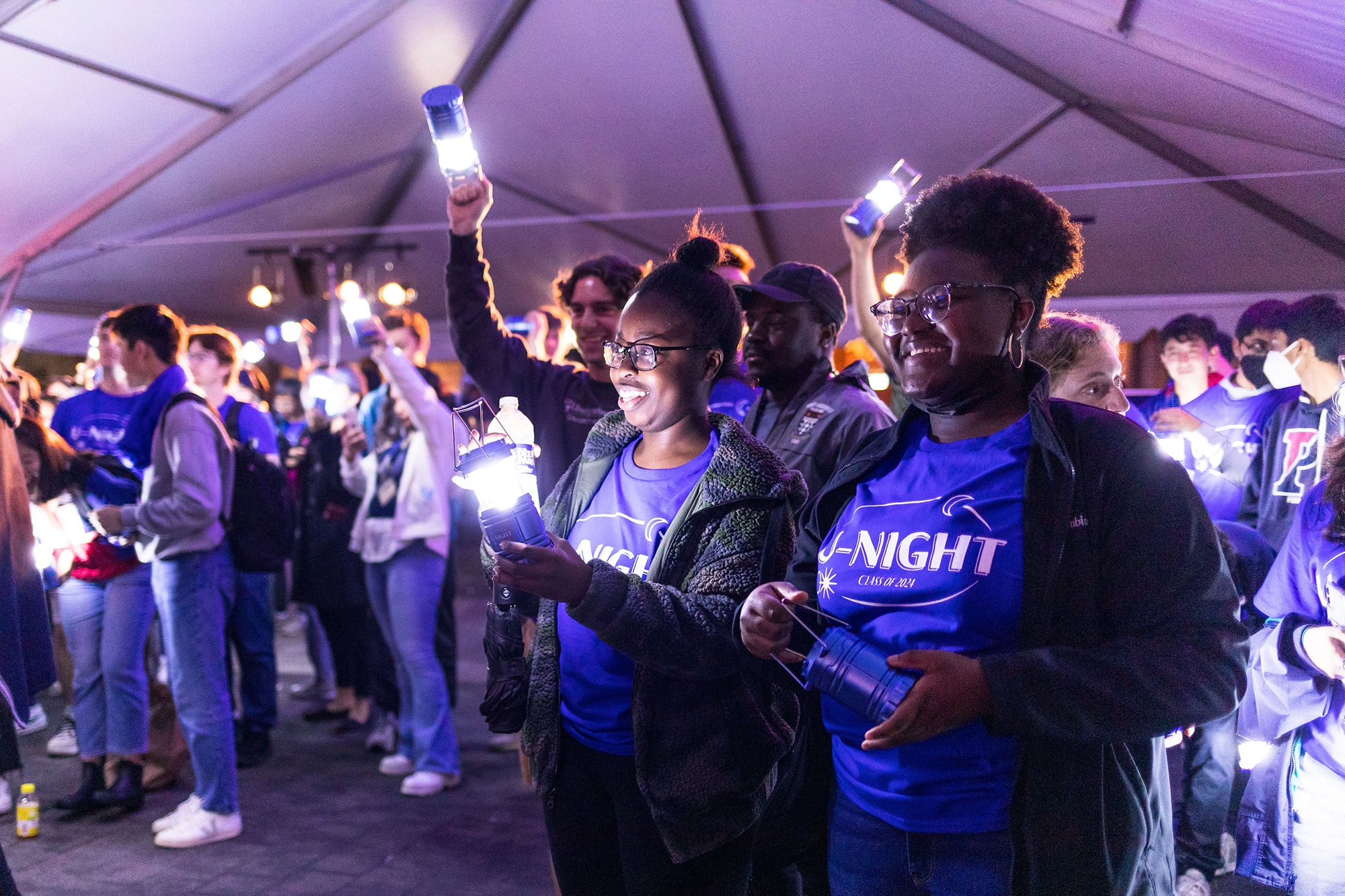 The rain on Tuesday, April 26, was just another wrench in plans the Class of 2024 has faced as undergraduates at Penn, but in keeping with the determined spirit of this class, it didn't dampen their spirits. U-Night is a young tradition for rising juniors to celebrate their halfway point at Penn. This is only the second in-person U-Night Penn has held—because of the pandemic, the last two were virtual events in 2020 and 2021. Hosted by the Class Board of 2024, the students gathered under a large tent at Penn Commons, donned blue U-Night T-shirts and Mardi Gras beads, grabbed blue battery lanterns and plates of tacos from Penn Appetít, and posed for portraits at a step-and-repeat, all while a DJ spun dance music.
The in-person gathering was the first official event as a class these students enjoyed due to the pandemic. As first-year students, they spent their initial semester as college students taking classes online, many from their parents' homes. Their Convocation was a YouTube event and their professors were introduced via Zoom. As sophomores, the students enjoyed campus life with evolving mandates for masking and gathering. Truly no class of undergraduates have had to adapt and modify their college experience more than this one, but the result was evident on U-Night, where the community that gathered showed immense gratitude for each other, and expressed how lucky they were to be surrounded by their peers, their friends, and their support network.
"This is the first real event we've had in person," said Brinn Gammer. From Hazelton, Pennsylvania, she is a Rodin College House resident studying criminology and neuroscience, and will spend the summer working with the Quattrone Center, with a focus on the neurological basis of criminal behavior. "I was on the Class Board last year, so I'm excited to be here for the event its hosting. Zoom events just aren't the same."
The excitement of an in-person gathering also enticed Vivian Cai, from El Paso, Texas. She is studying investment banking at the Wharton School. "I'm from the border of the U.S. and Mexico. I came to Penn because of its reputation for diversity. There are a lot of international students, and I wanted to be somewhere diverse like where I grew up." 
Between mouthfuls of taco, Kevin Sporici said the experience was "a little surreal, being able to gather as a class all together. I feel like our first year as college students, we were robbed of the college experience."
Instead of being immersed in college life on campus as a first-year student, Sporici's first semester at Penn was spent with his parents in Newton Square, Pennsylvania. A biology major, he will spend the summer studying for the MCATs. Despite an unusual start, Sporici, and many of his classmates, were not derailed in their undergraduate trajectories. Among the Class of 2024, students will be spending the summer interning for Goldman Sachs, like Cai, or doing research on HIV-related neurodegeneration, like Avi Singh, a Rodin resident from Toledo, Ohio. 
Their sophomore year has brought friends and roommates together like any other class. Fiona Miller, from Roanoke, Virginia, and Adiva Daniar, from Chelmsford, Massachusetts, will remain roommates as juniors in Harnwell College House. They had their photos taken together at the TapSnapPhilly photo step-and-repeat, and joined their third roommate for tacos before the speakers began remarks. 
The rain started in earnest as Toyosi Abu, Class Board 2024 president, welcomed the crowd to U-Night. "It's been 862 days, or 20,680 hours, since we opened our letters welcoming us as students to Penn. We endured a pandemic, quarantine, and four semesters of classes. We've never had the opportunity to come together as an entire Class of 2024. That ends tonight."
Shan Shan Liang, Class Board vice president of external affairs, spoke next, reminding the group why they were gathered. "We are now upperclassmen. We've made it this far. While there may have been missed opportunities—'I should have applied to that program. I should have asked that person to lunch'—those are behind you. Trust in your past and the decisions you made. Trust the seeds you planted."
Annabelle Noyes, Class Board vice president of finances, continued the thread. "We are the shapers of our own Penn community. Our individual actions are part of a collective action. Everything you do is significant." Noyes detailed the results of a survey the Class Board conducted of their peers, who were asked about their college experience so far, and what matters most. The takeaways included: authenticity; know that everyone struggles with something, so given a choice, always choose grace. Reach out for help when you need it; trust your intuition. And, perhaps most relevant for a class that matriculated in a global pandemic, you can't plan everything; sometimes you just have to adapt.
"All these survey answers point to building a community," Noyes said. "A fundamental part of the Penn experience is each other."
Interim President Wendell Pritchett spoke passionately and bluntly. "As impressive, memorable, and crazy your first two years have been, the best is yet to come. You can be mentors. Behind you are the days of learning the ropes. You know yourselves better than ever. We think the world of you. Congratulations to the Class of 2024."
The lantern activity, despite being held under a tent, wasn't dimmed when it came to enthusiasm. Students flashed their lanterns in call-and-response: those in Nursing; those at Wharton; those at the College. Cheers rang out for each call. "Shine your light if you ever felt lonely during your freshmen year." "Shine your light if you ever were humbled by a midterm." "Shine your light if you have a friend who inspires you." Many students gave hugs to that friend after that prompt; the beauty and luxury of an in-person event had advantages the last two U-Nights did not. The last prompt rang out the loudest, with the largest response: "Shine your light if you are officially a junior." The tent flashed with light.