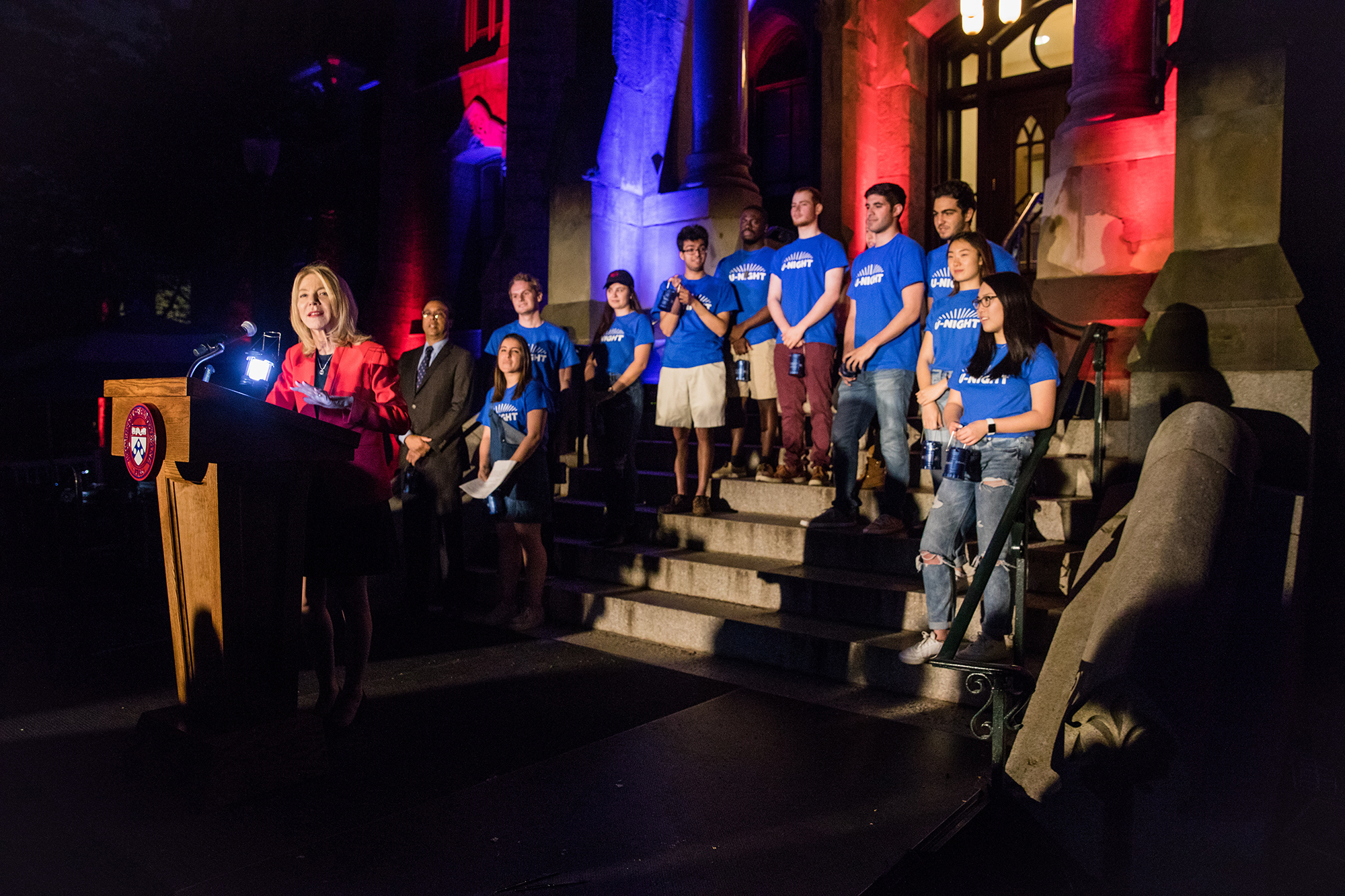 Dots of rattling white lights illuminated College Green Tuesday evening as Penn sophomores pumped small blue lanterns in the night air.
Some turned their lights on to signal the fact that they were studying nursing, attending Wharton, or that they had overcome the fear of speaking up in class. Others identified as first-generation or low-income, or recognized the struggle of finding a community at Penn.
"With so much darkness in the world, tonight is all about shining your light. It's about finding your light. And let's face it, sometimes it's hard to find it. We dissolve to just a flicker," Lizzie Youshaei, sophomore class board president, said. "So it's up to us to help each other find one another's light."
It was with that symbolism—not to mention music and balloons, grilled foods, and T-shirts emblazoned with "21"—that the University began what is expected to become a new Penn tradition: U-Night. 
The event, organizers said, was intended to forge unity and to fill the second-year gap in what some called the "ritualistic journey" at the University, which includes Convocation, Hey Day, and Commencement.
Before Tuesday, the last time the sophomore class had convened en masse was at Convocation in August 2017, and campus leaders noted how much happens in two years at Penn, including students' declaring their majors.
"You've climbed the mountain and the destination has come in sight," Penn President Amy Gutmann said. "Two more years!"
It was a point that Gutmann illustrated through the continuation of an exercise first prompted at Convocation. 
"Do you remember that I asked you all to take a selfie with somebody you didn't know?" she asked the crowd. This time, she instructed, "instead of finding someone you don't know, find someone you do know, take a selfie and leave a space in the selfie for meeting someone you don't know in the next two years."
Gutmann continued: "You should celebrate not only who you have become but who you will become through the next two years. There is so much more room for each and every one of you to grow in the next two years."
As great as the Class of 2021 is, she said, "the best is yet to come."
The event was a reminder of the University's reinvigorated focus on the critical time that is sophomore year: Officials in the fall unveiled the Second Year Experience Program, a plan to address the specific needs of sophomores through new housing requirements, programming related to academics and research, in-house academic advising, and more.
Provost Wendell Pritchett spoke about the milestone of undergraduates completing their second year—with a little help from Jon Bon Jovi.
"He said it memorably. He said, you're halfway there," Pritchett said, channeling the musician and soon-to-be Penn honorary degree recipient. "You're halfway there."
Pritchett, named provost in April 2017, reminded the students that he had started his current role with the class, in a sense: "My first Convocation was with you—so I'm a sophomore too," he said.
The provost also implored the students to use the night to connect with their peers with similar academic interests.
"One conversation starter I might suggest is not why, but how—not why bioengineering or English or European history, but how? How did you end up with this focus? How did what you've already done lead you to this choice?" he said. "And perhaps most importantly, how can we support each other on what we know will be a challenging journey?"
For some sophomores, the experience of being the first class to usher in a new tradition proved momentous.
"There aren't a lot of opportunities to be in the same place at the same time," sophomore College chair Daniel Gordon said, and U-Night provides second-year students that. He said he envisioned future classes leaving their own unique mark on the event in years to come.
His College co-chair, Charles Curtis-Thomas, added: "I'm so thankful for being a part of this class and having the chance to be a part of something that's going to be around for the next 20, 30, 40, 50—500 years."
Likewise, Youshaei told the crowd that "20 years from now we'll be remembering the memories we made tonight, together." Though, she noted, "this isn't about 20 years from now. It's about tonight. It's about us. The Class of 2021."
Gutmann offered similar words, calling the group a "one-of-a-kind class that can make new things happen."
"If anyone doubts that there's something special about the Class of 2021… one need only look here tonight," she said.