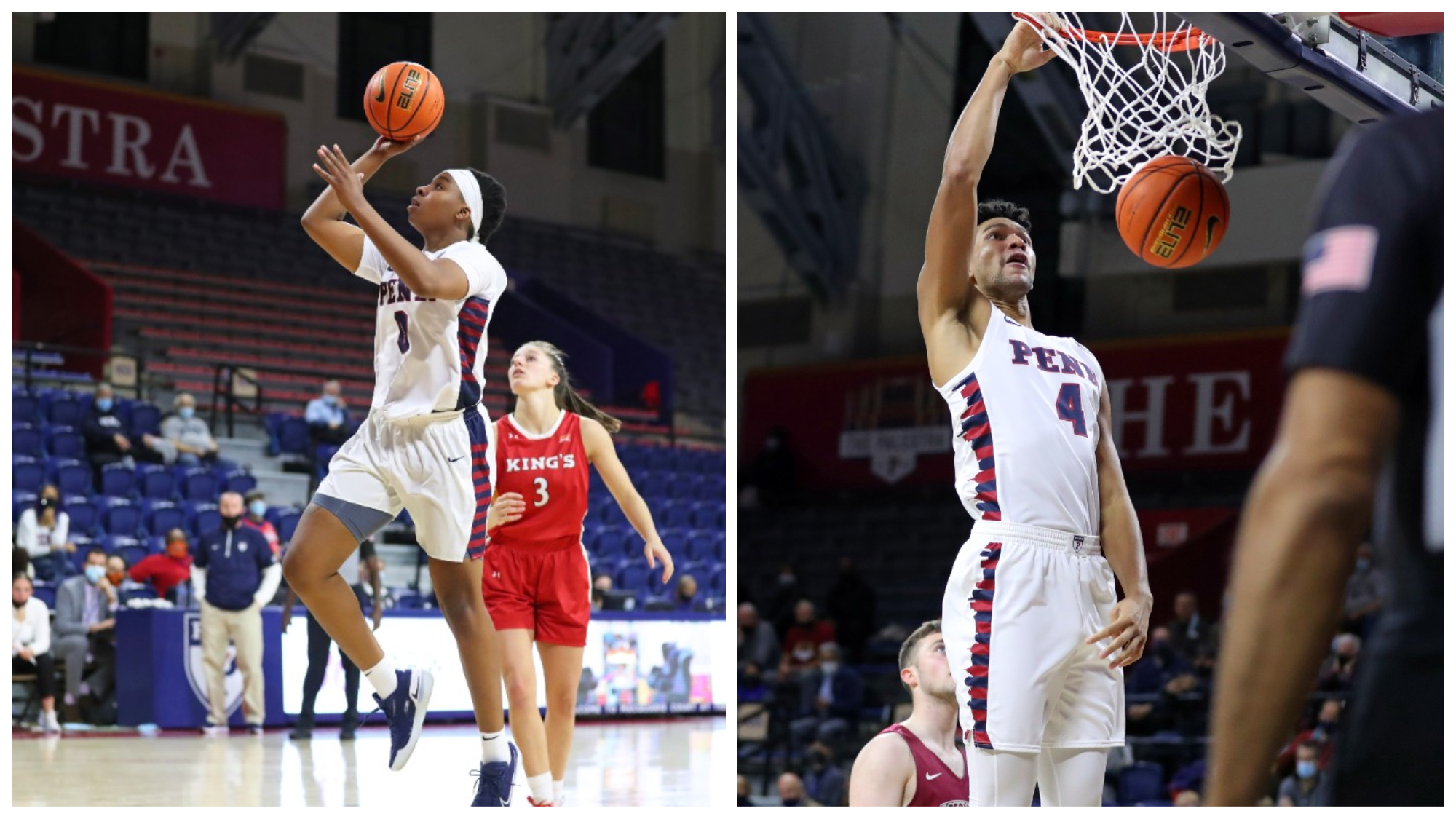 The last time a basketball game was played at the Palestra, Donald Trump was president, gas was $2.40 a gallon, "Toxic Future texts" memes were all the rage, "Don't Start Now" by Dua Lipa was burning up the charts, "Tiger King" was not yet a cultural phenomenon, and the coronavirus was a minor nuisance.
Tuesday afternoon—619 moons later—basketball returned.
At 4 p.m., the women's basketball team clashed with King's College (Pa.) at the Cathedral of College Basketball, and at 7 p.m., the men's basketball team tangoed with Lafayette. Both were victorious by large margins.
Sophomore forward Jordan Obi of the women's team had a Jordanesque performance, piling up 29 points, 12 rebounds, two assists, two blocks, and three steals in the Quakers' 91-55 win.
Junior guards Mandy McGurk and Sydnei Caldwell also scored in double figures. McGurk had 17 points, one rebound, three assists, and three steals; Caldwell had 10 points, seven rebounds, two assists, and one block. Senior guard Mia Lakstigala added nine points, eight rebounds, five assists, one block, and three steals.
In the men's team's 85-57 victory, junior guard Jonah Charles paced the Red & Blue with 18 points and three rebounds. He shot 4-7 from three-point range and Penn as a team shot 11-23 from behind the arc.
Sophomore guard Clark Slajchert and freshman forward Nick Spinoso were key contributors as well. Slajchert had 11 points, two rebounds, four assists, and one steal. Spinoso had 12 points and six rebounds. Eleven Quakers scored on the day and Penn outrebounded the Leopards 45-27.
On Thursday at 2:30 p.m., the men's team (2-2) takes on Utah State in the Myrtle Beach Invitational in Conway, South Carolina. On Friday, the winner will face the victor of the Davidson/New Mexico State matchup. The final is Sunday.
Thursday evening at 7 p.m., the women's team (2-0) battles St. Francis Brooklyn in Brooklyn, New York. Their first Big 5 matchup of the season occurs on Monday, a 7 p.m. showdown with Villanova at the Palestra.