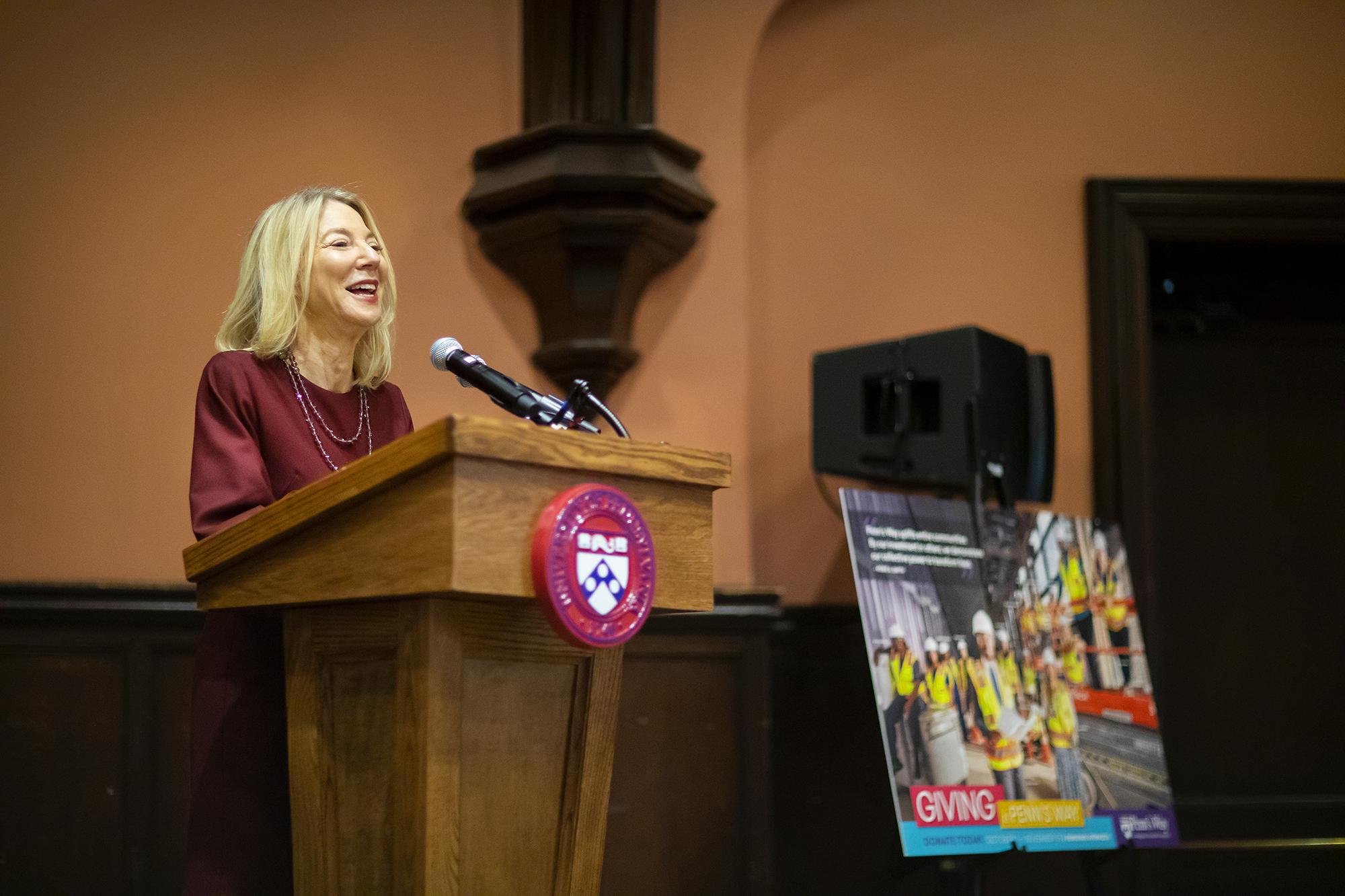 About 15 years ago, Pat Sullivan had a cardiac event, which she said came "totally out of the blue." Reflecting on her very personal experience, she credits what she learned from the American Heart Association as a lifesaver. 
Today, supporting the nonprofit comes easy to Sullivan, the University of Pennsylvania Health System's chief quality officer. "It's so important for those of us who are more fortunate to give back to the communities and the causes that are so dear to us."
Giving is a passion that's at the forefront of Sullivan's everyday life—at work, as well as outside of it. It's no surprise, then, that she took on the role three years ago as co-chair of Penn's annual workplace giving campaign, alongside longtime Penn's Way leader Maureen Rush, vice president for Public Safety and superintendent of Penn Police. The duo serve with Penn's Way faculty advisers Steven Kimbrough and Peter Quinn. 
The 2019 Penn's Way campaign kicked off Tuesday, Sept. 24, with a celebration at Houston Hall. From Oct. 1 through Nov. 15, faculty and staff are encouraged to donate to the 15,000-plus participating agencies, which include health centers and libraries, schools and food banks, and much, much more.
Penn President Amy Gutmann joined the launch, showcasing her excitement for the important cause.
"The Penn's Way campaign exemplifies what makes this University a special place," said Gutmann. "It's not simply that we care about our neighbors—we are part of the same community, and when we help the more vulnerable people in our community, we're actually helping ourselves as well."
There is no longer a question of whether we can help, Gutmann added, it's a question of how—"how much can we do, how well can we do it?" 
"Penn's Way is a very important part of our mission to show, not just to tell, but to show that we are stronger when our community is stronger," she said.
Last year, the members of the University and Health System raised 109 percent of their joint Penn's Way goal of $1.65 million. This year, the target is $1.7 million—more than ever before. 
"We can do this," encouraged Rush, who's been co-chairing the program since 2003.
Donors can contribute via payroll deduction or credit card on the Penn's Way website through three organizations: Penn Medicine, the United Way, and Philadelphia Alliance for Change, which oversee and validate the variety of listed agencies. Participants may choose to donate as little or as much as they'd like, to as many agencies they want.
This year, those who donate will notice slight changes, mainly improved efficiency, thanks to the hard work of the folks behind Penn Information Systems & Computing. Users will now be able to look up the different organizations they can donate to more easily, and will have a clearer view of what and how they donated last year.
"[Penn's Way] has come so far over the years from paper and pencil to now the ability to very quickly find a good organization you want to support, and do it online easily," said Rush. "We have a chart that shows how we started at raising $300,000, and now we're at $1.7 million."
Talking to the crowd of mainly Penn's Way volunteers—the folks who do the behind-the-scenes work, from building the user-friendly website to creating the thoughtful, attention-grabbing marketing campaign—was Dan Rader, chair of the Department of Genetics and the Seymour Gray Professor of Molecular Medicine at the Perelman School of Medicine. He emphasized the power of philanthropy when it comes to important, lifesaving missions like gene therapy.
Megan Ewing, of Development and Alumni Relations (DAR), said she is adding agencies that support the type of research Rader talked about to her list to donate to this year. She's also interested in helping the Penn Vet Working Dog Center and organizations that help with hurricane relief.
"I've seen people get devastated by natural disasters," she said, noting how she used to live in Florida and how her mom lives in Texas. "It's terrifying."
Ewing, who is charged with spreading the word about Penn's Way to her team at DAR, said the campaign provides a unique way for her department to give.
"We're so used to pulling people in to give," she said. "I think it's a good way to give back."
"We're fortunate to work at the University of Pennsylvania, where we are compensated fairly and enjoy excellent health insurance," said Rush. "We have to think about the people who aren't as fortunate as us. It takes a village and the people of Penn are taking care of the village."