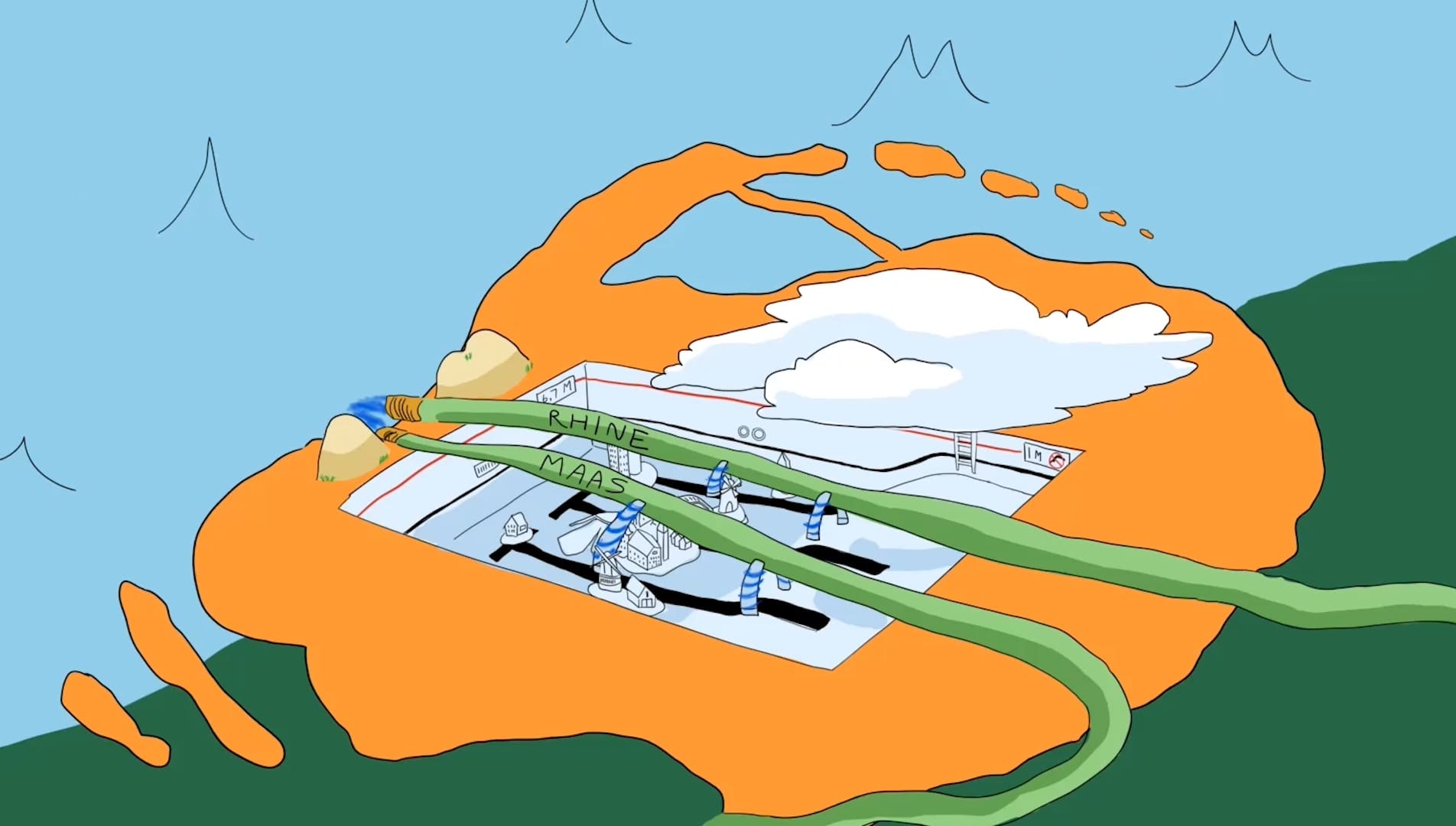 In July, floods in Western Europe killed approximately 220 people—mostly in Germany—and indiscriminately ravaged homes. The disaster was made more likely by climate change, scientists have concluded, and though this tragedy occurred several months after professor of Germanic Languages and Literatures Simon Richter began his latest project, it's one of many climate consequences that have weighed on his mind.  
Richter, who is a Perry World House faculty fellow and a faculty adviser for the Water Center at Penn, is most concerned about climate adaptation in coastal regions—how to deal with looming realities such as accelerated sea level rise that are already impacting societies and will only increase in the decades to come. However, he realized he first needed to help raise awareness of the challenges ahead, as well as clarify some myths about the Netherlands, often considered a model of adaptation. The country historically has had a remarkably intimate relationship with water and has learned to live with a significant portion of its land below sea level—but imperfectly so. 
This first meant the creation of "The Poldergeist."
"Poldergeist" is Richter's Twitter persona for sharing information and opinion. The name is a spin on "Poltergeist" and the many polders in the western part of the Netherlands. Dutch polders are often former wetlands and shallow lakes that have been drained and occupied, and maintain an artificial water level. Thanks to the combination of subsidence and sea level rise, much of the Dutch polder landscape is below sea level, as much as 22 feet in some places.
After accumulating a few hundred followers of mostly water policy experts, he decided Poldergeist had potential as a platform to circulate information and reach a larger audience. 
"It occurred to me that it would be very interesting as a way to reach a larger audience if I were to create videos that briefly and effectively stated my perspective on things," Richter says. "I've been told the outsider perspective is helpful."
What's resulted is an animated video project in collaboration with a team of three interns funded first by the Penn Undergraduate Research Mentoring Program, part of the Center for Undergraduate Research, and presently by The Sachs Program for Arts Innovation. The team released its first video in October on YouTube, outlining—in a way that is concise and educational but also cheeky—a slew of misconceptions about the Netherlands' experience with water management. 
"I knew I wanted to make animated videos, but it hadn't occurred to me that Poldergeist would become a cartoon figure. I've been a PURM mentor before and really enjoy working with students," Richter explains. "It seemed novel. I asked them to do serious research, but also to get creative. I had no idea what would come of it."
The mission of the video, he says, is primarily to speak to people in the Dutch water sector who don't fully grasp the scale of the climate crisis—those who, Richter says, are more interested in building "higher dikes and more pumps."
"In some sense, they're a force to be reckoned with because that's been the foundation of the Netherlands for decades, if not centuries," Richter says. "But their technological approach is not adequate for what's coming. It was fine when sea level rise was a few centimeters per century, but not fine for what's coming."
The other audience he's targeting is the Dutch public—particularly young people who have yet to be confronted with this information. He is, of course, also hoping people from other countries will take notice, including people in countries such as Indonesia, the Philippines, India, and the United States that have a history of working on coastal-related climate adaptive work with the Dutch. 
The students involved with the project are Justine Seo, a junior in the College of Arts & Sciences; Jenesis Cochrane, in the School of Engineering and Applied Science; and Rebekah Lee, also in the College. They began working on the project in June, starting by researching climate policies, adaptive pathways, Dutch water systems, and examining Richter's own research. They then developed storyboards from a script written by Richter, and fleshed out the character of The Poldergeist.
The first video, released early in October, explores how it came to be popularly known that most of the Netherlands is below sea level, when in fact only 26 percent of the country is below sea level.
The video-making process is one they describe as collaborative. Aside from some animation experience Seo had from previous projects, they also had little background in animating, making the whole project a head-first learning experience. 
All three agree they've learned to peer beneath the surface while working on this project, which is a theme the video draws on and recalls Sigmund Freud's theories about looking "below the surface of water" to find the unconscious.
"I've learned how important is to not take everything as it is," says Lee. "The Dutch, for example, are known for water management skills, but nothing is wrong with taking a closer look and critiquing and looking how to make it better. Beyond certainty, now is the time to see how we can better prepare ourselves for these changes. So, I think [we should be] trying to look beyond and not necessarily accept everything for what it is." 
Cochrane adds that she's also seen the value of explaining complicated topics in a concise and approachable way.
"I think for me [I've learned a lot about] accessibility of reliable information," Cochrane says. "The question we're dealing with now, Professor Richter is passionate about it because he sees inconsistencies in critical information that everyone should have a baseline about. So, I think having a form of video that's kind of humorous, uses simple language, uses visual representations that are graphic, [that's helpful] for people who don't have that baseline."
Richter says he couldn't be happier with how the project has turned out and is looking forward to creating future videos with the team.
"They have been utterly amazing. It's their creativity and intelligence and good humor, wit, and a little bit of mischievousness, too, that has transformed this project," he says.
The project has since moved beyond PURM and has been awarded a Sachs grant to continue producing the videos. The next video, titled "Too Deep to Fail," will discuss the Netherlands' plan to build close to 1 million new housing units, many below sea level; the video will focus on the current disconnect between accelerated sea level rise and land use policy. 
Other videos in the works will compare Jakarta and the Netherlands, take up an unusual connection between Sigmund Freud and a Dutch dike, and imagine the possibility of managed retreat from the west of the country to a transboundary region along the Dutch-German border.