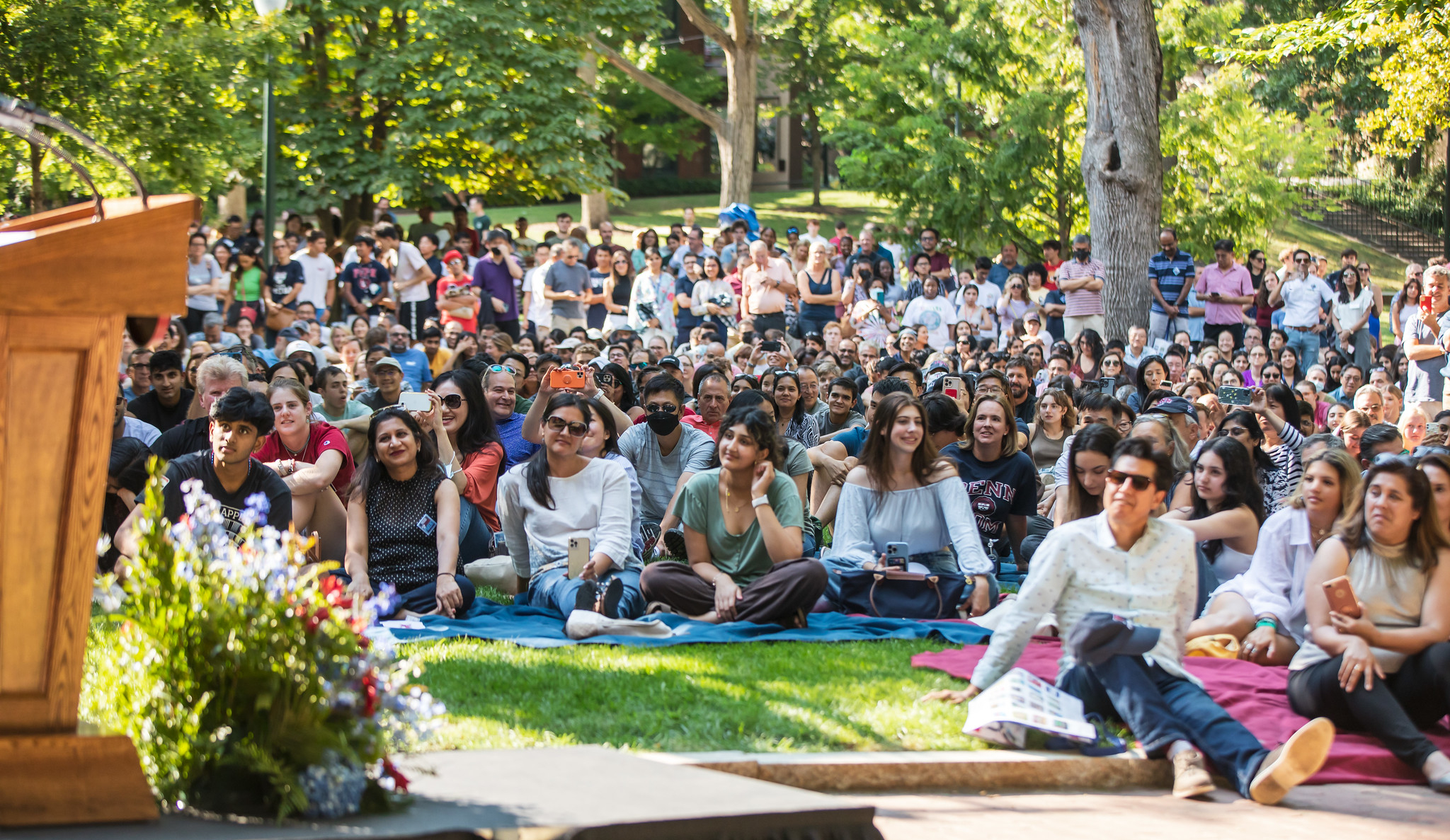 The first week on campus for first-years involves meeting other students, learning about myriad opportunities, and having fun at social events, but also finding out how to get the help they need as they start their lives at Penn.
President Liz Magill pledged that support to new students and their families gathered on College Green Wednesday while welcoming them to the Penn family. She empathized with the parents, acknowledging what a "really big deal" it feels like to drop off children at college for the first time, having done so herself, twice.
"Your children are going to be inspired. They're going to grow and thrive. And they're going to be supported in every possible way," Magill said, speaking in front of College Hall during the President's and Provost's New Family Welcome event, one of many she is attending during New Student Orientation (NSO).
"In us they have a caring, educational partner, a community full of friends, mentors, professionals, all of them are devoted to the wellbeing and the thriving of your student," Magill said. "Among our highest priorities is ensuring that students have the resources that they need to get the most out of their time here, as well as getting the support that they need. And being able to depend on that support."  
Kicked off by a performance by the Penn Glee Club, flanked by towers of red and blue balloons at the top of the College Hall steps, hundreds of students and their families filled a sunny College Green, sitting together on red and blue groundcovers or standing in the shade.
Magill told students and families that minutes before speaking to them she was in her office "peeking out my window and seeing the glory of all of you, and it made me even more excited about all of you coming to Penn."
Interim Provost Beth Winkelstein said college is a time for students to find their independence, but that they should count on reaching out for help along the way.
"You're about to begin of the most exciting and challenging times of your lives. You'll acquire knowledge, of course, and build an intellectual foundation that will continually inform you. And yet college is about more than pursuit of knowledge," Winkelstein said to the students. "More than anything else, Penn will provide the opportunity to learn about yourself."
The welcome, which also included a meet-and-greet reception, is among the "signature events" for the Class of 2026 on the NSO calendar, which has dozens of events listed, large and small.
One of the 2,417 in the Class of 2026, Florence Onyiuke from Orlando, Florida, attended the welcome with her mother. She said the NSO opportunities have been "really beneficial in meeting some of my other classmates and getting a little bit of a kickstart on the academic and social life."
Onyiuke is in the Huntsman Program in International Studies and Business, a joint program between the Wharton School and the School of Arts & Sciences. Identifying as first-generation-low-income student, Onyiuke had been on campus for a four-week intensive academic program through the Penn First Plus program.
Her mother, Omotola Onyiuke, came to Penn for Move-In week and attended the Penn Parent orientation just before the welcome on College Green.
"That was useful information. The panel was reassuring that we are actually leaving our kids with people who care. That's been my greatest concern. Having people give me their phone numbers, say 'call us and we can look for her if she isn't texting you back,' is huge for me, knowing that," Omotola Onyiuke said. "It is hitting me that this is it. I have been listening to the advice to parents, and now this is real. I'm actually going home without her."
Robert Bayona, the father of Julian Bayona, a first-year who plans to study chemistry in the College of Arts and Sciences from Puerto Rico, listened closely as Magill and Winkelstein spoke. He said he also appreciated the parent orientation. "The message that I take away is that they're here to help them. They're not alone. At least for me as a parent, that makes me feel a little bit better that I know that if he seeks help, if he needs help for anything, there are resources available," said Bayona.
Julian Bayona was among a group of five first-year students from Puerto Rico gathered together at the welcome event, meeting each other for the first time after connecting on social media earlier in the summer. With him were Justina Alvarez-Zoldi in the Huntsman Program, Fabián Sanabria in the College, and Diego Font and Isabel Garcia-Oruña in Wharton.
"It's a new culture, and even though we do speak English, Spanish is our first language. So everybody has been very helpful to include us and to let us know that we are indeed a part of the community. And that has been very fulfilling for all of us," Font said.
Alvarez and Garcia-Oruña had arrived Saturday for the pre-orientation Successful Transition and Empowerment Program at Wharton, they said. "It made me feel so welcomed and included in Penn community. I feel so prepared now heading into next week to college classes with professors at an Ivy league institution," Garcia-Oruña said.
Roommates Dev Patel, a first-year from Franklin Park, New Jersey, in the School of Engineering and Applied Sciences, and Vishal Krishnaiah, a first-year from San Francisco in the College, said they wanted to focus on finding their way around the campus now that they were settled into the Quad's Fisher Hassenfeld College House. "I am looking forward to getting to know the layout of the University, because I have no idea where my classes would be," said Patel.
During the Move-In days the 189 NSO student volunteers, dubbed PHINS (Peers Helping Incoming Students), were visible throughout campus in light-blue T-shirts with "Ask me questions!" on front and back, ready to help.
Winkelstein told the first-years at the welcome that asking for help is important, because the college journey is not a straight line, but instead one with twists and turns. "Our goal is to support you on this role, not to remove every obstacle, but we will help you," she said. "We are here, here to give you the tools to succeed. And not without help, nobody does that, but with confidence in yourself and your abilities."