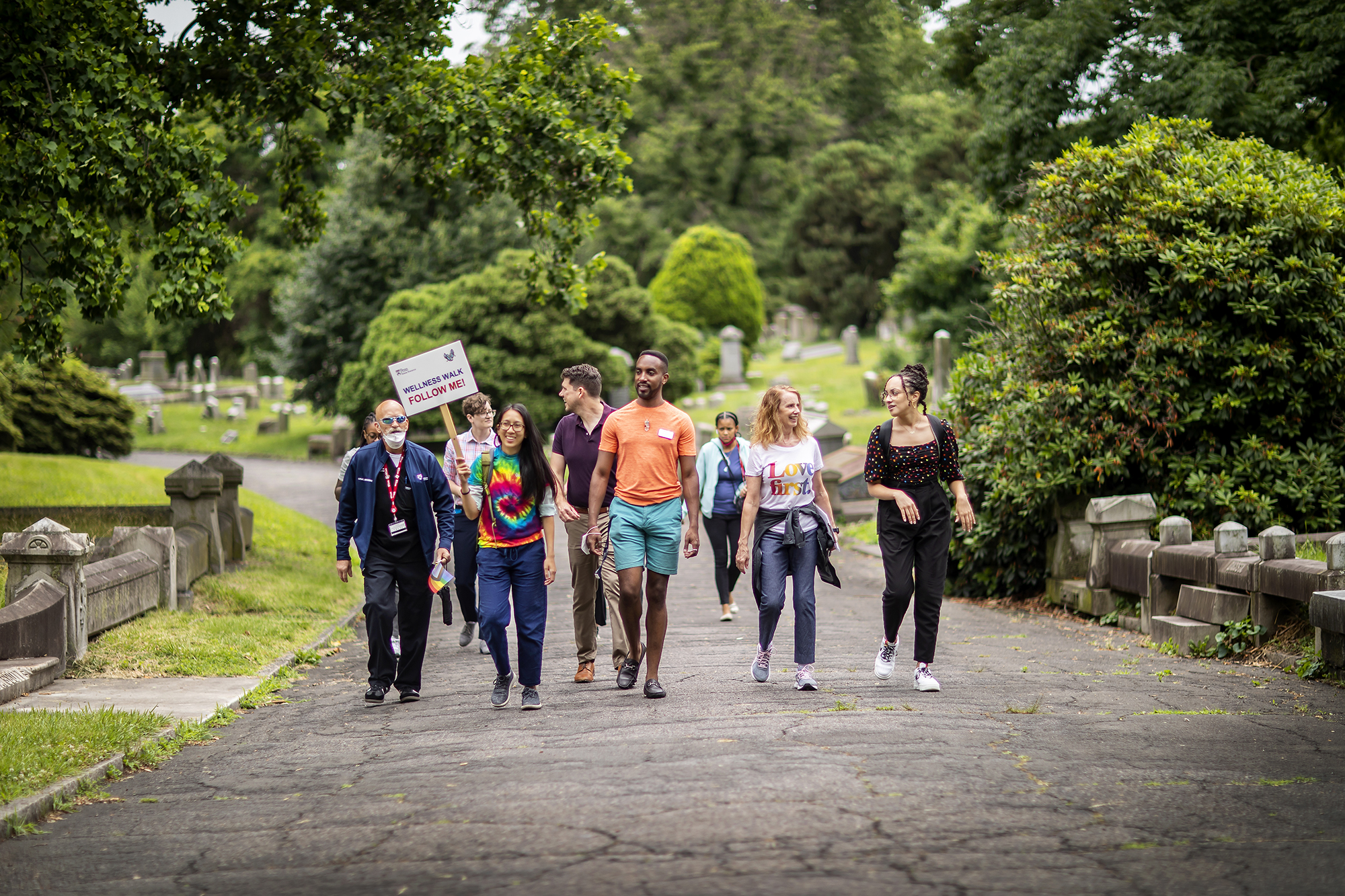 Penn's monthly Wellness Walk was Pride-themed in June, kicking off with remarks by Malik Muhammad at the LGBT Center before wending its way to The Woodlands.
Hosted by Human Resources and the Center for Public Health Initiatives in partnership with the Center, the June 16 walk was one of the events marking the 10th year of Be in the Know, a wellness campaign for staff and faculty.
The monthly Wellness Walks, a collaboration between Human Resources and the Center for Public Health Initiatives, offer Penn's staff and faculty "the opportunity to physically and mentally take a break during the workday, see new parts of our beautiful campus, and connect with their colleagues," said Chris Hyson, senior health and wellness specialist in Human Resources. "Today's walk allowed us to also collaborate with the LGBT Center and celebrate Pride Month and the LGBTQ+ community."
During Pride Month, Muhammad, associate director of the LGBT Center, said he is is reflecting on the trans and nonbinary community. Earlier this month, the Pennsylvania Senate passed a bill prohibiting trans women from competing in women's sports. "It's disheartening," he said. Trans and nonbinary folks need to be "uplifted and acknowledged by folks in power to make change," Muhammad said.

In attendance was Paul Richards, chief of staff and senior director of communications in the Division of Finance, who recently started an LGBT affinity group within the division. It's an outlet for people to meet each other, he said.
"When people feel connected to other people, they tend to be happier," Richards said, "and happier people tend to be better at their jobs."
Kristen Jacobs and Nell Jones, also of Finance, came to the walk as well. Jones has been to other Wellness Walks, she said, but this one was significant "because I, too, identify as part of the community, and so it was important to me to show up and represent."
For Jones, one of the foremost issues includes resources for queer teenagers and adolescents, who struggle with housing, employment, and mentorship if they are rejected by their families.
"A lot of people think of the LGBT Center as a resource for students, which it absolutely is," said Richards. "But programs like this can show folks that it's also a wonderful resource for staff."