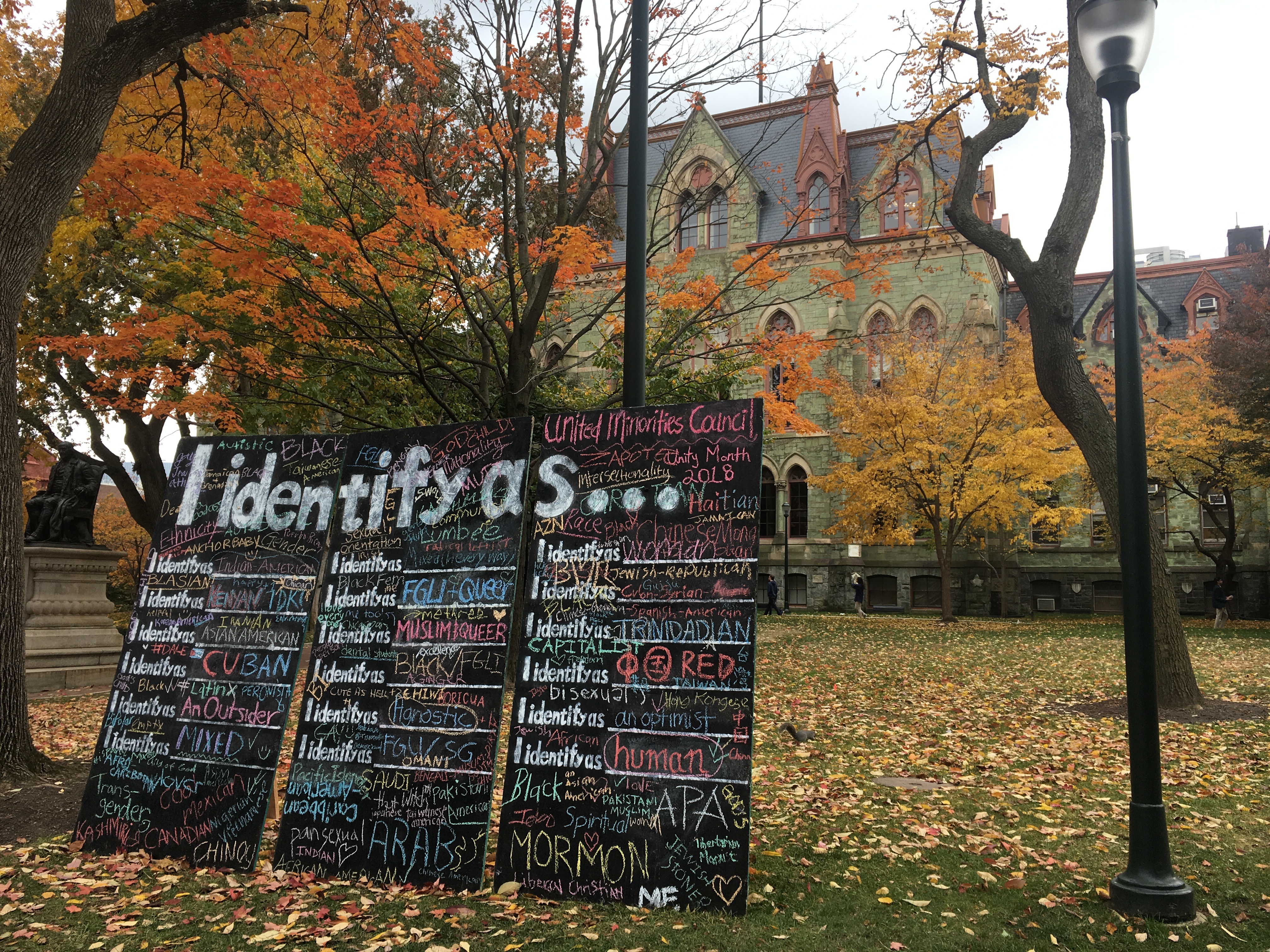 A vivid close-up of hyacinths framed in lavender graces the inaugural issue of Q-INE (pronounced "queen"), a newly launched LGBTQ+ interest magazine showcasing writing and art from the Penn community. Founding editors Ana Acevedo and Liam Forsythe, both seniors, attended the launch party for La Vida, a Penn-based Latinx magazine and felt the need for a similar platform for LGTBQ+ folks, Forsythe says. 
The project began before the pandemic, but Acevedo, a biological basics of behavior major from New Rochelle, New York, and Forsythe, a biology major from Media, Pennsylvania, continued to pursue publication during quarantine, supported by both the LGBT Center and Kelly Writers House. "One of our missions was to create a spark for a stronger community and provide space for voices," Acevedo says. A foreword penned by Penn's LGBT Center reads, "In these strange COVID-19 times, Penn's LGBTQ+ communities are separated spatially and temporally—it is our hope Q-INE will lessen the distance between us." 
Malik Muhammad, associate director of the LGBT Center, "could not be more proud" of Acevedo and Forsythe, "who took it upon themselves to create this amazing outlet for our community. They saw a need and took the initiative to address it. That is what leadership looks like." he says.
The spring 2020 issue is available online, and Acevedo and Forsythe have plans to generate print copies when it is safe to do so. "There's something very different about having a physical thing in your hands. You interact with it differently," Forsythe says, adding that Kelly Writers House was instrumental in putting the publication together. 
The publication highlights the varied, intersectional identities of the LGBTQ+ community. Forsythe says, "One submission that surprised me was 'It's the Day Before Valentine's 2019,' which felt like it could be universal to anyone at Penn." The poem, he says, evokes love and heartbreak, bodies and boundaries. "A lot of people could connect to it," says Forsythe. He also says he was "blown away" by a poem about trans identity, "I Shimmer in my Skin," by editor Quinn Gruber. "I wish I could blame people calling me not-me," the poem reads. 
In addition to poetry, Q-INE includes essays and artwork. There are photographic concept portraits by Sean Trahan built around conversations he had on Grindr, a mixed media collage series by Liam Forsythe, and one of Acevedo's favorites, a compendium of poetry and photography called "Cat Collective" by Lovett Finnegan.
The magazine, Acevedo says, "represents the diverse student body that we talk about at Penn. If we hope to train the cream of the crop, we have to get into the weeds about what diversity actually means." Acevedo hopes that Q-INE will invite students, faculty, and staff to understand the LGBTQ+ experience on campus. 
"You learn so much from talking with people with other backgrounds and learning from individuals that have different experiences than your own," Forsythe says. "This magazine isn't just for our community; it's for everyone."
"I think that straight people can pick up this magazine and learn from it," says Acevedo. "I hope that it shows people some similarities. I think that our poems are beautifully written and that our art is beautiful." 
Forsythe agrees. "Beauty alone is a reason to pick up our magazine," he says.
The arts have been a traditional means of expression for LGBTQ+ folks, says Muhammad, who notes that creative expression is often the only outlet for queer folks to be their authentic selves. "I hope Q-INE serves as a reminder to our Penn LGBTQ+ communities that no matter who you are or where you are, you belong," he says. 
The founding editors timed Q-INE's publication to coincide with Pride month but hesitated as the Black Lives Matter movement gained momentum, as they didn't want to overshadow "the voice of others that needed to be heard," Forsythe says. 
Forsythe points to Marsha P. Johnson's pivotal role in the history of Pride. Johnson was 23 years old when police raided the Stonewall Inn, a gay bar in New York City, resisting arrest and leading a series of protests and riots in the subsequent days. A charismatic, Black, transgender woman, Johnson galvanized the advocacy work that led to Pride month. "As Penn students, it's important to remember and acknowledge our history," Forsythe says. "Everyone has a right to exist and say what they need to say." 
Forsythe and Acevedo hope to continue their work with the magazine and are actively accepting submissions for next year's issue. Acevedo encourages other students to utilize Penn's resources for self-expression. "Whatever you want to bring to campus, whatever you feel is missing, do it," she says. "People are dying to help you." 
Forsythe agrees. "Our university isn't perfect, but it's also on us to do the things that we can to improve it. This was our way."