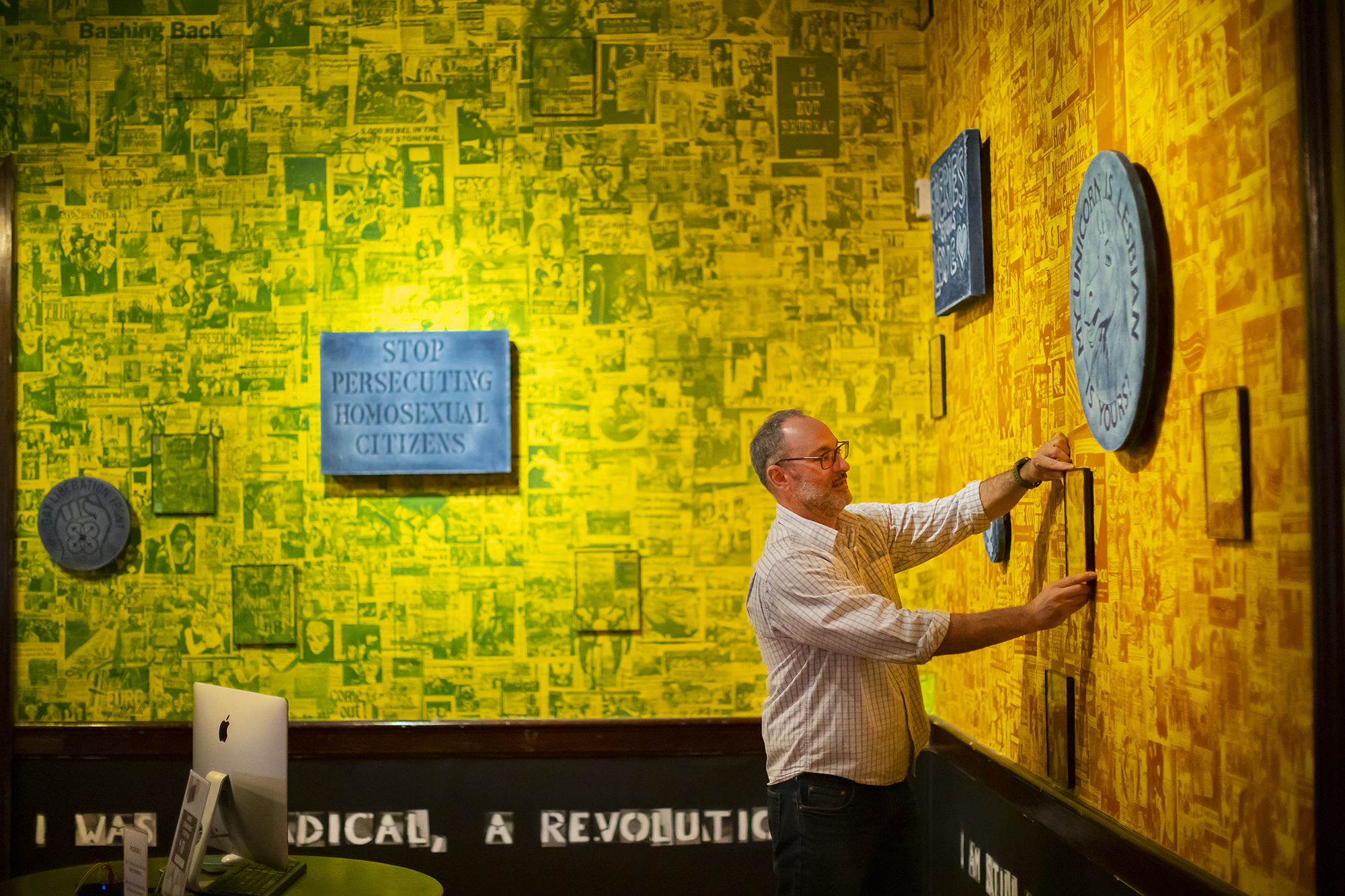 What's past is present.
Such is the essence of Penn Fine Arts Senior Lecturer of Photography Gabriel Martinez's latest exhibit, "Tonight is Forever," capturing 50 years of the LGBTQ Rights Movement and the political conflict that has come with it—stretching all the way into 2019. The William Way LGBT Community Center's airy lobby in Center City is transformed into a series of what could be described as memory walls, portraying local, national, and international newspaper clippings, posters, signs, and photographs that date as far back as the mid-1960s. The walls are dramatic, traumatic, and fluent in the struggle of LGBTQ communities gripping with marginalization, while still indulging in moments of celebration.
"Ultimately, through months of research at the John J. Wilcox Archives, looking specifically at images and ephemera that dealt in some way with acts of resistance, struggle, defiance, I wanted to intermingle [those acts] with aspects of celebration, joy, pride," Martinez says. "There's this overwhelming confluence of histories, so there is no chronological order to the images you see. That's, for me, part of the beauty: when things coalesce or intermingle in unexpected ways."
"An important historical event from 1965 can be presented next to images of Mayor Lightfoot or Mayor Pete."
The exhibit runs through June 28, the anniversary of the Stonewall Riots of 1969 in New York City, and is made up of 5,000 images plucked from the John J. Wilcox Archives at the Center. Martinez first started researching in the Archives in 2014 for a companion exhibit, "LGBTQ Legacies: Art, Archives, Analysis," a show concurrently on display with "Tonight is Forever" but that extends through August. That exhibit, a collaboration between Martinez, Wilcox Archives Director John Andries, and Temple University student Michael Carroll, showcases photographs taken by the Philadelphia Gay News' first-ever photographer Harry Eberlin that capture mostly unidentified members of the Philadelphia LGBTQ community from the 1970s and '80s.
"Tonight is Forever" was spun from that photography exhibit and is the product of six months of culling files and boxes of photographs, publications, queer ephemera, T-shirts, buttons, etc. in the Center's third-floor archives, searching for a diverse array of images that portray the lead-up to the Stonewall riots, the aftermath, and the politics of the movement.
"I kept thinking 'politics,'" says Martinez. "Whatever is politically oriented is what my camera was going to point to. And, of course, within the context of the political, that's such a wide net to cast, and so there's this wonderful diversity to the information I've gathered—sometimes moments of humor, other times moments of true struggle."
While the walls of the exhibit—which he says took about a week to install—don't technically exist in order, they do capture different time periods and moods of the movement. Red, for example, accompanies images of the HIV/AIDS crisis of the 1980s and early 1990s. The last wall, meanwhile, contains colors like pink and baby blue that represent the transgender, non-binary, and genderqueer communities, and images of today on display are more celebratory.
Each wall is accentuated with hand-etched linoleum works jutting out of the wall and layered with worn denim that's been sanded down—tactile pieces that boast messages and popular phrases, including a "#LoveWins" panel that punctuates the exhibit. (The worn denim, Martinez explains, alludes to ongoing struggle, strife, and resistance.) Also accompanying the installation is a quote by Sylvia Rivera, a queer icon and veteran of the Stonewall Uprising, that runs the length of the walls, similarly capturing the range of emotions among the images.
For the final component of the exhibit, Martinez and the Center put out a call on social media for images important to the Philadelphia community. Those images were replicated by Martinez and placed in an 8 x 10 frame, then hung over that same image printed on the wall. Those who participated in the project were invited to take their keepsakes home—leaving behind gold hooks when they do, revealing the image on the wall underneath—signifying those images "remain as a part of history," Martinez says.
"It's been really wonderful," says Andries, who helped install the exhibit. "People walk in the building and stop and look stunned. They look around the room and see the expanse of it all, and then go up and study it. One day, when I was helping do the install, someone who had come in planted himself in a chair, staring at the wall as he was talking on the phone explaining it to someone."
"People do seem mesmerized by it."
Martinez, meanwhile, recalls some visitors being overcome with emotion as they viewed the clippings on the wall and felt the enormousness of the exhibit. One that, for some, wasn't just an observance of history but a walk down memory lane.
"A lot of folks, especially the older generation, were in tears, looking back on themselves when they were younger, legacies of struggle that moved them, histories they were part of, and that meant the world to me," Martinez says. "This installation acts as a community project. It's presented within the lobby of a community center, so it's not your traditional white cube gallery context, and I feel so honored to collaborate with the William Way on this project. It was truly a group effort to realize this exhibition."
Homepage photo: Gabriel Martinez, senior lecturer in Fine Arts, stands among thousands of queer newspaper clippings and ephemera unearthed in the William Way LGBT Community Center's historical archives.