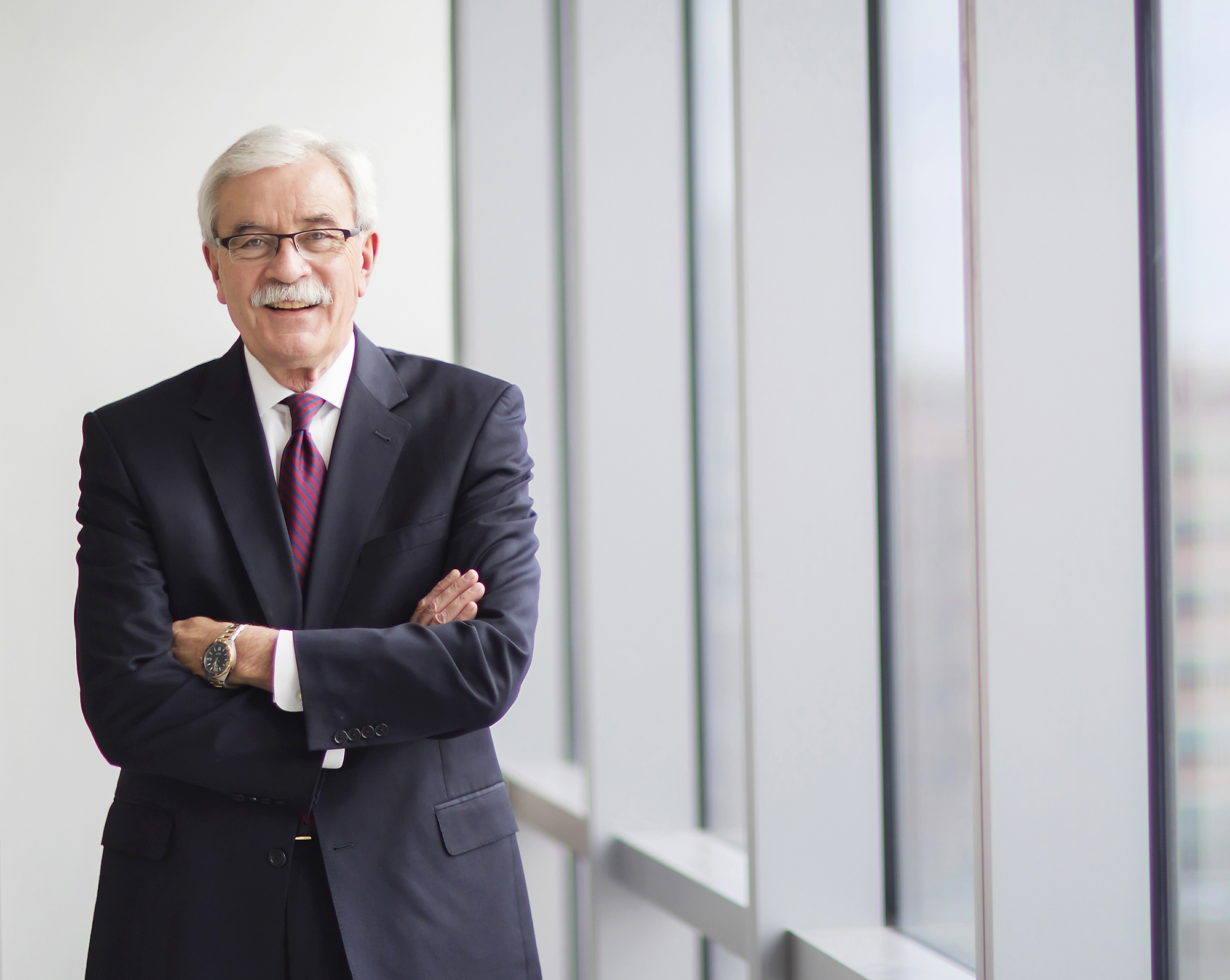 Building upon the resounding success of the Making History Campaign, the University has launched The Power of Penn: Advancing Knowledge for Good, a $4.1 billion fundraising effort. The Campaign will generate resources to support a myriad of priorities throughout the University. A particular focus will be on the broad strategic areas of expanding student opportunities, incubating innovation and entrepreneurship, advancing knowledge across disciplines, revolutionizing health, driving energy solutions, and engaging alumni.
"I see an extraordinary possibility, and also an urgent necessity, to go to the next level and take the next bold step forward in Penn's historic journey," says President Amy Gutmann. "We are so fortunate to have this incredible community of people around the world who love Penn, who believe in Penn's brilliant future, and who are willing to generously support Penn's efforts to advance that future for all."
John H. Zeller, the senior vice president of Development and Alumni Relations, says The Power of Penn Campaign has been in serious planning mode since the summer of 2016, and picked up pace after Gutmann committed to serving as Penn's president through 2022.
"We felt that gave us a perfect opportunity to link all of the emerging priorities for the schools and centers, as well as the University as a whole," he says.
The public phase of the Campaign will last until 2021. Robert M. Levy, vice chair of the Penn Board of Trustees, will serve as campaign chair. Trustee Lee Spelman Doty will serve as vice chair.
"We also have an incredible volunteer structure literally across all the schools and centers," Zeller says.
Penn Today sat down with Zeller at the FMC Tower to discuss the need for The Power of Penn; key elements of the Campaign; how to engage graduates, new and old; and why alumni are so passionate about giving to Penn.
The $4.3 billion Making History Campaign concluded in 2013. Why is another campaign necessary at this time?
Campaigns provide the financial resources to continue to focus on the impact a university can have going forward. In today's environment, philanthropy is a critical variable. There's only so much you can charge in tuition, and only so much federal aid and research dollars available. Although we're immensely successful in attracting research funding, philanthropy provides resources that the deans, center directors, the president, and the board can strategically direct to those areas that advance the mission of the institution. 
How did you come up with the $4.1 billion goal for The Power of Penn Campaign?
The number reflects what is needed to support the highest priorities of the schools, centers, and University. I would characterize it as a floor, not a ceiling.
The Making History Campaign resulted in facilities such as Penn Park, the Roberts Proton Therapy Center, the Weiss Pavilion, the Singh Center for Nanotechnology, Perry World House, New College House, the Hill College House renovations, the Smilow Center for Translational Research, the Perelman Center for Political Science and Economics, and the Perelman Center for Advanced Medicine. What will be some visible parts of The Power of Penn?
Probably the most visible project right now is the one that's coming out of the ground: the new patient Pavilion for Penn Medicine. Then there's New College House West and the internal transformation of the Penn Museum. There's an academic research building for Wharton, a Graduate School of Education student pavilion, the new Science Research Building, and an indoor training facility for track and athletics. These are the 'skyline changers,' if you will, but there are also a lot of projects to renovate or reorient existing spaces.  
You guided the Making History Campaign and also $1 billion and $700 million campaigns at Johns Hopkins University. What are some lessons you have learned from one campaign to the next?
That no two are alike. There are clearly best practices that you can take away from each campaign, but I think the key is not to focus on the dollar amount. Instead, you have to focus on what the resources will actually do for the institution, what the impact will be. Philanthropy really does provide the fuel to accelerate excellence at an institution. We saw that in the last campaign, we've seen it during the quiet phase of this campaign, and we'll see in the public phase.
You managed the Making History Campaign during the biggest economic downturn since the Great Depression…
I don't want to do that again.
Does the stability or instability of the economy affect how you approach a campaign?
It's a question I get asked a lot. You can only worry about those things that you can control. The one thing I learned a long time ago is not to try to second-guess the markets. In a downturn, we may have to calibrate what some individuals are willing to provide in terms of gifts or commitments. In 2008, '09, and '10, the uncertainly in the markets created challenges for individuals, corporations, and foundations, but it didn't fundamentally change their desire to support Penn or to participate. Maybe it affected the level at which they felt comfortable doing so, but during the downturn we still saw an incredible breadth of support for Penn and what we were trying to accomplish.
Why do you think that is the case? Why are alumni so passionate about giving to Penn?
There are lot of reasons. I think our graduates have great pride in where the University is today, and the progress that has occurred over the last 40 or 50 years. Dr. Gutmann's vision of excellence to eminence has really resonated, and we've seen this both in the recruitment and retention of faculty and the growth in the caliber of our undergraduate and graduate programs. Penn is now recognized on the world stage as a major player in the area of innovation, and has reinforced its eminence in terms of research. That combination has translated into some remarkable advances—from FDA approvals for new cancer treatments, to basic scientists at the Dental School figuring out how to deliver drugs through plants. I think people take great pride in Penn's signature pushing-the-envelope ethos.
I think they are also rightfully proud of our foundational commitment to diversity and inclusion, which has greatly expanded access to a Penn education. Twice a year, we hold an event to introduce donors to the students who receive named scholarships. Our challenge is to find a venue large enough to accommodate everyone, which is a great problem to have. This campaign will focus on further strengthening our financial aid program, and creating an even more responsive support system for first-generation and high-need students.
The Making History campaign had 326,000-plus donors. How do you plan to engage alumni for The Power of Penn?
Exactly the same way. By providing multiple ways in which they can participate in this Campaign—everything from volunteering, to attending Penn events on campus and around the country and world, to supporting Penn, whether it's $1 or $1 million. What we saw in the last campaign was that people felt, regardless of what they were able to contribute, that they were part of something bigger and that, collectively, their contributions had an impact.
Do you find that recent alums, such as those who graduated in the last 5-10 years, donate to the University as well?
Yes. It goes back probably 15 years, when we started really focusing on engaging our students while they're here, particularly at the undergraduate level. Since then, we've seen an uptick in the number of people who come back for reunions. Our alumni interviewing program, which had 4,000-5,000 volunteers 10 years ago, now has over 20,000 people who interview applicants around the world for the undergraduate schools. We like to say that Penn is the academic home for our graduates for life. It's about building lifelong relationships. What we're trying to do is build connections that are sustainable for 50, 60, 70 years.
Who are some of the oldest alumni you have engaged with?
We've had so many come back. We've had graduates who come back to celebrate their 70th reunion, and 75th reunion. I think one of the most personally gratifying interactions I had is with Craig Sweeten. The Sweeten Alumni House is named for him. He held my position for many years before he retired. Craig has since passed. He was just such a wonderful individual. When he came back for his 75th reunion, I put him in a golf cart to take him down and show him Penn Park. As we drove towards the Engineering quad, we crossed 33rd Street. He reached over and touched my arm and said, 'Stop.' So I stopped the cart. He looked around and he said, 'See these canopies of trees?' And I said, 'Yes,' and he said, 'I planted those.' That put in perspective a lifetime of relationships with the institution.
What do you enjoy about your job?
It's the best job in the world. You get to meet wonderful people who are committed to what a place like Penn can accomplish, whether they're alums, parents, heads of foundations, heads of corporations, grateful patients, or grateful pet owners served by the Vet School. There isn't a day that goes by that I don't meet somebody absolutely fascinating. That's one of the great joys of being in this line of work. Plus, I have a great group of colleagues and staff.