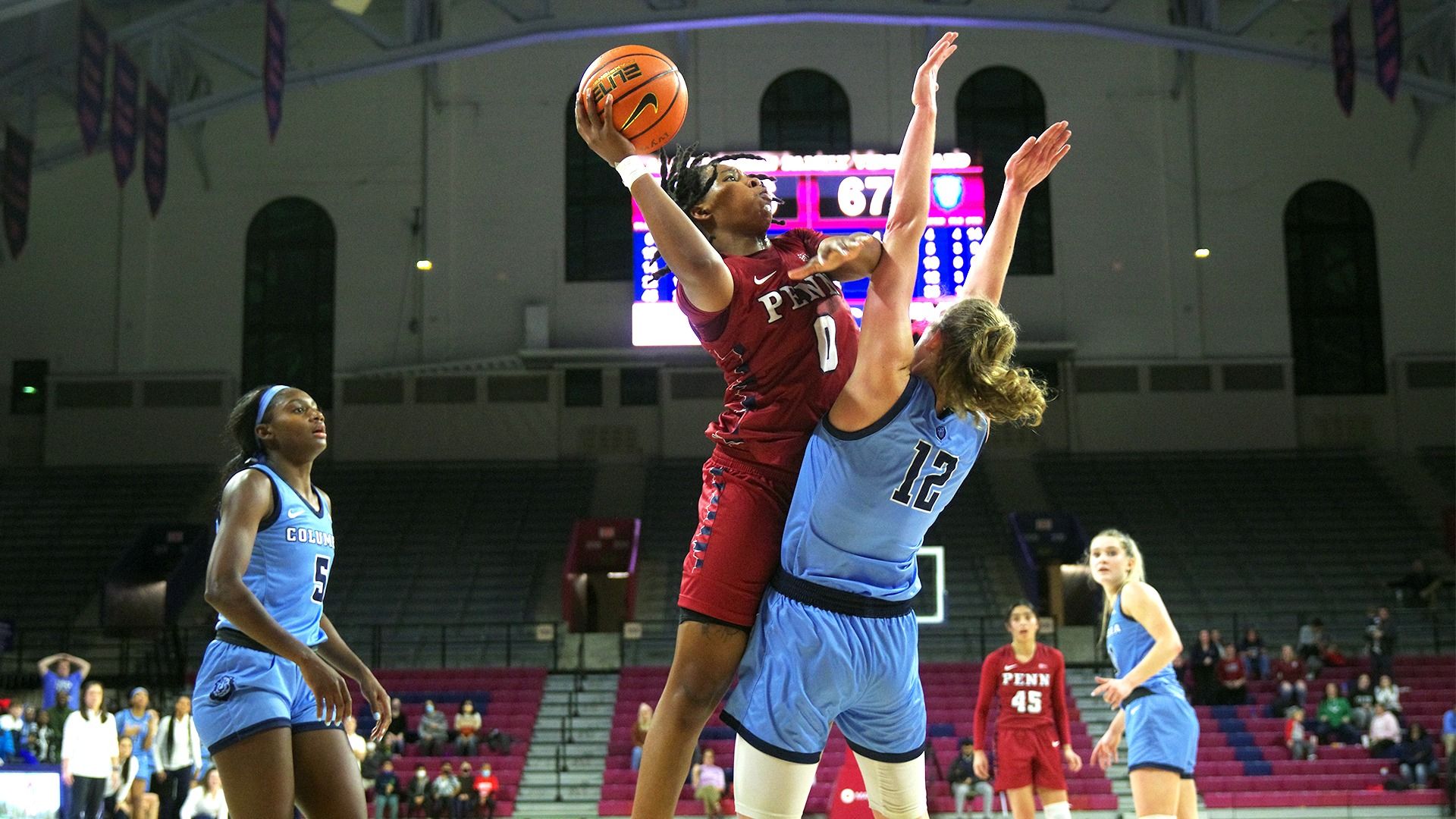 Twenty-four points from third-year forward Jordan Obi and 21 points from fourth-year guard Kayla Padilla catapulted the women's basketball team past Columbia 71-67 on Saturday at the Palestra. The victory marked Penn's nine consecutive win, tied for the second-longest streak in school history.
It was a tight game throughout; the Lions outscored the Quakers 22-19 in the first quarter and the Quakers outscored the Lions 15-13 in the second period. Columbia held a 35-34 halftime lead.
Columbia commenced the third quarter with a 12-3 run and was up 49-39 at the 6:18 mark. The Red & Blue clapped back with a 16-5 run of their own, which gave Penn a one-point, 55-54 advantage entering the final period.
Penn kicked off the fourth quarter on a 6-1 run and took a 61-56 lead with 7:31 on the clock. Two consecutive three-pointers by the Lions' Kitty Henderson and Paige Lauder put Columbia up 62-61 with 6:29 remaining. The Quakers retook the lead on a jumper from fourth-year guard Mandy McGurk, but another three by Lauder gifted Columbia a 65-63 advantage at the five-minute mark. A jumper by the Lions' Jaida Patrick extended their lead to 67-63 with 3:43 left in the game.
The Quakers proceeded to miss three consecutive three-pointers and things were looking bleak—until a hoop-and-some-harm by Padilla trimmed Columbia's lead to 67-66 with 1:56 remaining. Two free throws by Obi put Penn ahead 68-67 with 56 seconds on the clock.
McGurk made a foul shot with seven seconds left in the game to increase the lead to 69-67. After Columbia's Davis missed a potential game-winning three-pointer, Obi added two free throws for good measure, which sealed the win.
Obi finished 7-12 from the field, 1-3 from behind the arc, and 9-13 from the charity stripe. She added 13 rebounds, two blocks, one assist, and one steal. Padilla played all 40 minutes and shot 8-18 from the field, 3-9 from behind the arc, and 2-2 from the foul line. She also had five rebounds, four assists, and two steals. Third-year forward Floor Toonders had 11 points, five rebounds, four blocks, and two assists.
Penn held Columbia to 35.5% shooting from the field and 26.3% from the foul line. Entering the game, the Lions were 13-2 and averaging 80.6 points per contest; the Quakers held them to 67.
On Tuesday, Jan. 10, Penn (10-5 overall, 3-0 in Ivy League) takes on Hartford at 7 p.m. at the Palestra.