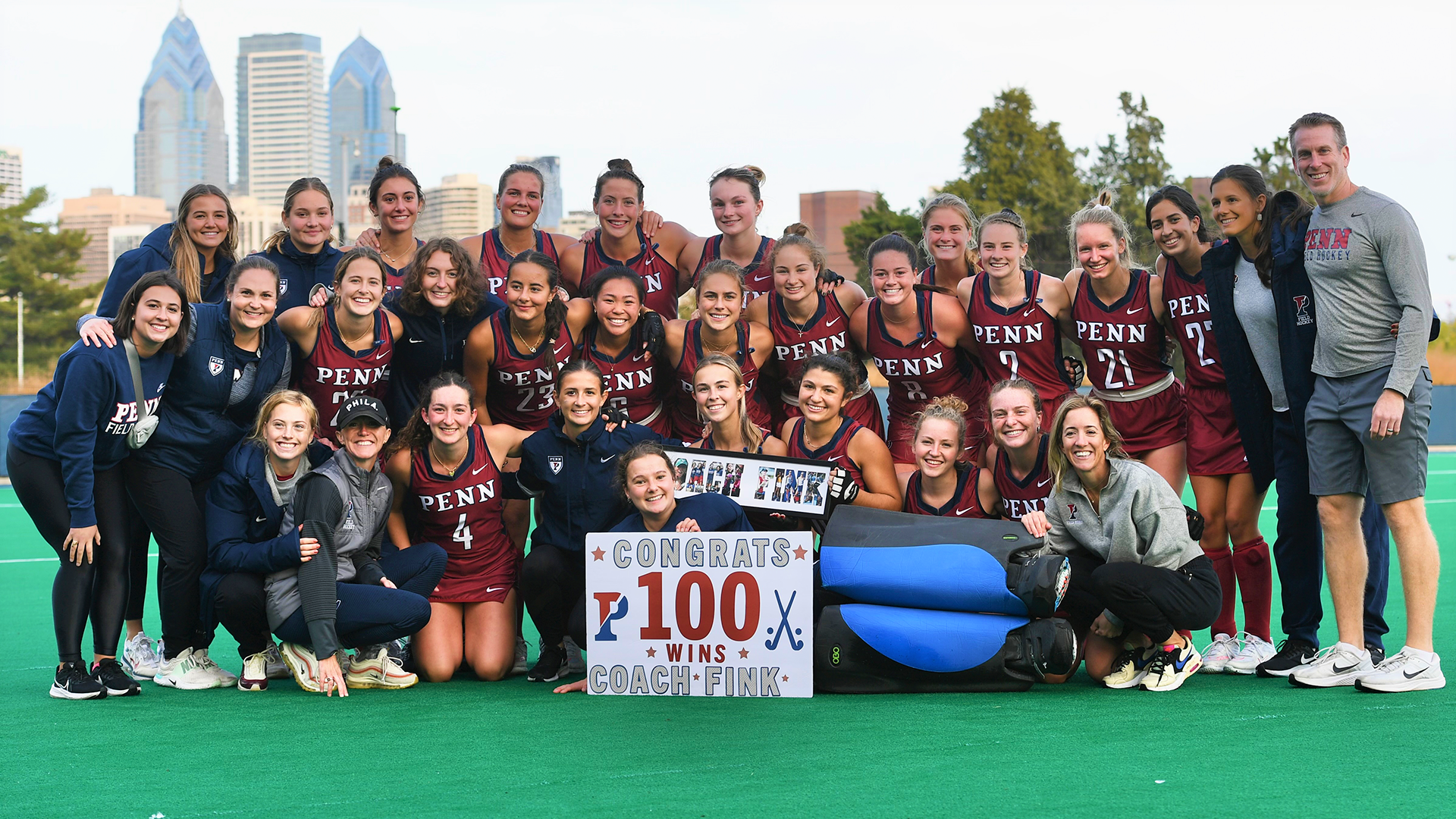 The field hockey team scored a season-high seven goals on Friday—their highest total in seven years—in their 7-2 thumping of Columbia at Ellen Vagelos Field, the 100th win for Head Coach Colleen Fink.
Third-year forward Allison Kuzyk scored three goals. All three came within the first 16 minutes of the game, including a goal at the 2:31 mark, assisted by second-year midfielder Sophia Freedman. Second-year midfielder Courtney Kenah scored two goals. Fourth-year defender Gracyn Banks had one goal and one assist. First-year forward Livia Loozen scored one goal. Second-year goalkeeper Frederique Wollaert had two saves.
Penn led 5-1 at halftime. For the game, they outshot the Lions 18-5; their 18 shots were the most so far this season.
On Sunday, Senior Day for the Quakers, the Red & Blue defeated Delaware 4-1 at Ellen Vagelos Field. The Quakers beat the Blue Hens for the first time in 15 years, and the first time at home since 1989.
Seven fourth-year students were honored before their final home game: Banks, defender Maya Geller, midfielder Sydney Huang, forward Julia Russo, forward Olivia Kenny, forward Meghan Ward, and midfielder Elita Van Staden. Three of them got on the scoreboard: Van Staden scored a goal in the 35th minute; Russo scored a goal in the 52nd minute; and Huang scored a goal in the 55th minute. Third-year forward Lis Zandbergen scored Penn's other goal.
The game was tied 0-0 at halftime. The Red & Blue scored two goals in both the third and fourth quarters.
Fink has led the Quakers since 2010. During her first season, Penn finished 3-14, including a 1-6 conference record. Three years later, the Quakers finished 13-4 overall and 5-2 in the Ivy League, placing second in the conference.
In 12 seasons (the 2020 season was canceled because of the coronavirus), Fink has compiled a 101-100 overall record and a 44-39 mark in Ivy League play. The Quakers routinely play one of the hardest schedules in the country.
Penn (6-10 overall, 3-3 in Ivy League) wraps up its season on Saturday, Nov. 5, against Dartmouth (3-13, 0-6 in Ivy League) in New Hampshire.