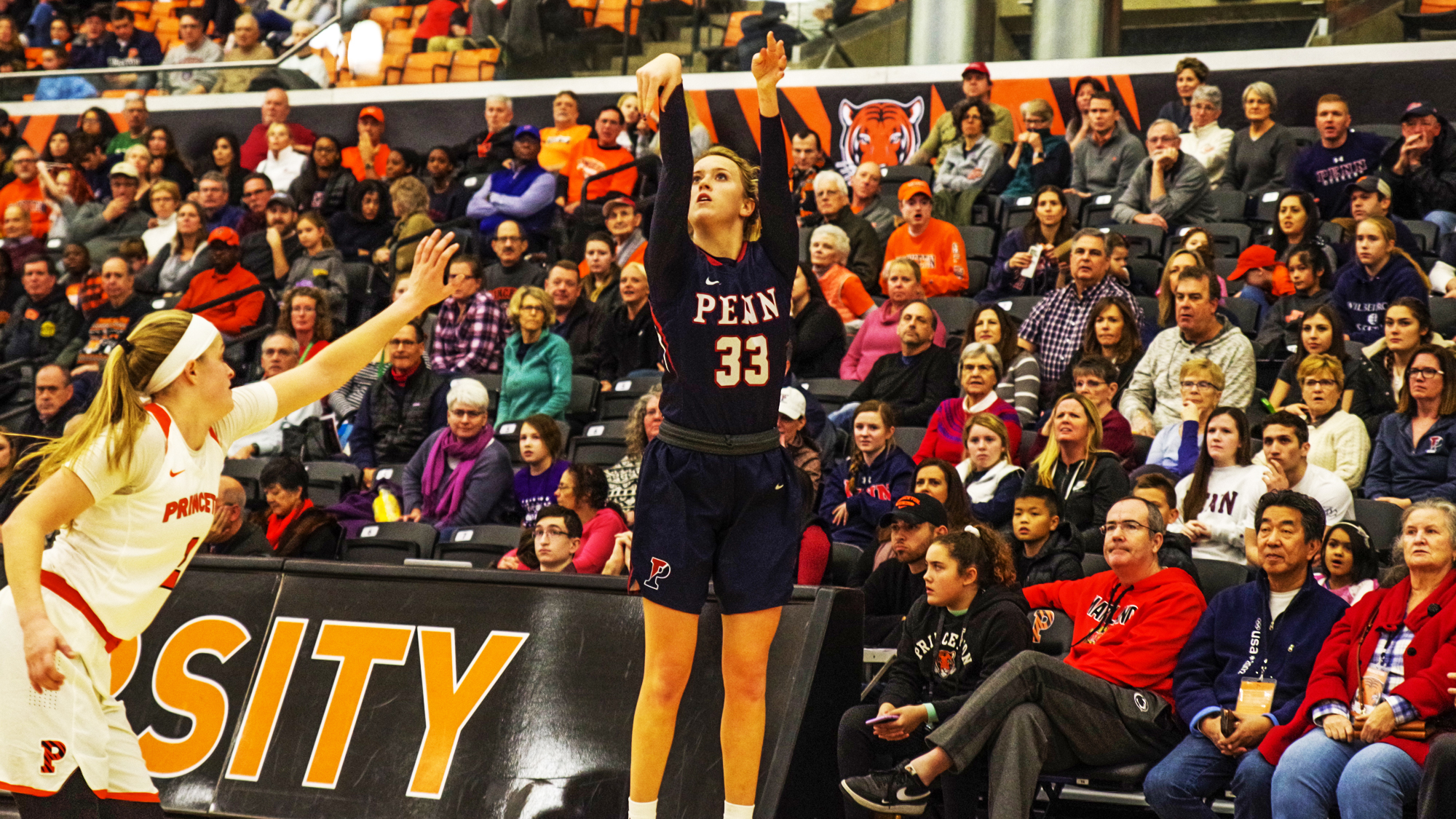 The women's basketball team ended its three-game losing streak to Princeton on Saturday, defeating the Tigers, the defending Ivy League champions, 66-60 in New Jersey.
A 12-0 run in the first quarter lifted Penn to a 16-7 lead. At the end of one, the Quakers were ahead 18-11.
In the second quarter, the two teams played even. Entering halftime, the Red & Blue were up 33-28. Senior forward Princess Aghayere led Penn with 12 points in the half, including two three-pointers. Junior guard Phoebe Sterba added nine, shooting 3-5 from three-point range.
The Quakers went cold in the third quarter, scoring only six points to Princeton's 16, which allowed the Tigers to take a 44-39 advantage.
Sterba opened the fourth quarter with a three, which cut Princeton's lead to 44-42. A layup by sophomore center Eleah Parker knotted the game at 44-44.
The Tigers hit two free throws to go up by two, and sophomore guard Michae Jones made one of two from the line to make it 45-44.
With 5:42 left in the game, Princeton was leading 48-47. Sterba hit a big three to give the Red & Blue a 50-48 lead. The Tigers made a foul shot to cut it to one, and Jones answered with a short jumper to make it 52-49. A three-pointer by the Tigers tied the game at 52-52 with 4:17 remaining.
Jones scored a fast-break layup to give Quakers a two-point lead, followed by a bucket by Sterba to put Penn up by four. Parker scored inside to give the Quakers a 58-52 advantage with 2:10 left. The Tigers scored in the paint to make it 58-54, but free throws increased Penn's lead to 61-54 with 54 seconds left in the game.
Two three-pointers by the Tigers made it a one-point, 61-60 game with 25 seconds on the clock, but the Quakers made their free throws down the stretch and left with the W.
Sterba led the Red & Blue with a career high 21 points. She was 6-9 from the field and 5-7 from the three-point line.
Parker put up 14 points, seven rebounds, five blocks, and two steals. Aghayere had a double-double with 12 points and 12 rebounds.
Riding a five-game winning streak, Penn is off until its Big 5 matchup against Villanova on Jan. 16. Their 9-2 record matches the 2015-16 Quakers for the best 11-game start in school history.