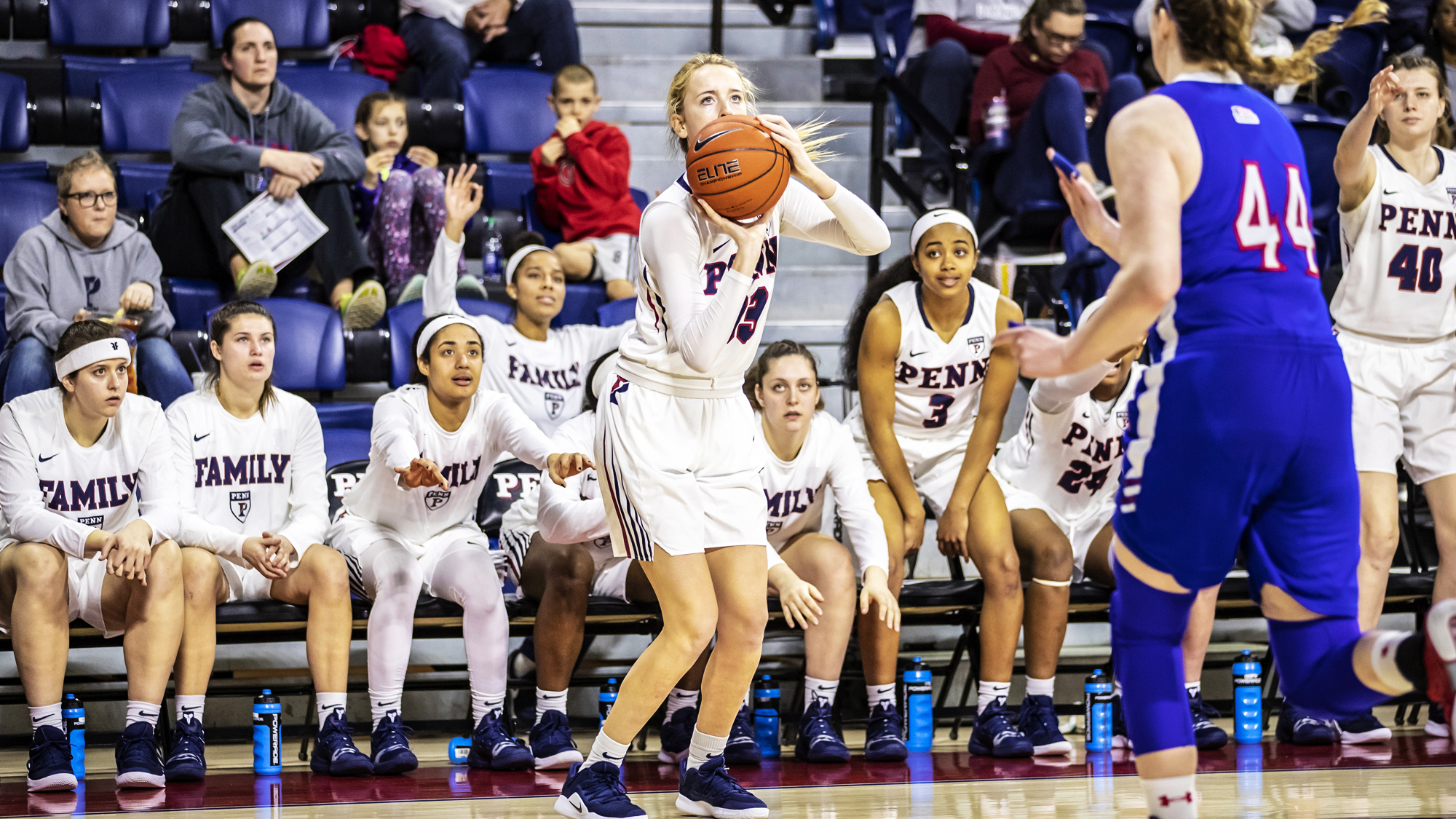 The women's basketball team opened their 2018-19 season on Nov. 10 in Loudonville, New York, with a 58-51 win over the Siena Saints. Many miles and memories later, the season came to an end on Sunday, March 24, in Providence, Rhode Island, by way of a 64-54 loss to the Providence Friars in the WNIT.
Penn has much to smile about this year. The Red & Blue finished 24-7, tying the 2015-16 squad for most wins in school history. They are co-champions of the Ivy League, and advanced to postseason play for the seventh straight season.
On Friday, in the opening round of the WNIT, the Quakers defeated the American Eagles of the Patriot League 64-45 at the Palestra.
Up 9-2 halfway through the first quarter, Penn led 16-5 at the end of the period. 
The Red & Blue scored the first 10 points of the second quarter, and entered halftime with a comfortable 38-17 lead.
Senior guard Ashley Russell scored 13 points in the first half, knocking down three of five from three-point range. Sophomore center Eleah Parker and 10 points and seven rebounds in the first two periods.
American went on a 7-0 run to start the third quarter, but junior guard Phoebe Sterba hit a three to quiet the rally. With 5:29 left in the third, the Red & Blue were ahead by 20. It was pretty much smooth sailing the rest of the way.
Russell finished with 18 points, four rebounds, and five assists.
Parker had 16 points and a monster rebounding game with a career-high 17 boards, her 11th double-double of the season.
Sterba added 15 points and six rebounds. She scored 12 of her 15 points in the second half.
Sunday in Providence, the Quakers were perhaps somewhat fatigued from long-distance travel on short notice, and shot cold from the field in the first half. They were 8-32 from the floor, 1-10 from behind the arc, and scored a season-low 20 points.
The Quakers got hot in the third and went on a 10-0 run to make it a one-point, 38-37 game after three periods.
Chances were there in the fourth quarter, but the Red & Blue could not capitalize and the Friars were able to pull out the win.
In her final game for the Quakers, Russell had 15 points, three rebounds, four assists, and zero turnovers. Her 128 assists this season are third-most in school history.
Senior forward Princess Aghayere had 15 points and her 12 rebounds tied a career high. 
Parker had six points, five rebounds, and five blocks. Her 99 blocks on the season tied the season-single school record.