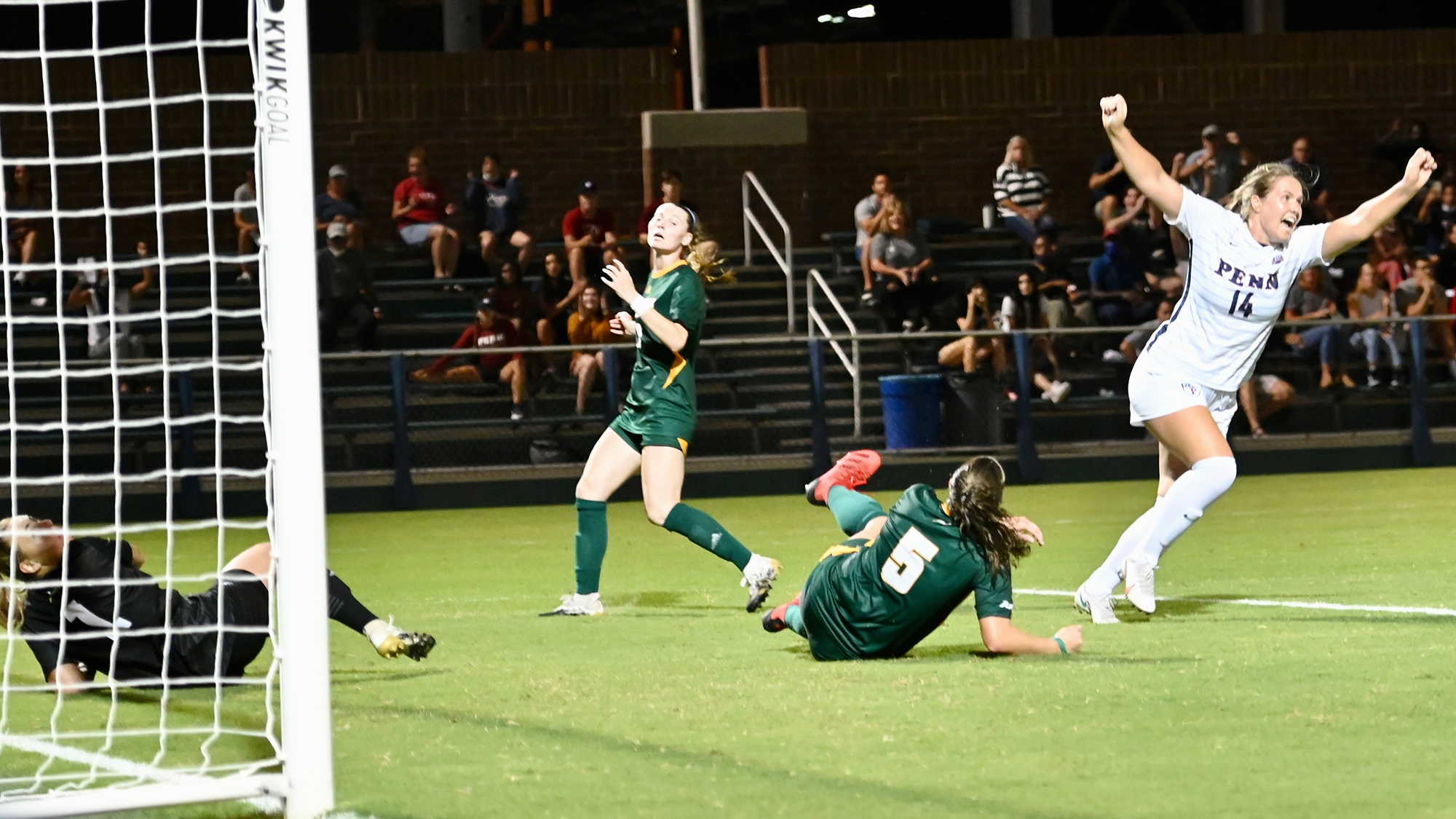 Senior Mia Shenk's goal in the 70th minute boosted the women's soccer team to a 2-1 win over George Mason on Sunday at Rhodes Field.
The victory was the first for Casey Brown, the Douglas N. Brush Head Coach of Women's Soccer, and the goal was Shenk's second career game-winner.
In the 10th overall meeting between Penn and the Patriots, George Mason scored first on a free kick in the 22nd minute.
A few minutes later, the Red & Blue tied the game up via a goal by sophomore Lauren Teuschl, assisted by junior Sizzy Lawton.
Lawton assisted on Shenk's pivotal goal as well. Dribbling the ball to the end line, she sucked the defense in and then connected with a wide-open Shenk, who jolted the ball into the right side of the net.
Shenk and Teuschl each finished with one shot, one shot on goal, and one goal. Lawton had two assists. Sophomore goalkeeper Laurence Gladu had three saves.
"It feels awesome," Brown said, after picking up her first win (she was hired in March of 2020 but last season was canceled by the pandemic). "Beyond me and the staff, the girls and this team, they just deserve it so much. They've been putting in a real shift all preseason and everything we had to overcome to even get to this point, they deserve every bit of it. I was so proud of the girls. It was a great team win, a great team effort. It's pleasant to be back at home with the W. It's great."
On Friday in North Philadelphia, the Quakers opened their season against Big 5 foe Temple—the Red & Blue's first game in 657 days. The contest ended in a 1-1 draw. Sophomore Ginger Fontenot scored Penn's lone goal, on an assist by Teuschl.
This Thursday, Penn (1-0-1) takes on University of Illinois Chicago (0-2-1) at Rhodes Field.