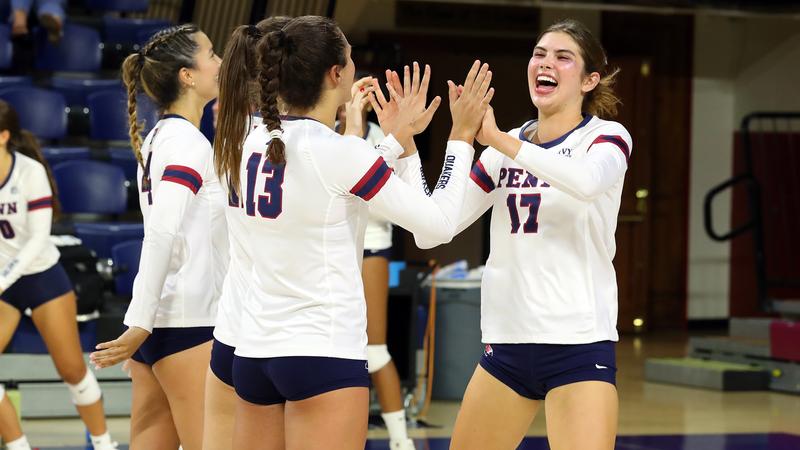 The volleyball team picked up its second win of the season on Saturday by defeating NJIT 3-1 in the Delaware State Tournament in Dover.
Penn won the first set 25-11, buoyed by a 10-1 run. First-year rightside hitter Bella Rittenberg had six kills, first-year outside hitter Zada Sanger had four, and second-year outside hitter Jalen Tennyson had three.
NJIT took the second set 25-22, using a 7-0 run to turn a 9-9 tie into a 15-9 advantage. Fourth-year outside hitter Madison Risch had five kills and Rittenberg added three more.
 Rittenberg continued to slay in the third set, scoring five kills, including a key kill and an ace that ignited a 7-1 run and gave the Red & Blue a 10-4 lead. The Quakers won the set 25-15.
The fourth set was competitive at 11-9 until a kill by third-year outside hitter Ella Green and an ace by fourth-year setter Jo Armstrong fueled a 4-0 run, which put Penn up 15-9. The lead ballooned to 19-10 and Penn won the set 25-14.
Rittenberg finished with a game-high 19 kills and also had nine digs. Risch had 11 kills, 12 digs, and four service aces. Second-year outside hitter Claire Dellerb had five kills, six digs, and two block solos. Armstrong had 47 assists.
The Quakers took on Georgetown in the tournament opener on Friday afternoon and fell 3-0. On Saturday before the NJIT game, they faced host Delaware State and lost 3-1. Deller and Rittenberg were named to the All-Tournament Team.
 
Ivy League play begins on Friday, Sept. 22. Penn (2-8) battles Princeton (3-5) at 7 p.m. at the Palestra. On Saturday, Sept. 23, the Quakers play the Tigers at Princeton at 7 p.m.