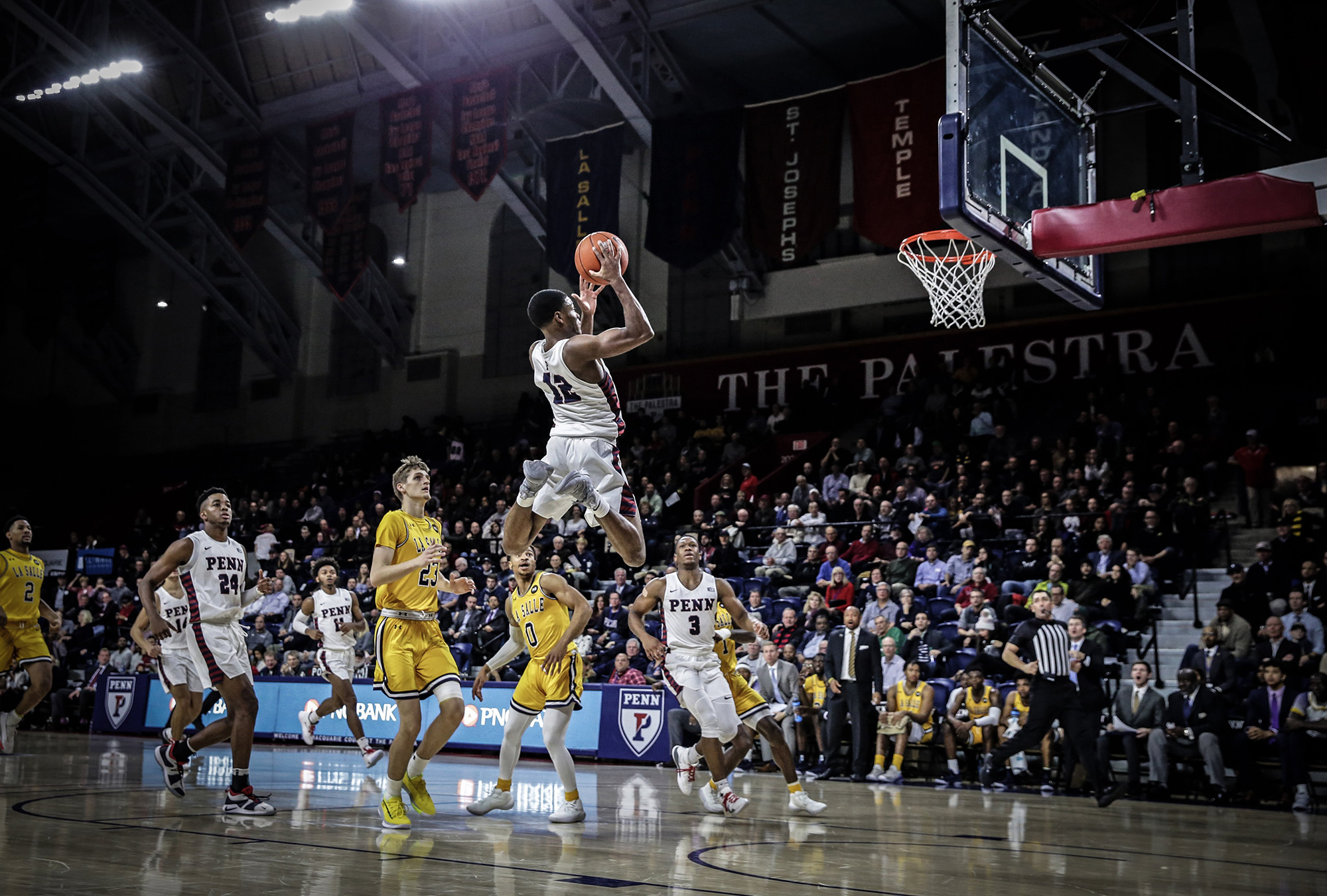 The defending Big 5 champion men's basketball team won their sixth Big 5 game in a row on Wednesday, defeating La Salle 75-59 in their home opener at the Palestra.
A three-pointer by senior guard Ryan Betley at the 16:23 mark in the first half put the Quakers up 7-4—a lead they would maintain for the rest of the game. 
Penn led by as much as nine in the first half, 27-18. The Explorers cut it to five before halftime and the Red & Blue were ahead 27-22 at intermission.
Betley, senior forward A.J. Brodeur, and senior guard Devon Goodman commanded the Quakers on a 17-0 run in the second half, which turned a 29-27 lead into a 46-27 advantage. Penn drained three consecutive treys during the run, one by Goodman and back-to-back triples by Betley.
La Salle got within eight points, 62-54, with 4:21 left in the contest, but free throws and buckets by Goodman, Betley, and Brodeur, and a three from junior guard Eddie Scott, ended any comeback hopes. 
Goodman led all scorers with 21 points and added five rebounds, two steals, and one assist. Brodeur had 20 points, 13 rebounds, four assists, two blocks, and one steal. Betley contributed 18 points, eight rebounds, two assists, two steals, and one block. 
The Red & Blue (2-1) outrebounded La Salle (1-1) 47-30.
In Newark, New Jersey, on Wednesday, the women's basketball team outscored NJIT 20-5 in the first quarter and kept their foot on the gas, zooming to an 85-51 victory.
Sophomore guard Mia Lakstigala's three with 8:38 left in the second period made it a 20-point game, 27-7. At the break, Penn was up by a comfortable 47-21 margin. The Quakers shot 63 percent from the field in the second quarter, connecting on 12 of 19 shots.
The Red & Blue's 10-0 run in the third quarter extended their lead to 29, 57-28. Freshman guard Kayla Padilla scored a layup, followed by a layup from junior center Eleah Parker, a jumper from senior guard Phoebe Sterba, a jumper from Parker, and a fast-break layup from junior forward Tori Crawford.
The lead was 32 in the fourth, 73-41, when Coach Mike McLaughlin emptied his bench. 
Padilla had a game-high 25 points. She also grabbed three rebounds, dished out four assists, and swiped one steal. Parker finished with 19 points, nine rebounds, two assists, two blocks, and one steal. Senior center Emily Anderson had 11 points, shooting a perfect 5-5 from the field, two rebounds, and one block. Senior guard Kendall Grasela had three points, five rebounds, and a career- and team-high nine assists.
The Quakers scored 34 points in the paint and got 27 points from their bench. NJIT had zero fast-break points.
2-0, the women are back in action this weekend. On Sunday, Nov. 17, they play Iona at 1 p.m. at the Palestra.