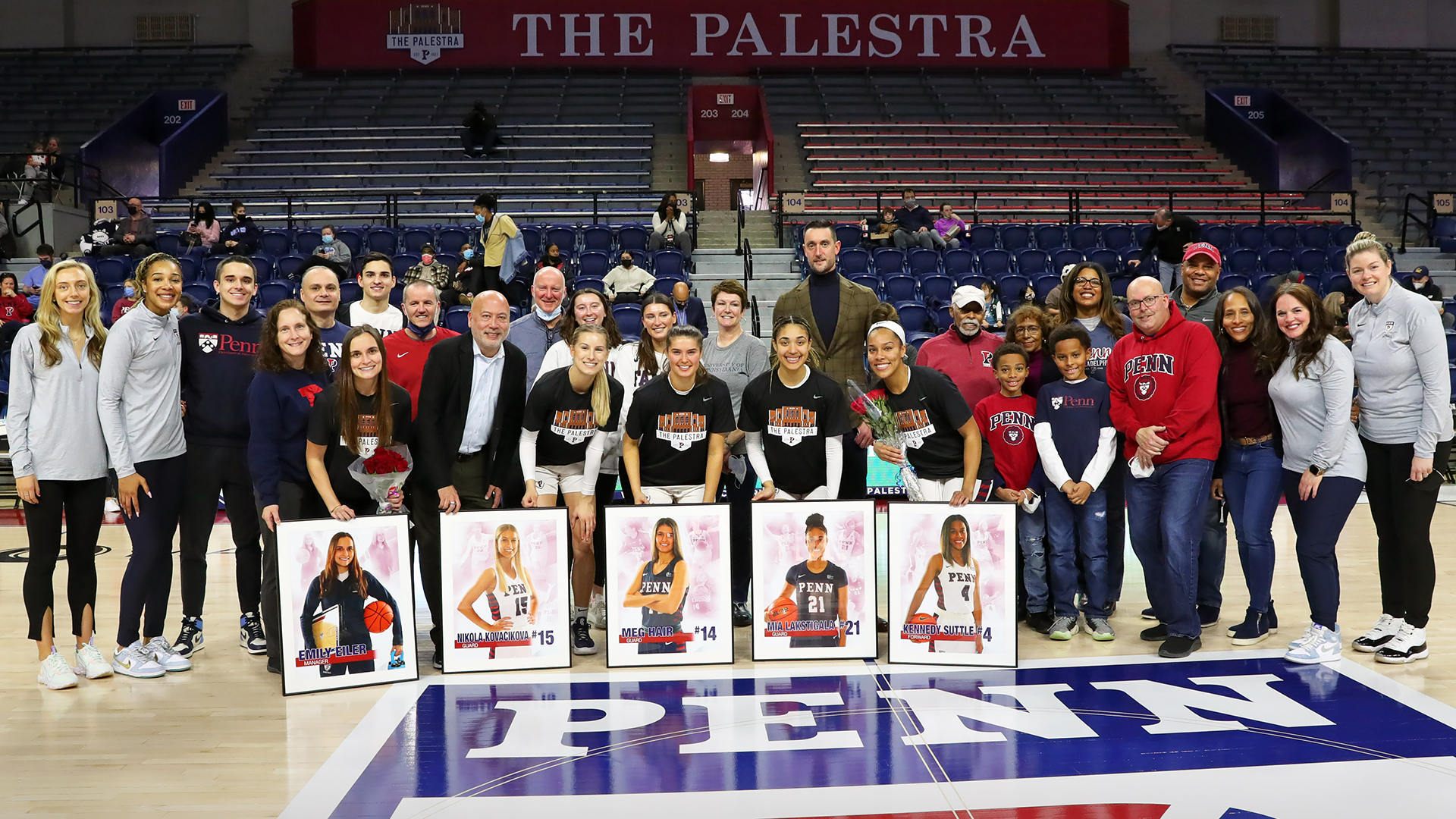 Saturday was Senior Day for the women's basketball team, and the Quakers sent their four seniors off in style with a 79-54 victory over Dartmouth in their last game at the Palestra.
Each of the seniors scored in the contest: guard Mia Lakstigala had 12 points, forward Kennedy Suttle had six points, guard Nikola Kovacikova scored one point, and guard Meg Hair, a captain who missed much of the season due to injury, scored three points. All four were honored before the game, along with senior student manager Emily Eiler.

Penn opened the game with a 13-0 run—kicked off by a triple from Suttle on an assist from Hair—and it was smooth sailing thenceforth. The Quakers led 26-11 after the first quarter and 52-28 at halftime. The Red & Blue drained nine three-pointers in the first half and came within six points of setting a new program record for points in a half.
The second half saw more even gameplay, with both teams scoring 16 points in the third quarter and Penn one-upping Dartmouth 11-10 in the fourth quarter.
Sophomore guard Jordan Obi scored a game-high 16 points, grabbed nine rebounds, and dished out three assists.
Junior guard Kayla Padilla scored 14 points and had two rebounds and two assists. Both Suttle and Lakstigala added five rebounds and four assists.
The Quakers have beaten the Big Green 14 consecutive times, including 11 straight wins at the Palestra.
On Friday, the women's basketball team (12-13 overall, 7-6 in conference) wraps up its regular season at Princeton (20-4 overall, 12-0 in conference) at 7 p.m. in New Jersey. The game will be broadcast on ESPNews.