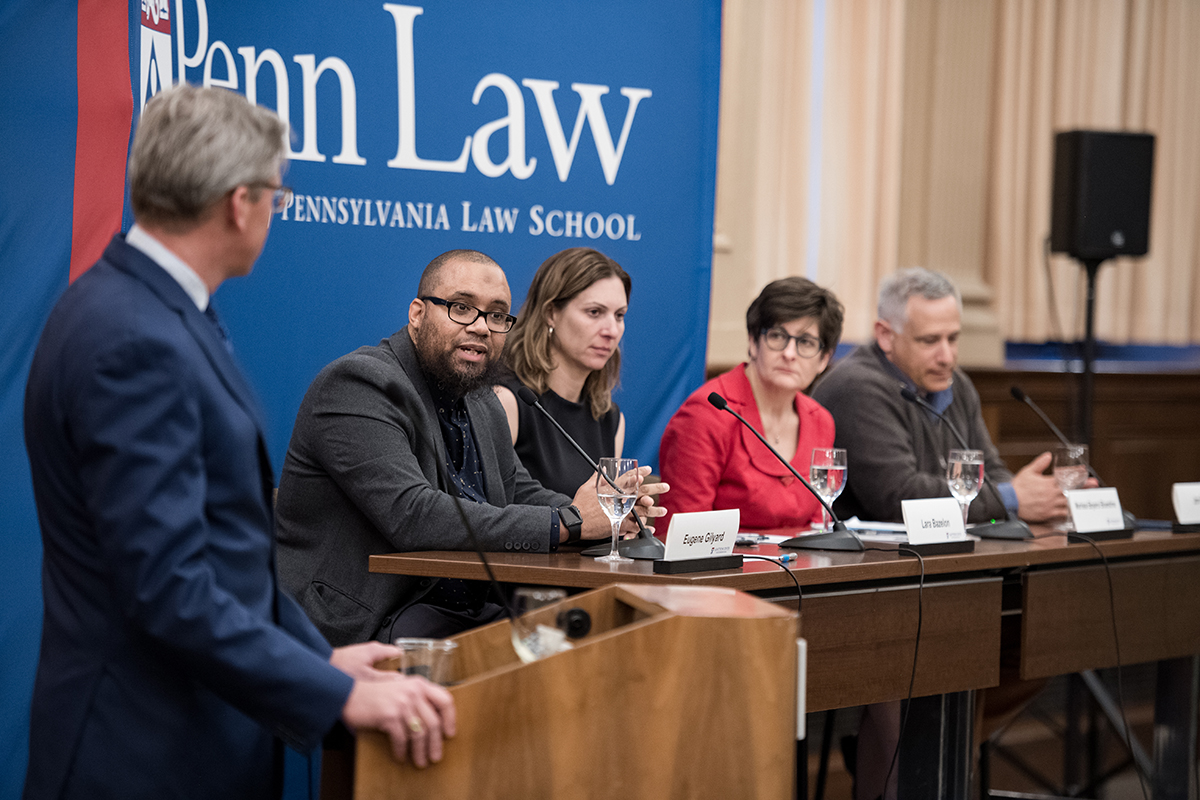 Penn Law's Quattrone Center for the Fair Administration of Justice is based on a simple idea: The criminal justice system behaves like lots of other complex systems.
When a patient dies on an operating table or an airplane crashes, there's a protocol for investigating what happened and making changes to prevent it from happening again. 
But in America's criminal justice system, a mistake can take years to be uncovered. Accountability for those who make decisions along the line—from police officers and witnesses to judges and juries—is rare. 
"When we discover someone was wrongfully convicted, do we actually go back and say, 'What should we have done differently?'" asks Paul Heaton, the academic director of the Quattrone Center, founded to systemically evaluate and solve errors in the justice system. 
"Was it a false eyewitness identification? Could the defense attorney or prosecutor have done something to prevent the mistake? Where are the problems? It's very rare for that to happen." 
Since the early 1980s, the U.S. criminal justice system has ballooned in size, along with the human and financial cost. In recent years, that trend has begun to reverse, as a nascent movement to reduce mass incarceration and to recognize where the system fails has found political traction.  
The Quattrone Center, part of Penn Law, is a key player. From its inception in 2013, the center has leveraged data to find the weak points in the system and craft policy solutions. 
Rather than focus on individual cases, Quattrone's mission is about making the entire system better, by reducing the number of mistakes and the practical and human cost. 
The center's research and policy work touches many elements of the system, from wrongful arrests to the effects of detaining a prisoner before trial and the impact of poor legal representation for indigent defendants. 
At its core, the criminal justice system should identify and, ultimately, punish those who commit a crime. A wrongful conviction is a perversion of that goal in multiple ways: Not only has the wrong person been punished, the actual perpetrator remains free. 
A mistake doesn't start with what happens in the courtroom, although that's often where the most attention is paid. It begins with an arrest of the wrong person, says John Hollway, associate dean at the Law School and the Center's executive director. So the Center is collaborating with police departments as well as prosecutors, relationships made possible by the data- and procedure-driven nature of the Center's work. 
An ideal justice system includes checks and balances among police, prosecutors, defense attorneys, judges, and juries, says Hollway. The Center can help all those roles work better, he says, using data to improve the process. 
"We bring to the table quality improvement and systems improvement ideas from other domains like transportation," notes Holloway. "We're able to say, 'Here's how these other complex systems have helped themselves get better. We believe these systems can help you.'" 
Local reach, national impact
Quattrone's influence looms large in Philadelphia, where it has been an integral part of the Philadelphia Event Review Team. The Center also has a broad national voice. 
In 2016, Hollway literally wrote the book on conviction integrity units, which are growing in number as a way for prosecutors and police to run a check on their work. It's become the go-to manual for officials around the country looking to start their own units. 
In 2017, Heaton and former Quattrone fellows Megan Stevenson and Sandra Mayson published a groundbreaking paper using data on pretrial detention in misdemeanor criminal cases in Harris County, Texas, the nation's third-largest county, which includes Houston.
One finding confirmed anecdotal complaints about bail and pretrial detention: Defendants who couldn't pay their bail, and stayed in jail ahead of their trial, were more likely to plead guilty.
"In low-level cases, prosecutors are often willing to offer time served in exchange for a guilty plea," Heaton explains. "So if you're too poor to make bail, often the fastest route home is to admit guilt, even if you believe you are innocent."
The data also revealed something surprising, says Heaton. Pretrial detention was linked to a 30% increase in new felony charges, and a 20% increase in new misdemeanor charges, suggesting that cutting back detention might actually improve public safety. 
"These are the places where data-driven work can be very powerful because it allows us to see what's really happening," he says.
The combination of legal expertise and data crunching sets Quattrone apart, starting with Hollway, who has a legal background, and Heaton, who came from the empirical research world. The Center recently hired Marissa Boyers Bluestine, who led the Pennsylvania Innocence Project for a decade and joins the Center's other assistant director, Ross Miller, who came to Penn following successful stints as a public defender and civil rights litigator. It also has a fellowship program that brings a social scientist and a lawyer together for a two-year research stint. 
That's how Stevenson, an economist, and Mayson, who had previously worked as a public defender in New Orleans, came to Penn. Both are now law professors—Stevenson at George Mason University, Mayson at the University of Georgia—and say their Quattrone experience profoundly impacted their scholarship. 
Heaton, Mayson, and Stevenson's research bolstered a 2016 lawsuit filed against Harris County, alleging that the county's bail practices, especially for minor offenses, were unfair. Their findings became a critical factor in the case, which was eventually settled earlier this year.
In the meantime, Harris County has radically changed its bail policy, to the point where roughly 85% of people charged with minor crimes are released without a cash bond to await a trial.   
Mayson, who saw the shortcomings of the bail and pretrial detention system firsthand in New Orleans, says it feels great to be able to make a difference as an academic.
"Every time I read an update and see the number of people who have been released who otherwise four years ago would have been sitting in jail, I feel lucky to have been able to play a part," she says. 
Quattrone fellows who've moved on to academic and policy jobs are continuing to spread the Center's influence, says Hollway. 
"We're getting different answers because we're asking different questions, and we're asking different questions because we're bringing social science into an area that has typically been a legal domain," he says. "We're actually changing the legal academy with this work." 
Scaling up
The interdisciplinary approach extends to the center's advisory board. Frank Quattrone, whose Frank and Denise Quattrone Foundation made the leading gift for the Center, is among its members, as is activist and musician John Legend, a 1999 College graduate. 
"I appreciate the Quattrone Center's innovative, data-driven approach to criminal justice reform. It brings people together and generates real-world change, which has always been important to me," Legend says. "My work with the Center leverages my work in social justice, including FreeAmerica, a nonprofit I started to address the problem of mass incarceration. I love that this important and game-changing work is happening at Penn, a place very dear to my heart."
Activists of all political stripes have pushed the conversation about criminal justice reform, both at the national and local level. 
"Everybody benefits when we're not just talking about enforcing the laws but the effect that the laws have on people," Hollway says. "Having this conversation at the national level is really great because it trickles down to the local level, which is where there is great opportunity for change."
As that happens, the Quattrone Center will be in the center of it, capitalizing on Penn's faculty expertise and international reputation to keep pushing the conversation forward with evidence-based ideas. 
"Penn is the perfect place for this work, because we have lower barriers for interdisciplinary cooperation," says Heaton. "For this sort of research to have maximum impact, you need to get a few things right. You need to marry the technical skill with the institutional knowledge and also need the ability to build partnerships and have access to practitioners, so when you generate new findings, you can take them out and use them to actually make people's lives better."
Other institutions are beginning to emulate the Quattrone model, Mayson says, because it's been so effective. 
"I think it is the national leader among academic institutions dedicated to both research and policy, especially among those with a data-driven focus. It pioneered this model," she says. "And a lot of that success is due to its leadership—John and Paul have been phenomenal—and how inclusive and supportive the larger faculty is of the Center's work and of the fellows." 
The emphasis on evidence, says Heaton, lets Quattrone and its emissaries cut through the politics to get to the heart of the problem: a system that's broken. 
"This is one of the increasingly rare spaces where you can find political alignment from both sides," Heaton says. "People have different rationales, but it's taking them to the same conclusion, which is that this is a poorly functioning system that needs to change. Ultimately, both conservatives and liberals can agree that we want a system that's smaller and works better."  
"The measurable, real-world impact of the Quattrone Center's research and policy leadership on critical issues like bail reform underscores the importance of their work, which has been directly cited by judges who are on the front lines of the system," says Ted Ruger, dean of the Law School. "The Center's interdisciplinary, evidence-based, and systematic approach to understanding criminal justice problems yields valuable new insights and points the way toward much-needed reforms. Penn Law is proud to be a hub for scholars who have taken on leading roles in fundamentally reshaping the way the criminal justice system works in the United States."
John Hollway is associate dean and executive director of the Quattrone Center for the Fair Administration of Justice at the University of Pennsylvania Law School.
Paul Heaton is senior fellow and academic director of the Quattrone Center. 
Ted Ruger is dean of the Law School and the Bernard G. Segal Professor of Law at the University of Pennsylvania.
Marissa Boyers Bluestine and Ross Miller are the assistant directors of the Quattrone Center.