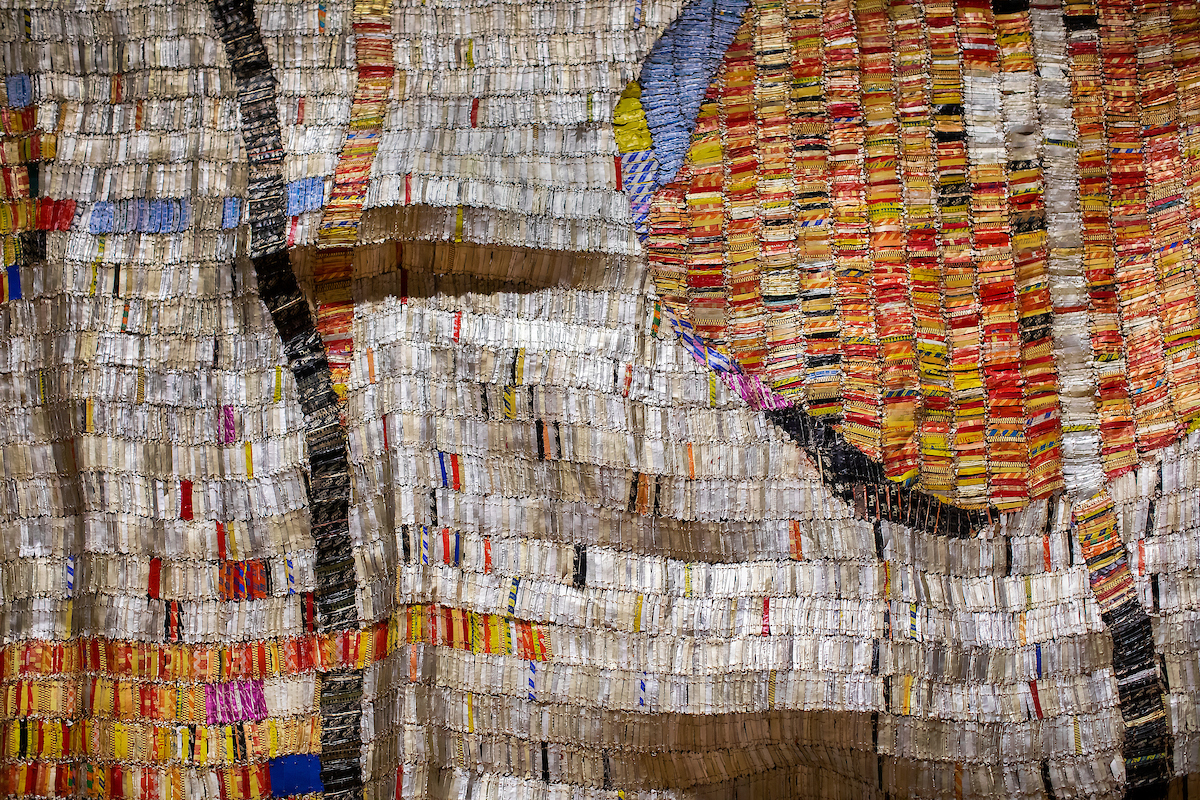 Made from thousands of tiny aluminum scraps cut, folded, and stitched together with copper wire, the artwork stretches 11 feet across a wall in Penn's Arthur Ross Gallery. Created by the African artist El Anatsui, the work, made from discarded cans, echoes the look of woven tapestries.
Works by El Anatsui and three other contemporary artists are featured in the gallery's new exhibition, "Re-materialize," now open to the public through Dec. 20. 
"All of this is connected by the idea of one material becoming another and the cyclical nature of material culture as connected to the lifespan of civilizations," says Heather Moqtaderi, gallery assistant director and curator. 
The show marks the first time the gallery has been open since pandemic restrictions went into place in March. The two other Penn museums on campus, the Penn Museum and the Institute of Contemporary Art, also have reopened to the public. All require pandemic health and safety protocols for visitors.  
At the Arthur Ross Gallery, a maximum of 10 people is allowed at any one time, wearing masks, and socially distanced by at least 6 feet. The gallery recommends registering though its website before visiting, but walk-in visitors are also welcome. A Penn health ambassador at the entrance to the Fisher Fine Arts Building conducts a no-contact visitor screening by asking questions and taking temperatures.
Since opening on Sept. 19, visitors have been able to experience the exhibition without worrying about crowds, Moqtaderi says. Foot traffic is light, since undergraduate students are not living on campus this semester and all classes are being held online.
So why have a public art exhibition during a pandemic? 
Finding, requesting, and securing loan agreements for the 27 artworks, from galleries throughout the country and one in England, took nearly two years, Moqtaderi says, and it would have been nearly impossible to bring them all together again. Originally scheduled for exhibition in the spring, the artworks were still available for the fall, but most are promised for future exhibitions or are listed for sale by galleries. 
"I had planned this precisely," she says. "I put my heart and soul and two years of thoughtful research into it, and we didn't have the option of delaying it further."
Moqtaderi has plans for how to share the exhibition with Penn faculty and students and the community, including four virtual events and a video education program for elementary school teachers and their students. She is also offering live Zoom tours to Penn professors for their courses. An audio tour of the exhibition, available on the gallery's website, includes details about the artwork and the artists and a video of each engaged in their craft. 
"Transforming trash is like alchemy, and the results make us look closely at how artists have given new life to curious components," says Lynn Marsden-Atlass, gallery executive director and university curator, in the audio tour introduction. "All four artists in the exhibition address in their work current global concerns of pollution and climate change."
The exhibition opens with a striking image of an eclipse: the bright blue and black ink applied with plates made from the hammer marks on El Anatsui's wooden work benches. The piece came from the October Gallery in London. "It is a big deal to bring something internationally, and it came just in time," Moqtaderi says. 
The first virtual event connected with the exhibition, at noon on Oct. 9, is a conversation with Brooklyn-based artist Shari Mendelson. Mendelson transforms plastic bottles into luminescent sculptures inspired by artifacts in museum collections. It was her work that inspired Moqtaderi's idea for the exhibition.
"I thought it was amazing how she was able to create the texture and iridescence of ancient glass with plastic," Moqtaderi says. On some works, like "Double Deer with Cup," made specifically for this exhibition, the artist leaves the expiration date, suggesting lifespans of plastics and of cultures. 
One of Mendelson's sculptures is a two-faced Janus, paired with another Janus, created from ceiling tin and wood, by Los Angeles-based  artist Alison Saar. The other eight Saar artworks in the exhibition represent her experimental printing on found materials.  
A painting of a Black woman with many large items balanced on her head, standing on a wood platform rowing in muddy water, is a printed work on vintage grain and feed sacks. Others, painted on vintage handkerchiefs, are haunting portraits of African Americans, reminiscent of masks. 
"Throughout her work, Saar considers skin color, and the legacy of slavery and connections to present-day social inequities," Moqtaderi says. 
Baltimore-based artist Jackie Milad references her Egyptian-Honduran-American cultural heritage in her mixed media artworks, created in the tradition of graffiti, using pieces of other artworks she has created with layers upon layers of bright paint. A virtual conversation with Milad is scheduled for noon on Oct. 16. 
On the gallery's largest uninterrupted wall are two expansive pieces by El Anatsui, who was born in Ghana but lives and works in Nigeria. Adjacent, resting on the floor, is a 6-foot-high sculpture in the shape of a bag, made with the printing plates from African newspapers, mostly the obituary pages. It echoes the sturdy nylon shopping bags used by refugees from Ghana who live in Nigeria. "It represents discrimination, the discarding of people," Moqtaderi says.
While installing the two large wall-hanging sculptures, Moqtaderi had the creative agency to determine the final shape of the works, which is unusual in the art world. 
"El Anatsui wants curators to put their own creative touch on each installation," Moqtaderi says. "It was a bit intimidating, but our art handlers pushed and pulled the metal fabric in different directions until it just seemed right, and they nailed it into place. It's a lot of responsibility, and it was a magical experience to collaborate with the artist in this way."