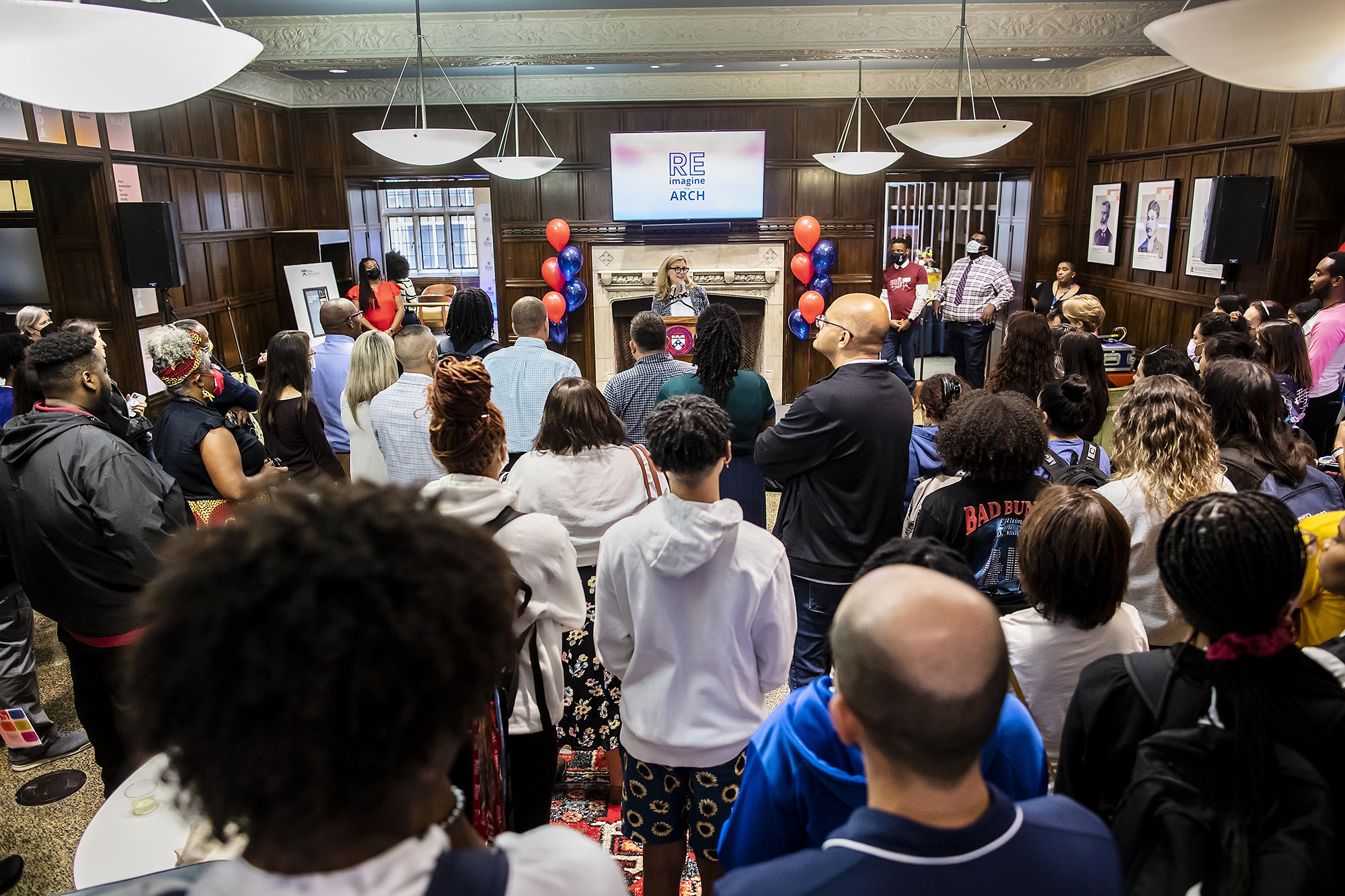 More than 100 students, faculty, and staff gathered in the ARCH building lobby amid the dulcet tones of the Penn Glee Club to celebrate the reimagining of the Arts Research and Cultural House (ARCH). The initiative will expand the scope of the cultural resource centers and affiliated groups, many of which were formerly housed at the garden level of the ARCH building. The centers will now have full use of the building, and Natives at Penn, formerly located at the Greenfield Intercultural Center, will join them.
Penn President Liz Magill spoke at the reopening ceremony. "For us to be a great university, we must be a welcoming, inclusive, and equitable community," she said. "The reimagining of the ARCH building, so fully in step with this idea and so strongly guided by student input and student leadership, is a critical milestone on an ongoing journey we're all working on. It embodies our efforts to make Penn a supportive place for our entire diverse community."
The Sept. 7 event celebrated the culmination of a long-term project. In response to student advocacy for additional space for the cultural resource centers, University leaders affirmed expanded use of the ARCH building in the fall of 2021, and student advocates and University Life worked with Provost Administrative Affairs on a multiphase project. Planning will continue through the current academic year to assess longer-term opportunities.
"The additional student space in the ARCH signifies a continued commitment by the University to strengthen their support and resources for the expanding diverse student populations," said Tamara Greenfield King, interim vice provost for university life, who oversaw the project. "This is just the beginning of many more enhancements to come."
Mercedes Owens, former president of the Undergraduate Assembly, worked with University Life on this change, attending weekly meetings with a student steering committee with the goal of creating tangible change. "I knew this would require purposeful collaboration, intense conversations around activism and allyship, powerful relationship development, and, most importantly, the establishment of trust," Owens, who graduated in 2021, said in an email. "Each generation of student leaders knows that making progress on this issue is one of the ultimate goals, especially the leaders belonging to marginalized communities."
Many of these students see the need for social equity in the form of centrally located safe spaces, Owens said. "The ARCH expansion is an incredible first step to address this issue."
The entire building now houses La Casa Latina, Makuu: The Black Cultural Center, Natives at Penn, and the Pan-Asian American Community House (PAACH) and includes common spaces and reservable rooms for community gathering, group study, and meetings.
The latter is essential, said Ashley Uppani, a third-year biochemistry major from Collegeville, Pennsylvania. Uppani is involved in the Asian Pacific Student Coalition and Spice Collective, which hosts "food-fueled discussions" for women and nonbinary people at PAACH. "With how involved all the cultural organizations are in planning events, ensuring the ARCH maintains space for use is essential, as otherwise we are left scrambling to find rooms," she said.
The process to get this space has been a two-decade-long student advocacy process, said Jeffrey Yu, a fourth-year philosophy, politics, and economics major from Roslyn, New York, representing the Asian Pacific Student Coalition. "It went on before us and will go on after us. We'll continue fighting for space."
Yu participated in the ribbon cutting at the ARCH reopening, along with Magill, Taussia Boadi, a third-year sociology major from Westchester, New York, representing UMOJA, and Elizabeth Ramos, a second-year biochemistry major from Eastvale, California, representing the Latinx Coalition.
"Our goal, for a long time, was having our own individual houses," said Ramos. "Seeing that we don't just have a floor now and we have a whole building is a great first step." Other positives for student representatives in the process included working directly with the administration and talking to with their constituencies and communities about what they wanted to see going forward, Ramos said. Building trust and transparency, she said, was paramount.
Ramos invited students to give feedback on the ARCH building. University Life created a survey where users can comment on building aesthetics, usage, and operations.
"The ARCH is now rebranded as a space for the cultural houses and their constituent members or affiliates," said Boadi. "We should be prioritized in space as well as every other aspect of this building."
"We're going to fill it; we're going to show we need more," Ramos said. "We're already doing that."