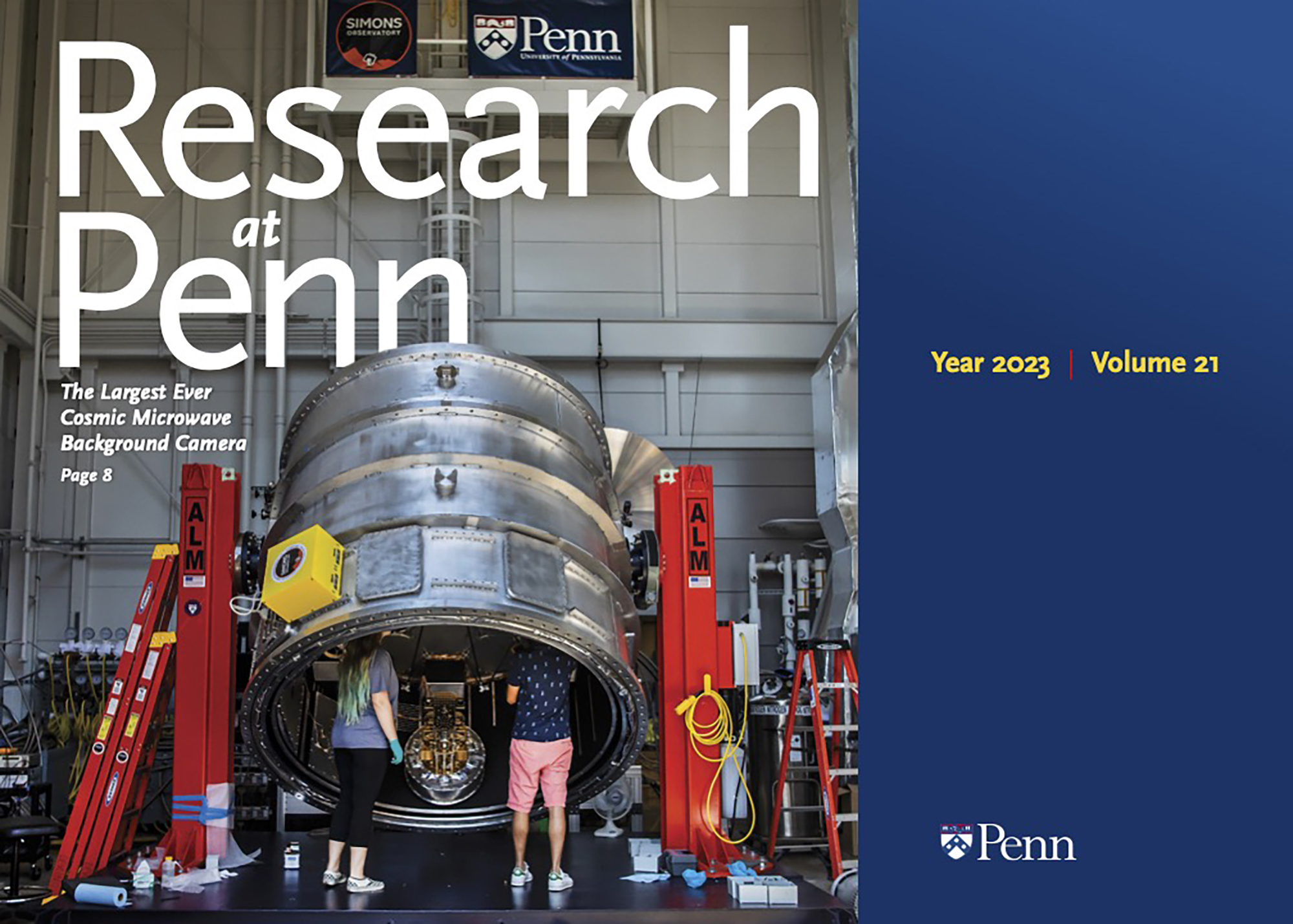 Did you know that light-to-moderate alcohol consumption is associated with reductions in overall brain volume? Or limiting free speech is most harmful to the underprivileged and marginalized? Or that ZIP codes in north, west, and southwest Philadelphia have the greatest risk of lead exposure? These are just a few of the pioneering and captivating findings featured in the 2023 edition of Research at Penn.
Published each year for the past 21 years, Research at Penn highlights trailblazing research from each of the University's 12 schools. Guided by the Office of the Vice Provost for Research and produced by the Office of University Communications, the brochure showcases fundamental connections between research and the pursuit of solutions to important issues, such as social justice, cancer treatment, and health inequality. Research at Penn is an online-only publication.
With more than $1.47 billion in annual research and development expenditures, Penn is one of the country's top research universities, not only generating important new knowledge in the fields of medicine, technology, business, science, and beyond, but applying this knowledge to improve the lives of individuals and communities at home and around the world. Innovative research that yields actionable knowledge is one of the cornerstones of Penn's vision for the future of the University. Penn's integrated campus facilitates unique investigative collaborations across disciplines. Research at the University's centers and institutes represents some of the most cutting-edge investigations taking place in the world today.
The 2023 edition of Research at Penn includes a host of interesting and insightful articles on a wide range of topics and issues, everything from parental praise, to breaking down barriers to treat opioid use disorder, to preserving the legacy of civil rights sites.
COVID-19, unfortunately, is still with us, and researchers at Penn are still hard at work studying the virus. Presented inResearch at Penn is a study by Eman Anis and Erick Gagne of the School of Veterinary Medicine and Frederic Bushman and Andrew Marques of the Perelman School of Medicine that suggests that the virus can easily jump from people to white-tailed deer; a study led by Penn Vet's Elizabeth Lennon that found evidence of COVID in a cat; and a study led by Henry Daniell of the School of Dental Medicine that could lead to chewing gum being used to tamp down the spread of the coronavirus. Likewise, Peter Cappelli of the Wharton School wrote a book on the future of the office in a post-pandemic world.
Some of the other groundbreaking research featured in Research at Penn include:
An analysis of patients with chronic lymphocytic leukemia published by Carl June of the Perelman School of Medicine and colleagues from the Children's Hospital of Philadelphia detailed the longest persistence of CAR T cell therapy recorded to date, showing that CAR T cells remained detectable at least a decade after infusion, with sustained remission in both patients.
 
The Teaching Beyond September 11th multimodal curriculum designed by Ameena Ghaffar-Kucher of the Graduate School of Education and scholar Deepa Iyer. The program provides multiple entry points for educators to discuss Islamophobia, xenophobia, civil liberties, long-lasting wars, media and representation, and other pertinent topics.
 
In a comprehensive data search of 80,000 sky images taken by the Dark Energy Survey, astronomers Pedro Bernardinelli and Gary Bernstein of the School of Arts & Sciences discovered that single dots in 42 of those images connected to a track a new giant comet entering the solar system for the first time in 3.5 million years.
Read Research at Penn online or on the Vice Provost for Research website.