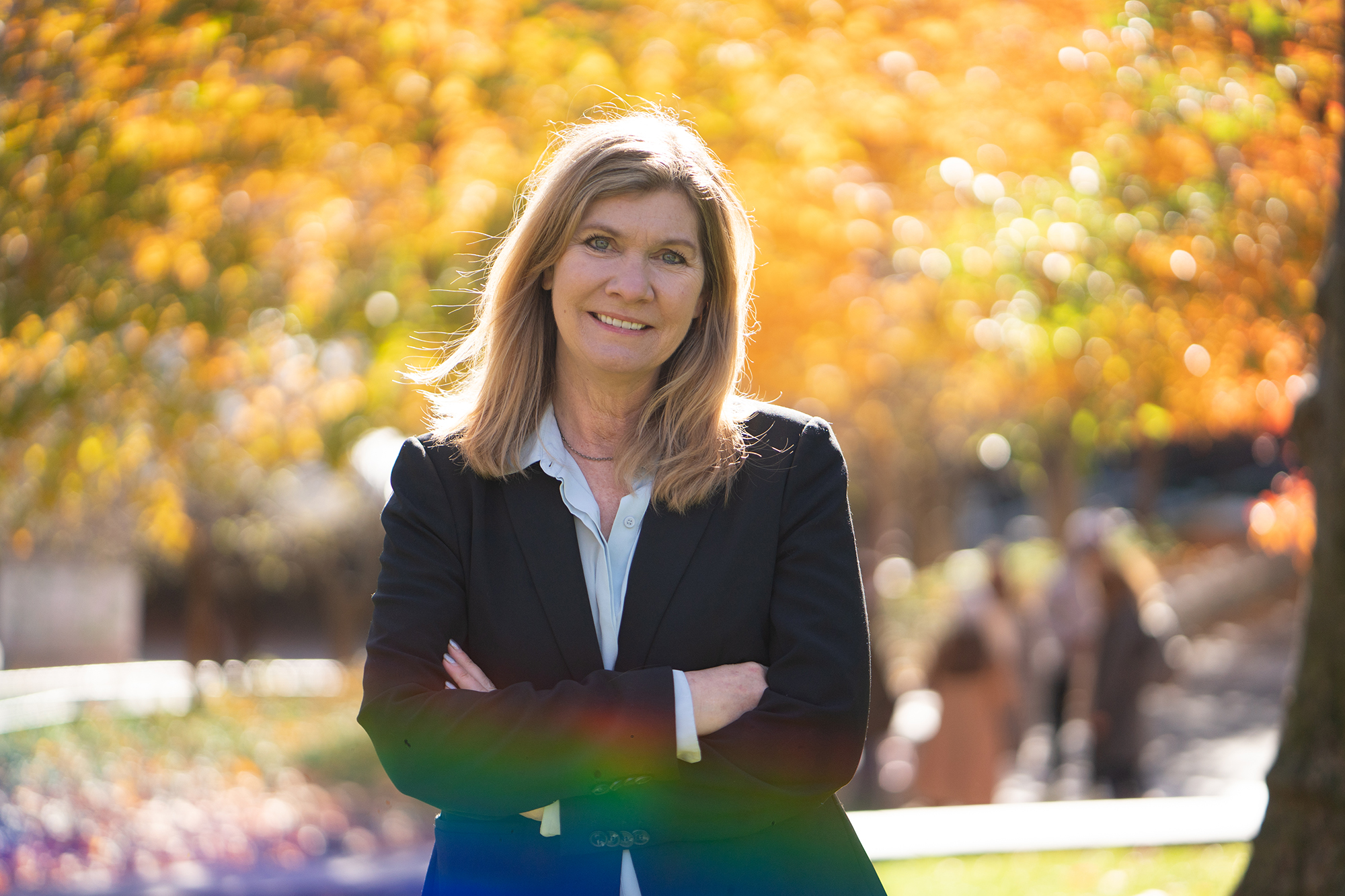 Sarah Banet-Weiser has been named dean of the Annenberg School for Communication at the University of Pennsylvania, effective August 14, 2023. The announcement was made today by Penn President Liz Magill and Provost John L. Jackson Jr.
Banet-Weiser, a globally renowned communication and media studies scholar, currently serves as the Lauren Berlant Professor of Communication at Penn's Annenberg School. She also holds an appointment as a research professor at the University of Southern California's Annenberg School for Communication and Journalism. She is the founding director of the Center for Collaborative Communication, a first-of-its-kind partnership between the two Annenberg Schools.
Banet-Weiser has held leadership roles at the London School of Economics and Political Science, where she was head of the Media and Communications Department from 2018 to 2021, and USC Annenberg, where she served as director of the School for Communication from 2014 to 2018 and vice dean from 2017 to 2018. She was a member of the USC Annenberg faculty for 19 years.
"Sarah Banet-Weiser has a stellar record as an astute, effective, and visionary leader and is a deeply respected voice in the field of communication," said Magill. "For more than 60 years, the Annenberg School has been at the forefront of this essential, dynamic, and ever-changing field. Sarah Banet-Weiser's record of accomplishment and leadership qualities make her the ideal person to lead Annenberg into its next era of excellence."
Banet-Weiser is a prolific, creative, and influential scholar. She has authored or edited eight books, as well as dozens of peer-reviewed articles, book chapters, and essays. Her work is award-winning and discipline-crossing. She focuses on how women, communities of color, and youth use media—how they create identity and culture, and engage in politics. Her latest book (co-authored with Kathryn Higgins), "Believability: Sexual Violence, Media, and the Politics of Doubt" (Polity, 2023), explores the convergence of the #MeToo movement and the crisis of post-truth.
"It is a tremendous privilege to work at the University of Pennsylvania and the Annenberg School for Communication, and an honor to be appointed as Annenberg's next dean," said Banet-Weiser. "This is a moment of great importance and excitement in the field of communication and media, when thinking globally has never been more urgent, when political divisions and affiliations are shaped and enhanced by information and data, when we all inhabit an ever-changing world of media and culture, when we need to create policy about health practices, the climate crisis, and beyond. I could ask for nothing more than to work with the brilliant faculty, staff, students, and alumni of Annenberg on tackling the important issues of our time."
Banet-Weiser's leadership track record is especially notable for her global engagement, her success as a fundraiser, and her commitment to diversity, equity, and belonging. At USC, she created an institute on diversity and difference in media and communication, the Institute for Diversity and Empowerment at Annenberg (IDEA). She led the London School of Economics and Political Science's Department of Media and Communications through the COVID-19 pandemic while championing cross-school collaboration and global engagement.
A fellow of the International Communication Association (ICA), Banet-Weiser has received numerous scholarly, mentoring, and teaching awards, including the ICA Outstanding Book Award for her 2012 book "Authentic™: The Politics of Ambivalence in a Brand Culture" (NYU Press) and the Mellon Graduate Student Mentoring Award. She serves on the editorial board of several top journals in the field of communication and media studies, and she has held international fellowships and visiting professorships at, among others, the Fondation Maison des sciences de l'homme in Paris, the University of Lisbon, Portugal, and McGill University in Montreal.
She received her B.A., M.A., and Ph.D., all in communication, from the University of California, San Diego.
Banet-Weiser succeeds John L. Jackson Jr., who served as the Walter H. Annenberg Dean of the Annenberg School from 2019 to 2023. Jackson became Penn's 31st Provost on June 1, 2023. Michael X. Delli Carpini, the Oscar H. Gandy Emeritus Professor of Communication and Democracy, has been serving as the Annenberg School's interim dean since Jackson began his term as provost. Delli Carpini previously served as the Walter H. Annenberg Dean of the Annenberg School from 2003 to 2018.
"I could not be more pleased to welcome Sarah Banet-Weiser as the next Dean of the Annenberg School," said Jackson. "Her extensive leadership experience brings together the Annenberg School at Penn with the Annenberg School at USC, while encompassing global leadership at the London School of Economics and Political Science. Just two years ago, she founded our landmark Center for Collaborative Communication, which unites the two Annenberg Schools to advance the role of communications in addressing such critical contemporary issues as health care, data privacy, racial equity, and media literacy. I am excited to work with her as she shapes the global landscape of communications in the years ahead. We are also deeply grateful to Michael Delli Carpini for his invaluable service as Interim Dean since June 1."
Banet-Weiser added her appreciation to both Jackson and Delli Carpini: "I am immensely grateful to Provost Jackson for all the important work he has done for the School, and I plan to continue to lead the School with the compassion and grace he has shown. I also am grateful to Michael Delli Carpini for taking on the important role of interim dean during this process—I have already learned so much from him and am always appreciative of his sage wisdom and advice."
In making the announcement of Banet-Weiser's appointment, Magill also thanked Vijay Kumar, the Nemirovsky Family Dean of the School of Engineering and Applied Science, who chaired the Consultative Committee for the Annenberg School dean search, as well as the members of the committee: "I am grateful to Dean Kumar and the Consultative Committee for their dedication to helping us find the right leader for the Annenberg School for Communication."