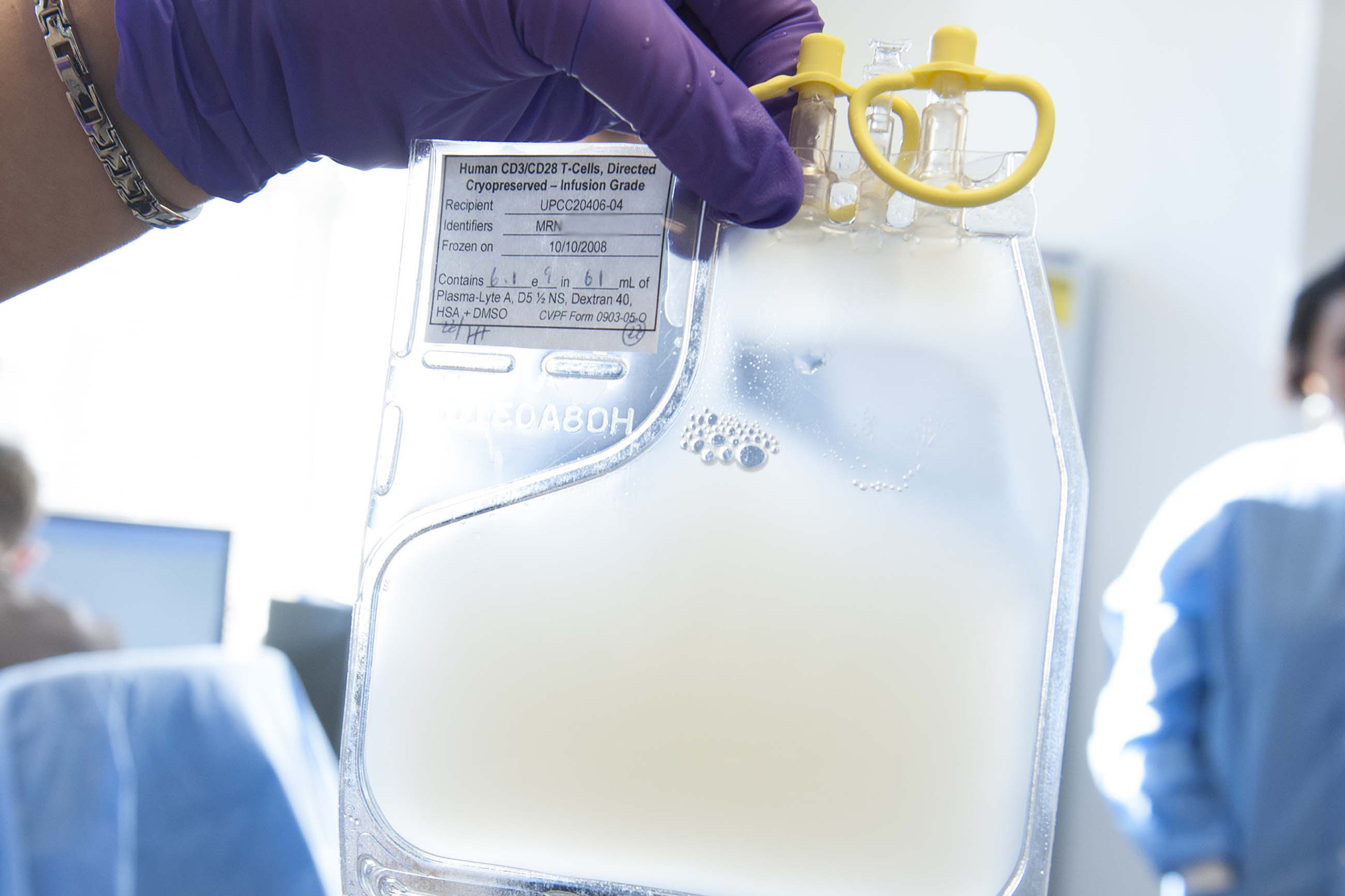 Though roughly two-thirds of patients with diffuse large B-cell lymphoma (DLBCL) respond well to standard chemotherapy treatment, the remaining one-third do not. Of that third, most are not candidates for high-dose chemotherapy with stem cell transplant, the best current second-line therapy.
That leaves many patients in a desperate state.
"I can't overstate how sick some of these patients were," says Stephen Schuster, director of the Lymphoma Program at Penn's Abramson Cancer Center and the Robert and Margarita Louis-Dreyfus Professor in Chronic Lymphocytic Leukemia and Lymphoma Clinical Care and Research.
Yet beginning a little over four years ago, Schuster and others at Penn began clinical trials to test another approach to beating lymphoma in these challenging cases. The new strategy entailed a personalized cell therapy, whereby a patient's own T cells are collected, transformed into targeted cancer-killers, and reinfused into the patient in order to attack and eradicate cancer cells. These genetically reprogrammed T cells, armed with chimeric antigen receptors (CAR), were astonishingly effective.
"To take this previously untreatable group of patients and bring many of them back to life – it's a high," Schuster says. "There's no feeling like it."
Last week, the U.S. Food and Drug Administration issued an approval for the CAR-T cell therapy developed and tested by Penn scientists in collaboration with Novartis, Kymriah®, for the treatment of adult patients with relapsed or refractory large B-cell lymphoma that hasn't responded to two or more lines of systemic therapy. The approval further expands the use of this product, which was initially approved by the FDA in August 2017 for use in pediatric and young adult patients with relapsed or refractory B-cell precursor acute lymphoblastic leukemia (ALL).
While the initial approval of Kymriah for ALL was a breakthrough as the first gene therapy approved in the U.S., this second indication significantly expands the patient population who stand to benefit from the technology. Roughly 27,000 people are diagnosed each year with DLBCL, the most common form of non-Hodgkin lymphoma, and of those, an estimated 6,500 may be eligible for treatment with Kymriah. FDA approval was also indicated for patients with high grade B-cell lymphoma and DLBCL arising from follicular lymphoma.
"This is clearly a game-changer for the field," Schuster says. "It's going to impact a lot of patients."
The technology behind Kymriah originated at Penn from the innovative work led by Penn Medicine's Carl June in developing the CAR-T platform for reprogramming T cells. An initial cohort of patients was treated with the CAR-T cell therapy at Penn, with long-term follow-up reported last year in the New England Journal of Medicine. Using nearly the identical protocol, Schuster then worked with Novartis to lead an international, multicenter trial. More than half of those treated responded to the therapy, with 40 percent achieving a complete response.
"The international trial included 27 centers in 10 countries on four continents and we hit the nail on the head," Schuster says. "There was luck here, combined with great science by Carl June and others, and we were able to move quickly from the trial at Penn to the global trial. It was very gratifying to see the same great results coming in from all these different investigators from around the world."
Alan Gross, a Penn alumnus from the class of 1961, was one of the fortunate patients in the initial trial at the Hospital of the University of Pennsylvania. Gross had been diagnosed with lymphoma in 1977 and treated, only to relapse several times. In 2014, the cancer made an aggressive return. The treatments he was receiving in New York City were not working, and it looked like he was out of options.
"We had already told our kids that I was dying," Gross says.
In a last push, he and his wife, a former investigative reporter, researched clinical trials for which he might qualify, and found Penn's. After receiving an infusion of his own reprogrammed T cells late in April 2015, Gross "sensed right away" that the treatment was working. "By July there was no sign of cancer at all," he says.
Gross had only mild, flu-like symptoms as a side effect of treatment, but some patients who took part in the clinical trials experienced moderate-to-severe toxicities, including infections, fevers, and neurologic events, all of which resolved on their own or with treatment during the clinical trials.
Last week, Gross had his three-year check up with Schuster. "Here it is three years later and I'm still here," he says. "I can't think of a better feeling than that."
Another CAR-T therapy for the same types of lymphoma, Gilead Science's Yescarta, developed at the National Institutes of Health, was approved by the FDA in October of 2017. Kymriah is a distinct product, however, based on a different genetic construct. With Kymriah, it's possible to process previously collected, cryopreserved T cells from patients at the Novartis facility, cryopreserve them again after genetic reprogramming, and ship them all over the world. Toxicity profiles from patients appear to be less severe when it comes to neurotoxicity. In addition, many patients can be treated with Kymriah on an outpatient basis.
With FDA approval now in hand, Schuster and others are eager to see the treatment reach more patients. Researchers at Penn are continuing work to refine and improve CAR-T therapy so it succeeds in more patients, for more forms of cancer.
"Working on this has been the best experience of my professional life," Schuster says. "And we're going to keep making it better at Penn."
Photo at top: Powerful "killer" T cells, armed with the genetic tools needed to find and kill cancer cells, are being put to work to save the lives of patients with non-Hodgkin lymphoma. Now FDA-approved for use in adults whose disease hasn't responded to other therapies, the innovative, personalized technology has the potential to reach thousands of patients.